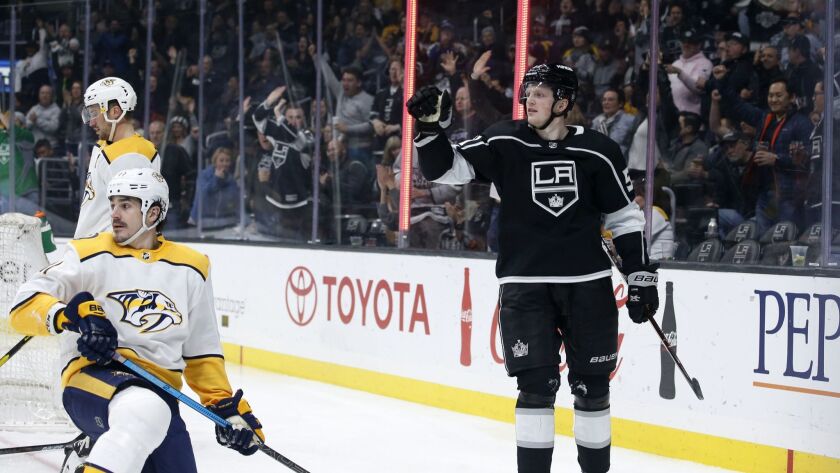 The sly smile of Austin Wagner fits the swagger he carries.
It also makes it easy to forget that he made the Kings' opening-night roster after an injury to Dustin Brown. Or that he was sent down to the minors in November and was a healthy scratch as recently as mid-January.
Wagner in his smiling celebration Thursday all but erased the fact that he sat out the previous four games with an injury that had him on crutches last week. The rookie winger has made a bold statement with 10 goals in 50 games after he scored in a 3-1 loss to the Nashville Predators at Staples Center.
Wagner didn't miss a beat in his return. He converted Trevor Lewis' pass for the Kings' only goal in the first period for his 10th goal, a total not far behind the 17 of Brown.
"Going into this year, my goal was to make the team, let alone just play some games," Wagner said. "But when I didn't make the team, my goal was to try and stick. Obviously points are nice, but I have more jobs than just that. I've just got to focus on that stuff and try and keep with some confidence out there."
Wagner would have enjoyed it more in a Kings' win. But, as the team plays out the final few weeks, those are scarce against playoff contenders and it's more about which players will show their value to the organization.
In that regard, it was fitting that Matt Roy picked up his first NHL point with a secondary assist on Wagner's goal, with a pass down low to Lewis on a fine shift by the five-man unit. Roy has played every game since his NHL debut on Feb. 16, and he put a highlight on his personal reel last Sunday with a breakup of a two-on-one against the Ducks.
"He skates well and he defends well, and those are two good assets to have … he's going to keep getting better," Desjardins said. "I don't think he's reached the best he can be. I still think he's got an upside."
Roy's regular role is notable because he's getting the ice time over Sean Walker and Paul LaDue. But Desjardins this week stopped short of saying that Roy has played above his peers.
"You always evaluate and we'll want to see different guys in the lineup," Desjardins said. "I can't say he's played up the lineup. I think he's played well. If he keeps playing like that, it would be difficult to take him out."
Roy unfortunately was on the ice for both of Nashville's late second-period goals, although they weren't a reflection of him. Craig Smith batted in the puck that rebounded off Jonathan Quick for the go-ahead goal. Fewer than three minutes later, Colton Sissons intercepted Alec Martinez's diagonal pass and shot the puck through Roy's legs and between Quick's pads for a 3-1 lead.
Quick appeared annoyed, and the feeling was familiar considering that his 2.93 goals-against average and .890 save percentage against the Predators going into Thursday were his worst among all 30 opponents.
What might have been more disappointing for the Kings was that they grabbed the first half of the second period and looked more urgent than Nashville, which is trying to shake off some late-season inertia and win the Central Division. The Predators took advantage of a two-on-one in transition when Viktor Arvidsson scored just after Ryan Ellis exited the penalty box in the first period.
"I didn't think we had a great start in the game, which we control," Desjardins said. "We had a couple of opportunities [in the] first period … we just didn't generate enough. I don't think we were hungry enough in the first."
Sign up for our daily sports newsletter »
Twitter: @curtiszupke
---