Rangers' Ryan McDonagh warrants attention on the ice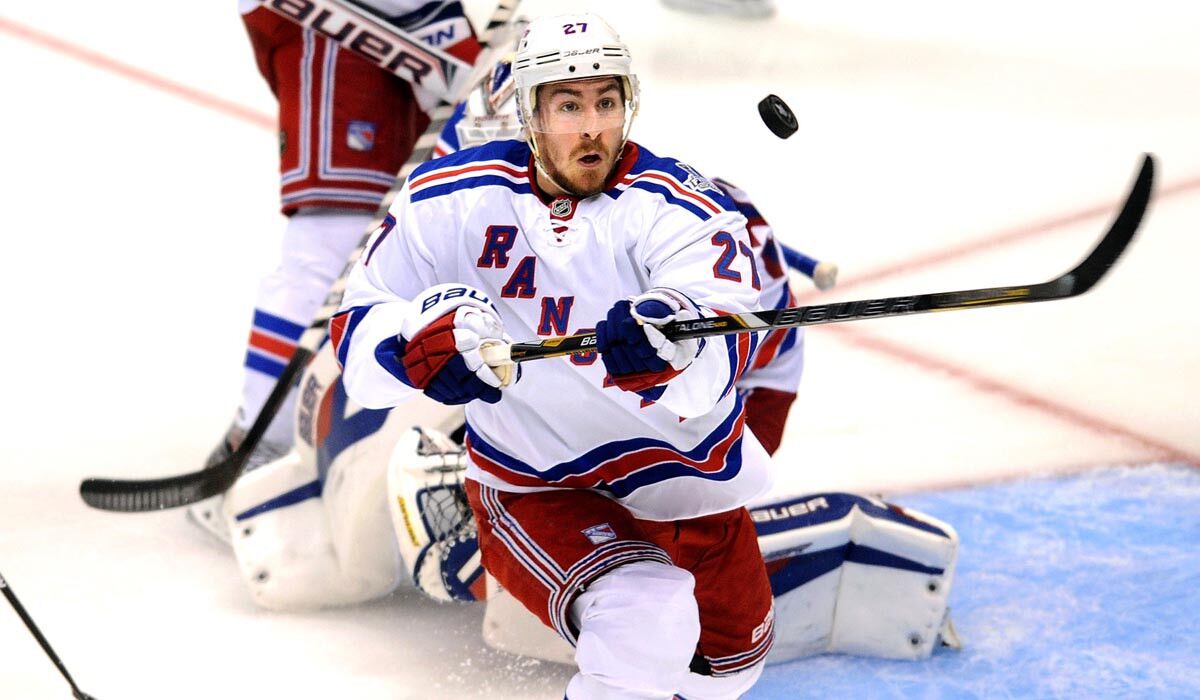 The tipping point in the Stanley Cup Final very well could be which premier defenseman can most effectively continue his inspired postseason run.
Like the Kings' Drew Doughty, the New York Rangers' Ryan McDonagh is listed at 6 feet 1, 213 pounds. Each is 24, and a former first-round draft pick who plays an abundance of minutes for the respective Stanley Cup finalists.
"He's got a lot of speed; that allows him to think offense and get back to play defense," Doughty said. "I know I've got to be a better player than him."
In Game 1, McDonagh — known as "Mack Truck" to his teammates — played a game-high 31 minutes 12 seconds and contributed an assist with four hits and three blocked shots.
Doughty won the war, overcoming a turnover that set up the game's first goal by tying the score after a nifty move in the second period. The Kings went on to win in overtime, 3-2.
"I think [McDonagh] sees it as a great matchup, and a great opportunity to show what kind of player he is," Rangers forward Carl Hagelin said. "Everyone in here knows. … He's a machine out there. He's good every night, plays hard, is extremely smart with his stick. Very good at frustrating the other team."
Down the stretch of a 14-goal, 43-assist season, McDonagh was bashed into the boards in Vancouver by Alex Burrows on April 1 and suffered a left-shoulder injury.
McDonagh didn't have a point through the first 10 playoff games and was minus-five in goal differential through 11 as the Rangers fell behind, three games to one, against the Pittsburgh Penguins.
"It wasn't about my health as much as it was me trying to find the right mental approach — my timing, my speed, making the right reads," McDonagh said Friday on the eve of Game 2, scheduled for 4:15 p.m. at Staples Center.
His goal and assist sparked a 5-1 Game 5 victory over Pittsburgh, and his defense in front of star goalie Henrik Lundqvist helped New York outscore Sidney Crosby and Co., 10-3, over the final three games.
McDonagh peaked in the Eastern Conference finals against the Montreal Canadiens, who drafted him 12th overall in 2007. They traded him two years later for center Scott Gomez and others in a deal that has been hailed as the finest in the tenure of New York General Manager Glen Sather.
Entering that series with far less fanfare than Montreal star defenseman P.K. Subban, McDonagh contributed two goals and a series franchise-record eight assists, and played more than 25 minutes in four of the six games to lead the Rangers back to the Stanley Cup Final for the first time in 20 years.
"His stamina is phenomenal," Rangers Coach Alain Vigneault said. "Through the Philly and Pittsburgh series, he was trying to get his legs. He's got them now."
Kings center Jarret Stoll said the rugged Kings must take account of McDonagh on the ice.
"We have to give him extra attention, for sure," Stoll said. "A guy that plays that many minutes, if you can be physical on him, make him crack, that's to our advantage."
McDonagh took some blame for not helping his defensive partner, Dan Girardi, on the overtime turnover by Girardi that set up the Kings' winning goal.
"They're very opportunistic, they make something out of nothing a few times a game," McDonagh said of the Kings. "You think you've got them … and they find a way to get a puck on the net, get a bounce, get the right body position. So you've got to maintain discipline, focus all the way through until your shift is done."
Behind 1-0, McDonagh said his work is bigger than a personal battle against Doughty.
"We're both just trying to help our team win games at this point," he said. "You want to play a big role and a lot of minutes. That's one thing we're comparable at. We both just want to win."
What's it like to have carried that cause to here?
"It's a good feeling," McDonagh said. "You work hard your whole life to get this opportunity. You want to do your part and make an impact every shift. It could be the difference.
"We think our group has a lot more to give."
Twitter: @latimespugmire
---
Get the latest on L.A.'s teams in the daily Sports Report newsletter.
You may occasionally receive promotional content from the Los Angeles Times.