Backup goalie plan works well for Kings in 4-2 win over Red Wings
The Kings might want to just sit out Jonathan Quick for, say, the first three days of next season. Just to be safe.
Their franchise goalie has compiled a strangely unfortunate injury history in that window. He suffered a major groin strain in the season opener two years ago and, on Sunday, was placed on injured reserve with a lower-body injury, three days into the season.
Quick will miss at least a week while Jack Campbell takes the reins. Veteran Peter Budaj was recalled as the backup for an upcoming four-game eastern Canada trip, and Campbell and the Kings allayed fears with a 4-2 win against the Detroit Red Wings at Staples Center.
"It's never good to see your No. 1 guy go down," Campbell said. "Quickie, he's such a rock for this team, and such a leader. But he'll get rested up and be ready to go. For me, it's a big opportunity. I just knew the guys were going to play great in front of me, and that's what they did."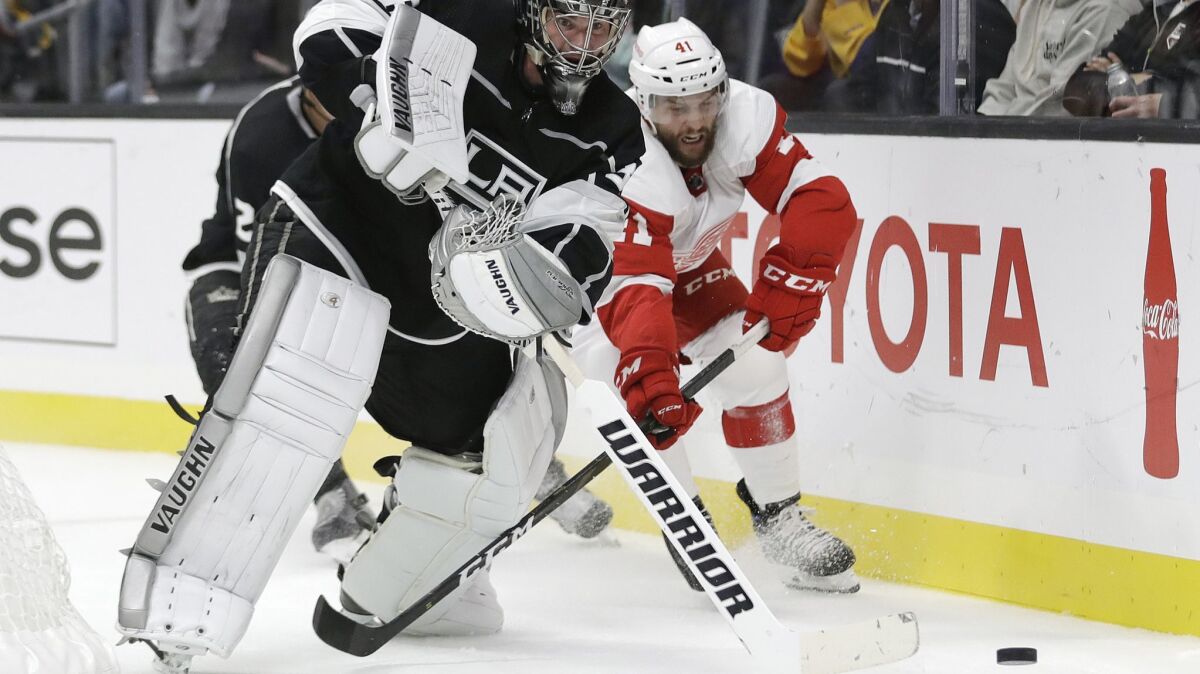 Campbell made 36 saves for his third NHL win, backed by scores from Anze Kopitar, Paul LaDue and Alex Iafallo. Ilya Kovalchuk got his first points as a King and looked good in setting up two of the goals.
"Whoever's in net, I feel like if we play our game and stick to our game plan, we're not going to give up a whole lot," Kopitar said. "Maybe tonight we gave up a little bit more than we wanted to … but that's going to happen. 'Soupy' [Campbell], tonight, was good, with some key saves at key times in the game. We're going to need him to do a lot more of that."
In addition to Quick, the Kings put Dustin Brown on long-term injured reserve with a broken finger, meaning he will miss at least 10 games and would be eligible to return Oct.28.
The antidote to the injury news was the NHL debut of Jaret Anderson-Dolan who, at 19, became the youngest player to play for the Kings since Craig Redmond in 1984. Anderson-Dolan's parents, Fran and Nancy, flew in from Calgary, Canada, a few days prior, on the chance that Jaret would get into one of the Kings' first two games.
Quick's injury occurred in practice Saturday, a team official said, and not in Friday's overtime loss to the San Jose Sharks, after which Quick broke his stick over the boards as he left the ice in frustration.
At 32, Quick has gone through his share of frustrating lower-body injuries. He suffered a major groin injury in 2013, and his 2016 groin strain, against San Jose, put him in street clothes for four months.
He returned to form last season and played 64 games while Campbell made the most of his five appearances and was made the backup when Darcy Kuemper was traded to the Arizona Coyotes.
The pressure falls on Campbell earlier than they'd like, and the Kings say he can build off last season.
"He's been in the fire there where he's been able to give us some stability in the net," Kings coach John Stevens said. 'He works hard, reads the game well. We're confident he can step in and do the job."
One of Campbell's first big saves in the second period triggered a rush the other way and Kovalchuk showed his playmaking skills with a pass to Kopitar, who moved around defenseman LiborSulak and backhanded it high on goalie Jonathan Bernier.
Campbell was beaten on an odd deflection for Detroit's first goal, a shot by Anthony Mantha on the power play that clanged off Kopitar's stick and found the left side of the net to tie it, 1-1.
LaDue snuck a shot through Bernier late in the second period when Kopitar tied up two Red Wings. Kovalchuk intercepted the puck behind the net and fed Iafallo for a third-period strike.
Detroit pulled to 3-2 on Dylan Larkin's power-play goal with four minutes remaining but Iafallo got the empty-net goal in the final minute.
Twitter: @curtiszupke
---
Get the latest on L.A.'s teams in the daily Sports Report newsletter.
You may occasionally receive promotional content from the Los Angeles Times.