Kings know they need to earn points on seven-game trip to stay in playoff contention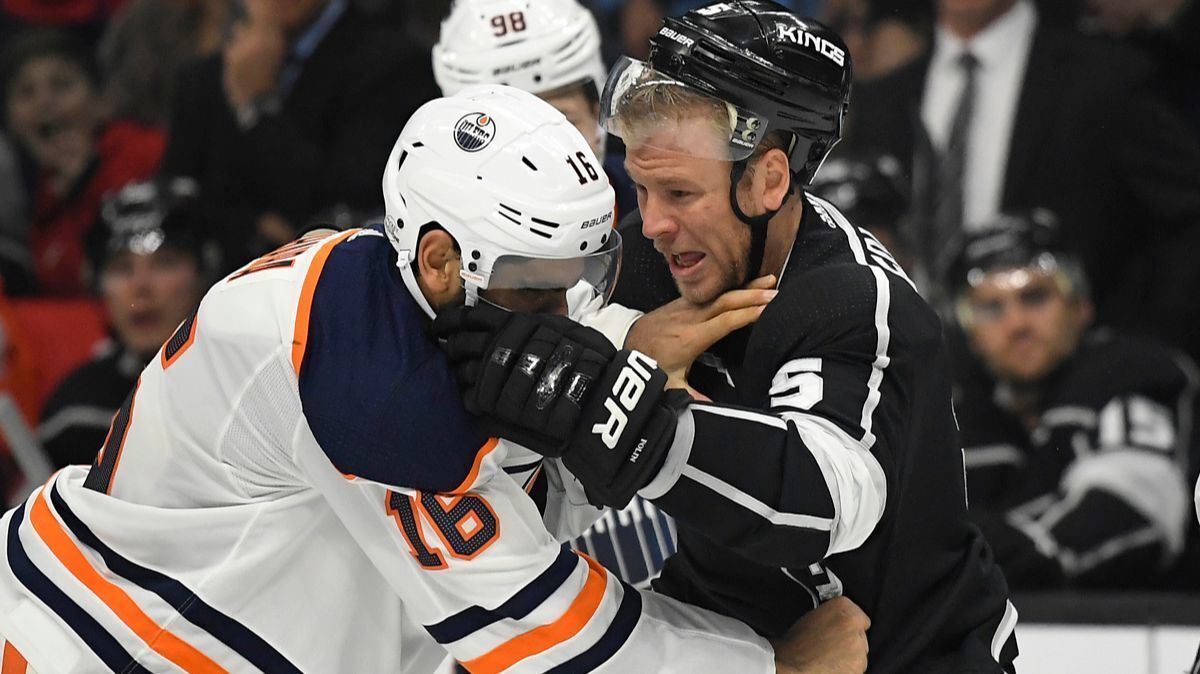 Five wins in seven games is usually good enough to make headway in the standings. That's the case for the Kings … for about a day.
Welcome to the Western Conference, where teams are bunched together so tightly that the Kings have regularly bounced from a top-three guaranteed playoff spot in the Pacific Division to completely out of the postseason picture from one day to the next. Their 63 points placed them third in the division after their latest win, but there were four teams within a point of them in the West going into Thursday. The only thing certain is that there's going to be some quality teams that won't make the playoffs.
"I think there is every year," Kings coach John Stevens said. "One thing I can assure you, you're not getting into the playoffs with [63] points. It doesn't matter what everybody else is doing. We've got to put points on the board ourselves and we've got to take care of our own business. The way it is right now, there's too many teams that are in contention."
Missing the playoffs again seems untenable for the Kings, who have done so two of the last three seasons. What should help them is that 15 of their final 22 games are at home. That makes this seven-game portion on the road, beginning Friday, critical in setting up the final quarter of the regular season.
"Obviously this road trip's huge," defenseman Alec Martinez said. "This is moving day. These points are really important this time of year and this is really, I think, [where] the true separation happens. We've got to take a good focus. We've got a tough trip ahead, we've got a lot of tough opponents."
Further challenging the Kings is the possibility that the Pacific Division will only qualify the minimum three teams for the playoffs because the Central Division is especially strong. The Dallas Stars and Minnesota Wild began Thursday in the wild-card spots.
Stevens earlier this season said it would take at least 96 points to get in to the postseason, but he might have to adjust that number.
"That's what history tells us, but there's been times before when it wasn't enough," Stevens said. "This could be one of those years. I don't know."
Jeff Carter wasn't expected to go on the trip and will continue rehabilitating his leg locally, Stevens said. Carter traveled with the Kings at the end of January because he wanted to be part of the team's fathers trip.
"We feel like it's best for Jeff to stay here and continue that process here [with hopes] that he can make big strides," Stevens said. "And I think he has made strides lately, but I think we can give him the attention that he needs better when he's here. So the plan right now is to leave him here throughout the trip."
Carter hasn't played since lacerating an ankle tendon on Oct. 18.
UP NEXT
AT FLORIDA
When: 4:30 p.m. PST, Friday.
On the air: TV: FS West; Radio: 790.
Update: Martinez (lower-body injury) has missed two games but is believed to be close to returning. Florida goalie Harri Sateri has won four straight games in place of injured James Reimer and is expected to start again, according to the South Florida Sun-Sentinel. Darcy Kuemper shut out the Panthers 4-0 on Nov. 18.
Twitter: @curtiszupke
---
Get the latest on L.A.'s teams in the daily Sports Report newsletter.
You may occasionally receive promotional content from the Los Angeles Times.