Kings look for more consistent production from linemates Pearson and Toffoli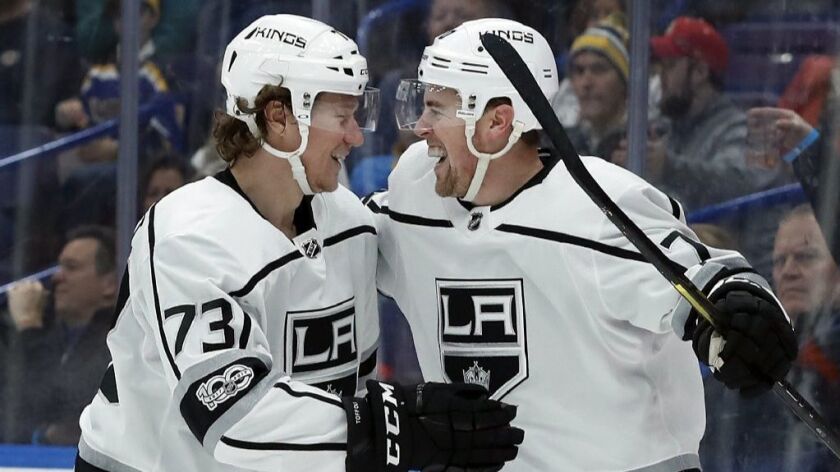 A running joke among the Kings is that Jeff Carter is practically a father to linemates Tyler Toffoli and Tanner Pearson.
Toffoli took it to Twitter last week and posted a photo of Carter talking to him and Pearson, days before a scrimmage in Ontario, and wrote, "Dad just told us he's taking us on a road trip to Ontario this Sunday."
Toffoli confessed that "I had some help from the Kings media [department]" but the gag doesn't get old because Toffoli and Pearson look even younger than 26. Even Carter, 33, plays along with the joke while at the same time pointing out that they're not kids anymore and he's not getting younger.
"I'm old," Carter said. "I was young. You look around the room now, [I'm] 12-13-14 years older than some of these guys. They've played six-seven years now? They've been around a long time. They've been through a lot. A lot of good times, a lot of bad times. We need, not just them two, we need a lot of guys to take another step if we want to be a good team."
The onus is on Pearson and Toffoli for more consistent production, and the organization has shown faith in them since it signed both to extensions in a two-month span in 2017. It should help to have an injury-free Carter anchoring them again. Pearson fell from 24 goals to 15 last season, although his forecheck was effective. He did not score a goal in February, and was scoreless in the final 13 regular-season and playoff games.
"Any time you go from 24 goals to 15 goals, you kind of look at things," Pearson said. "It's obviously not easy to score in this league, but you're counted on to contribute and, when you're not scoring goals, [you should be] doing something. I spent a lot of time looking at how to score goals, the year before last year and my goals last year and how I created them."
Toffoli is susceptible to dry bouts as well. He scored 24 goals but went 13 games without scoring in January and February and scored one goal in the final 15 games of the season. The statistic that jumps out is his team-leading 251 shots, good for 21st in the NHL.
"I had a ton of chances," Toffoli said. "When I wasn't scoring, I still had the chances, so it's one of those things when I look at it, and I've just got to bear down on the opportunities. I thought when that happens, the season kind of goes a different way, not only for myself but for [our] games.
"That's my goal is to keep shooting is to keep my shot rate up but at the same time make sure that they're in good areas and they're good scoring chances."
Toffoli set the bar three years ago with a 31-goal season. He has been trying to reach that level ever since, but a knee injury cut short his 2016-17 season, and last season neither he nor Pearson had the injured Carter as their center for fourth months.
Carter said those obstacles are part of learning how to contribute on a regular basis in the NHL.
"They're smart guys," Carter said. "They realize that. A couple of years ago, they had a lot of success. Now maybe those young guys, when you have that success, for whatever reason, it drops a little the next year.
"[It's] a learning experience, kind of a wake-up call. It's hard to do every year. Watching them the last couple of weeks here, Tyler put the work in this summer, and they both look great out there. Hopefully we can all stay healthy and have a good year."
Injury updates
Gabriel Vilardi (back) remains week to week, general manager Rob Blake said. Derek Forbort (back) could join the team Saturday if he progresses, coach John Stevens said.
Twitter: @curtiszupke
---
Get the latest on L.A.'s teams in the daily Sports Report newsletter.
You may occasionally receive promotional content from the Los Angeles Times.