Feeling better, Anze Kopitar ready to help Kings get back to their winning ways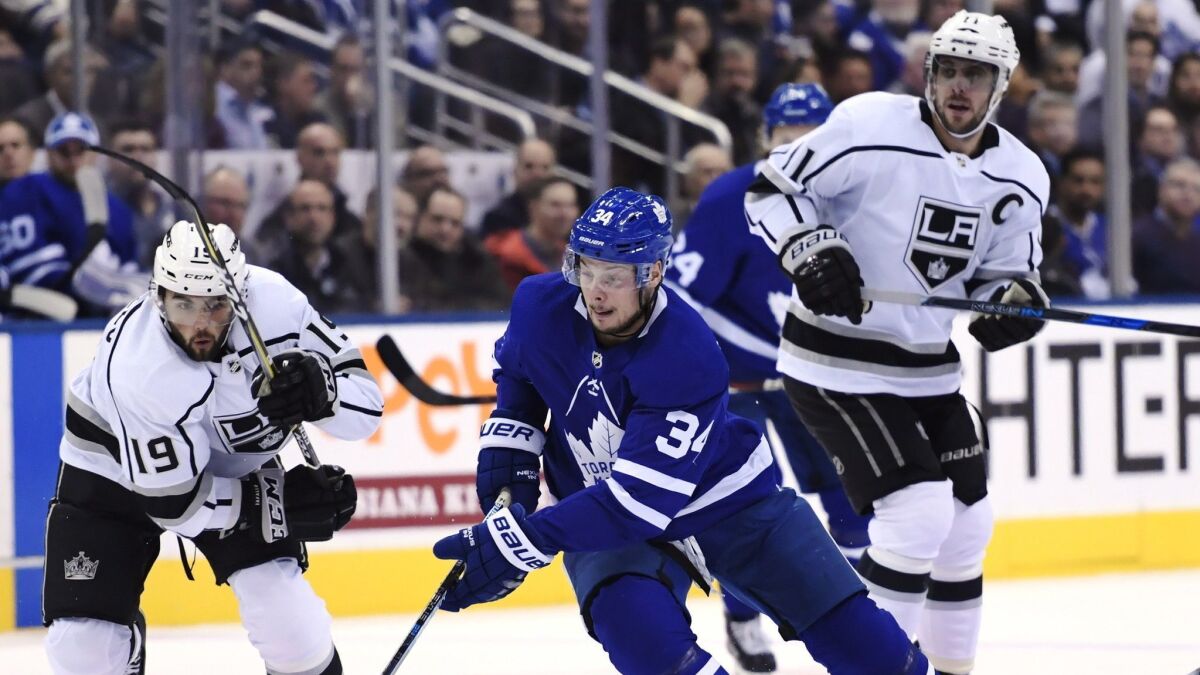 Anze Kopitar was just like his teammates during the most disconcerting loss of the season so far.
Late Thursday, he was asleep.
Kopitar had a much better excuse. He was resting at home from a bout of fever that forced a rare missed game, a 7-2 loss to the New York Islanders in which Kings coach John Stevens said his team "totally went to sleep" in the last stages.
"I passed out at 8:30 [p.m.] and woke up at 5 and checked the score," Kopitar said.
Kopitar had missed just 11 games in the past seven seasons combined. He waited until the last minute "but it just kept getting worse and worse. I don't think I would have been much help on the ice," he said.
Kopitar should be ready Saturday to help the Kings respond to perhaps the worst loss in the year-plus tenure of Stevens. The reigning Jennings Trophy winners for fewest goals allowed are giving up 3.29 goals per game. Their formerly air-tight penalty kill has dropped to 70 percent.
The six goals that Jonathan Quick allowed Thursday equaled the most he's given up in a regular-season game. He last did so twice in the 2010-11 season.
Stevens' postgame comments that they stopped playing cut to the bone, and Drew Doughty said, "I don't agree with that assessment because I think we were playing our [butts] off, like always."
Stevens clarified Friday that the energy and emotion got taken out of them following a shorthanded goal allowed, on a two-on-none created when the puck got by Doughty near the benches. Veteran Dion Phaneuf echoed Doughty on the effort front and recognized the crisis point.
"The work ethic's been there," Phaneuf said. "We've got a proud group. We've got an experienced group. It's on us to get our way out. Every team goes through it … there's ups, there's downs. There's stretches that you don't like, and we've got to work our way out of this one."
There were scenes serious and light in practice. Tanner Pearson, who is working on a 20-game scoring drought, including the playoffs, skated as an extra with Jaret Anderson-Dolan. Stevens brought the players in close for a brief huddle at the end. Later, Jack Campbell left his net to playfully chase Ilya Kovalchuk.
The Kings are otherwise all out of laughs. Saturday is only game No.8 but it carries heavier weight.
"[It's early but] it's certainly no excuse for our play right now," Kopitar said. "But we're 2-4-1, so [if] we go on a little streak, everything's going to be forgotten and the standings are going to look a lot nicer. But in saying that, we have realized that obviously we have to play a lot better.
"Giving up seven goals is certainly not going to get it done. We've just got to get back to really being solid defensively in our zone and then just playing from there."
Rempal reprise
Rookie Sheldon Rempal played with Kovalchuk and Jeff Carter for most of Thursday, and was with the veterans again Friday.
"I thought he came up and played with confidence where he wanted the puck," Stevens said. "He wanted to make things happen. He wasn't afraid to demand the puck, get open and hang on to it to try and make plays."
Rempal's next goal will be his first. Kovalchuk and Carter have combined for 773 goals.
"Those two guys I've looked up to my whole life," Rempal said. "They probably don't know that, but I've followed their careers very closely and it's just pretty surreal to play on a line with those guys. They definitely made it easy for me to have some good looks."
TODAY VS. BUFFALO
When: Saturday, 12:30 p.m.
On the air: TV: FSW; Radio: iHeartRadio (LA Kings Audio Network)
Update: Defenseman Rasmus Dahlin, the top pick of this year's draft, will make his Staples Center debut. The Sabres have been outscored, 9-2, in their past two games.
Twitter: @curtiszupke
Get the latest on L.A.'s teams in the daily Sports Report newsletter.
You may occasionally receive promotional content from the Los Angeles Times.