Mired in four-game losing streak, Kings need to get up to speed according to John Stevens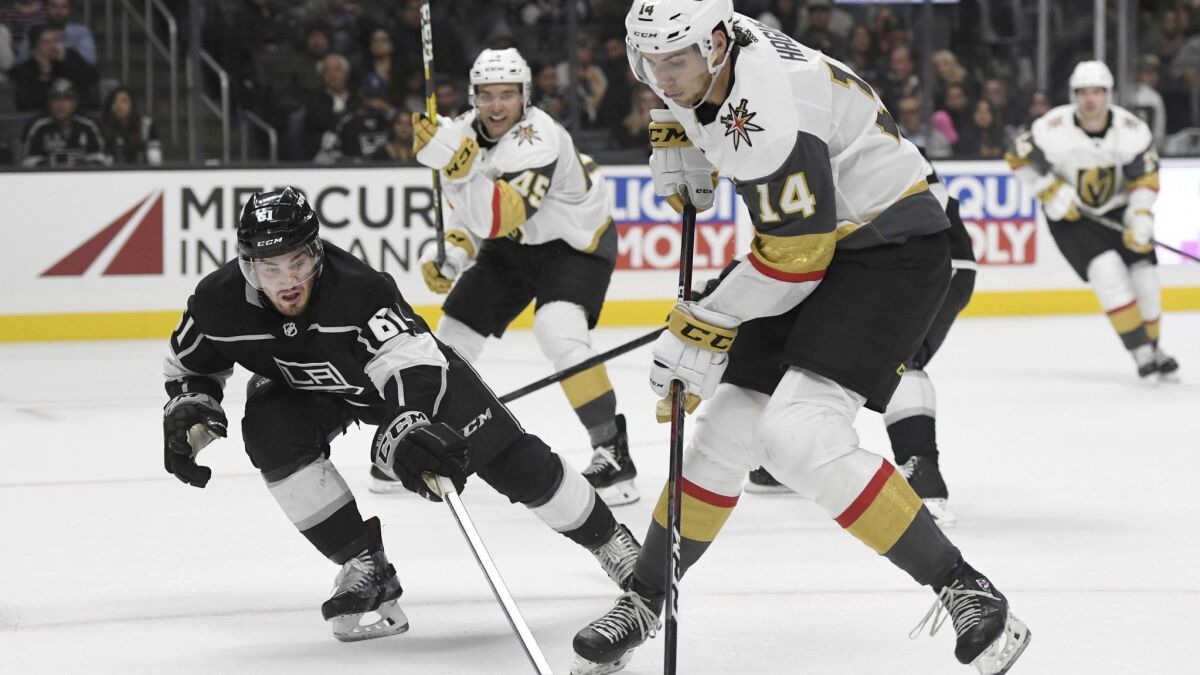 On paper, they're not huge transactions: The recall of a defenseman who hasn't played in the NHL and the reassignment of a forward whose career is five games old.
But coach John Stevens read between the lines aloud Monday when the Kings called up Sean Walker and sent promising winger Jaret Anderson-Dolan back to his junior team. The Kings look lost in a four-game losing streak and can't rediscover the north-south style that Stevens installed in his first season.
"I think just the message here — we've got to do a lot better job with our puck speed," Stevens said. "I think we're stressing ourselves way too much by not getting a puck moving to speed, and not stressing our opponent near enough. Certainly his skill set should be able to help us."
The smooth-skating Walker isn't a cure-all but the Kings needs legs and life in a season that has ground to a halt. Walker, 23, was tied for third among American Hockey League defensemen with three goals in seven games. He was asleep when the phone call came but adrenaline will carry him to Dallas, the first stop on a two-game trip.
"I'm just going to come in and try to play the way I played down there — be fast, make plays, get pucks to the forwards and let them do their job," Walker said. "Be a solid defenseman and go from there."
Walker played four years at Bowling Green. He was an undrafted free agent who signed an entry-level contract in July. Bowling Green happens to be the alma mater of Kings general manager Rob Blake, but Walker didn't think Blake scouted him.
"I'm sure he knew of me, but he wasn't too close, I don't think," Walker said.
Anderson-Dolan could have played nine games with the Kings before the first year of his entry-level contract was used. But the Kings felt the situation wasn't ideal for a 19-year-old, even one that showed readiness for the NHL.
"I always felt that young players need a reference point of success," Stevens said. "If you keep moving a guy up before he's had an opportunity to have success in the situations that, I think, his skill set allows — then you're doing him a disservice."
Anderson-Dolan will help lead the Spokane Chiefs and likely play in the junior world championships in December. The Kings' future isn't as clear. They've been outscored 21-5 in four games. Goalie Jonathan Quick has given up 10 goals on 54 shots since returning from injury. Drew Doughty is minus-eight over his last three games.
Dion Phaneuf has been with the Kings only since the second half of last season but has seen their identity slip.
"I've played against this group for a long time," Phaneuf said. "It's never an easy night when you come to play the Los Angeles Kings, and I feel we've kind of gotten away from that a little bit. We've recognized that. We know where we're at. We've got to play tighter. We've got to check a little bit harder."
Doughty and Harden
Doughty made different news Saturday night when he was in the ear of Houston Rockets guard James Harden in the Staples Center tunnel at the Rockets-Lakers game. The video quickly circulated.
Known for trash talking, or "chirping," Doughty said he didn't engage in that.
"I don't remember what I said," Doughty said. "I didn't even know that that happened. I kind of just saw it the next day on Twitter and whatnot."
Doughty and Quick were able to secure tickets late to catch the home debut of LeBron James.
"He's the best player in the world and I admire that," Doughty said. "I look up to that and I watched every one of his moves at that game and everything he does, whether the whistle is done, or whether it was during the play, I was watching that guy every step he took, because he's someone I admire."
TUESDAY AT DALLAS
When: 5:30 p.m. PDT.
On the air: TV: Ch.13; Radio: iHeartRadio (LA Kings Audio Network).
Update: Dallas has been outscored 10-2 in its last three games. Alexander Radulov (lower-body injury) is a possibility to play, according to the Dallas Morning News.
Twitter: @curtiszupke
---
Get the latest on L.A.'s teams in the daily Sports Report newsletter.
You may occasionally receive promotional content from the Los Angeles Times.