Willie Desjardins will face his former team when the Kings take on Vancouver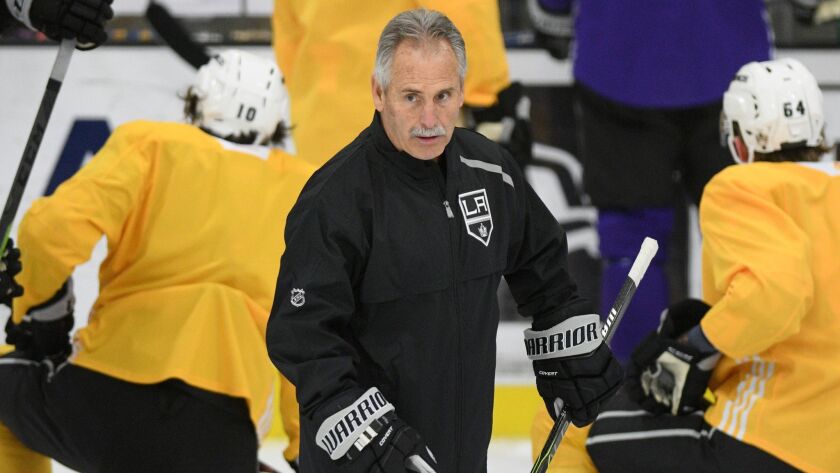 Willie Desjardins tried to save a sinking ship.
Stuck with an aging roster as he introduced younger faces, Desjardins tried to keep the team competitive behind the bench and could not get it back to the playoffs.
That sounds like his current situation as interim coach of the Kings, but it describes Desjardins' final two seasons with the Vancouver Canucks. So it's understandable that Desjardins looks back on that time with equal parts gratefulness and closure as he prepares to play his former team twice in the next four days, starting Saturday at Staples Center.
"There's still guys on that team that I've certainly appreciated how hard they play and what they do," Desjardins said. "So there's guys on that team that I follow for sure. As a result, I know where the team's at. It was a good place to be, and I enjoyed my time there."
Vancouver was his first head coaching job in the NHL, and Desjardins could not duplicate his first-year success of 101 points and a playoff berth. He was fired after the 2016-17 season and resurfaced this month with the Kings. But his three seasons there were instructive on a personal level because he gained an understanding of the league, and he's trying to use that with the Kings.
"We want to get back to being a hard-working team," Desjardins said. "I think we've always been that. I think the leaders are always pretty conscious leaders, for sure. But we want to try and get a little bit more offense in our game, and that's something that's taking a little bit of time."
That might qualify as the understatement of the season. Desjardins was aware of what he signed up for but the Kings are leaking from all areas. They own the NHL's worst power play with a 12.7% success rate and remain last at 2.05 goals per game overall. Their top-ranked penalty-killing unit from last season is 25th, with eight goals allowed in the last five games thanks to a three-goal performance by the Colorado Avalanche's No.1-ranked unit on Wednesday.
"We gave their top players a lot of time and room to make their plays," Carl Hagelin said. "If you make it comfortable for them, they're going to shove it up your you-know-what, and that's what they did. We've just got to be more aggressive, get to pucks quicker and clear them."
Desjardins played a part in improving Vancouver's power play from 26th to eighth, but it sagged back to 27th and 29th his final two seasons. If anything, he knows about trending special teams, and he hopes this is a phase for a traditionally stingy penalty-killing unit.
"The good thing is it has been good over a period of time," Desjardins said. "Sometimes if you take short windows, it won't look as good as it could be. … It's an area we've got to work on and focus on. I just think it's everybody getting on the same page."
Injury updates
Adrian Kempe is day-to-day with a lower-body injury. He did not practice but Desjardins was optimistic.
"We're hoping he'll play [Saturday]," Desjardins said. "We'll see how that goes."
Goalie Jonathan Quick participated in a majority of practice and appears to be on schedule to return around the end of the month from a torn meniscus.
"We're very happy with his progress," Desjardins said. "If there was no setbacks, I would expect to see him fairly soon."
UP NEXT VS. VANCOUVER
When: Saturday, 7 p.m.
On the air: TV: FS West; Radio: iHeartRadio (LA Kings Audio Network)
Update: Elias Pettersson leads rookies in scoring even though he's missed six games to injury. Brock Boeser has not played since Nov. 2 because of injury.
Twitter: @curtiszupke
---
Get the latest on L.A.'s teams in the daily Sports Report newsletter.
You may occasionally receive promotional content from the Los Angeles Times.