Kings love their undrafted rookie Matt Luff and all the affectionate nicknames they can give him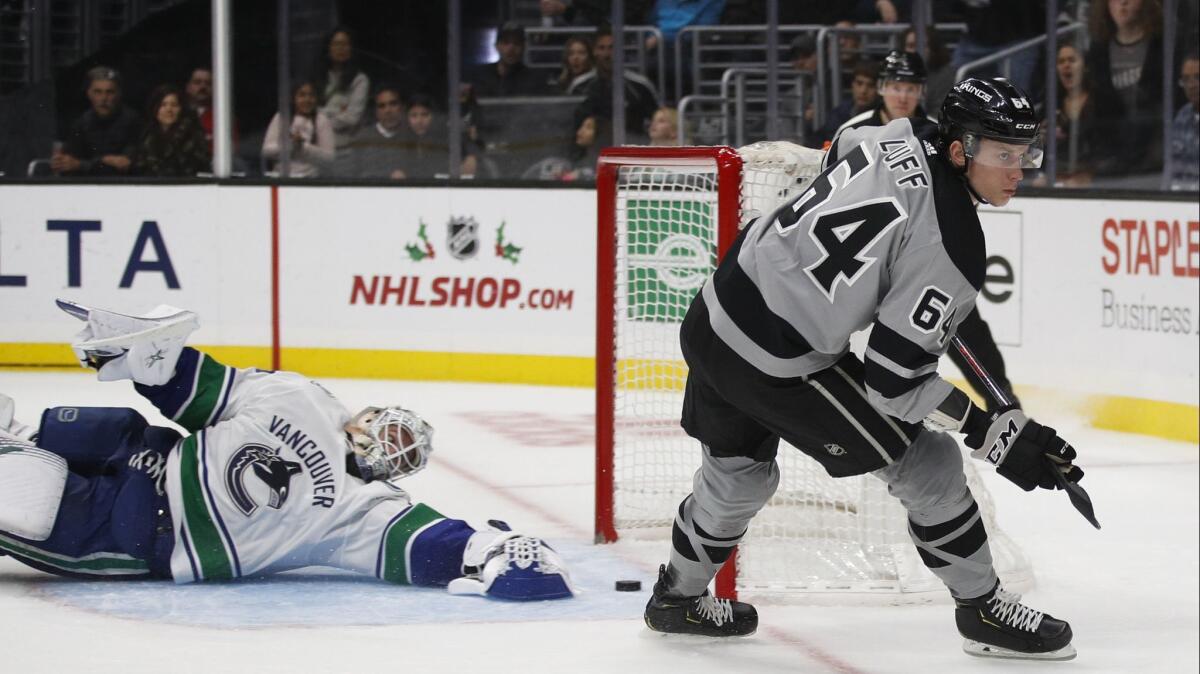 Go around the Kings' dressing room and the consensus is clear about Matt Luff's nickname: Luffer.
It's fun to say, but it doesn't stop there. His playful surname has spawned a host of song title references. When he scored at Staples Center, the arena played "What Is Love." When he scored against the Vancouver Canucks, Kings television analyst Jim Fox said jokingly on air, "What's Luff got to do with it?"
Luff, actually, has much to do with being a pleasant surprise in a Kings season that hasn't had a whole lot of love elsewhere. The undrafted 21-year-old scored four goals in his first nine games, all in a four-game streak, the longest by a Kings rookie since Jimmy Carson and Luc Robitaille in 1986-87. A lanky, natural right winger, Luff has brought a scoring touch and speed, especially on a line with Adrian Kempe.
"It's kind of easy for me to play with him," Kempe said. "He knows his role and he's working really hard. He's really good at finding that open [spot] in the o-zone. I just try to create space and give him the puck in the slot often. He shoots the puck real well. If he shoots it, he's going to score."
Teams weren't looking for Luff at the draft. He watched it in his first eligible year and spent the next year's draft day working on his shooting skills.
"I thought going into it, yeah, I was expecting to get drafted," Luff said. "But, you know what? Fuel the fire, I guess. I used it. I went into each summer knowing that I wanted a camp invite, and when L.A. gave me a call, they said there's a chance.
"And you know what? All summer I trained for that, and when it came to camp I showed them what I could do and walked out with a contract. So I think it was good motivation not getting drafted."
It took a growth spurt for Luff to bloom. He was 5-foot-7, 130 pounds in his first year of junior hockey but quickly stretched out to his current 6-2, 190-pound frame. Early on, it didn't help that his team, Belleville, played on a bigger Olympic-size rink.
"You got to learn to cut the ice in half," Luff said. "You get out there and you don't want to be a perimeter player. I got stuck as a perimeter player. It was a little bit of an adjustment, but then [when Belleville moved to] Hamilton [it] was regular ice, so I think that was beneficial to my game."
Luff is quick to say Belleville didn't affect how he was scouted because "it was on me. I didn't produce points." But he parlayed an invite to the Kings' rookie and developmental camps in the summer of 2016 into a three-year entry level contract that September. Perhaps the bigger nod, though, was that Nelson Emerson, director of player personnel, cited Luff as a player to watch in the 2017 preseason.
Luff was called up last month and has stayed partly because of injuries. Carl Hagelin and Trevor Lewis remain out, and Luff has grabbed the opportunity and allowed himself to enjoy the ride. Call it the power of Luff.
"I like to have fun," Luff said. "I'm trying to find the good in everything right now and just staying positive."
UP NEXT
VS. CAROLINA
When: Sunday, 7:30 p.m.
On the air: TV: FSW; Radio: iHeartRadio (LA Kings Audio Network)
Update: Former Kings winger Justin Williams was named Carolina captain at 37. He is 3-1-2 against the Kings since he left them in free agency in 2015.
Twitter: @curtiszupke
Get the latest on L.A.'s teams in the daily Sports Report newsletter.
You may occasionally receive promotional content from the Los Angeles Times.