Kings taking more hits on defense as Phaneuf is sent home for evaluation and Doughty is day-to-day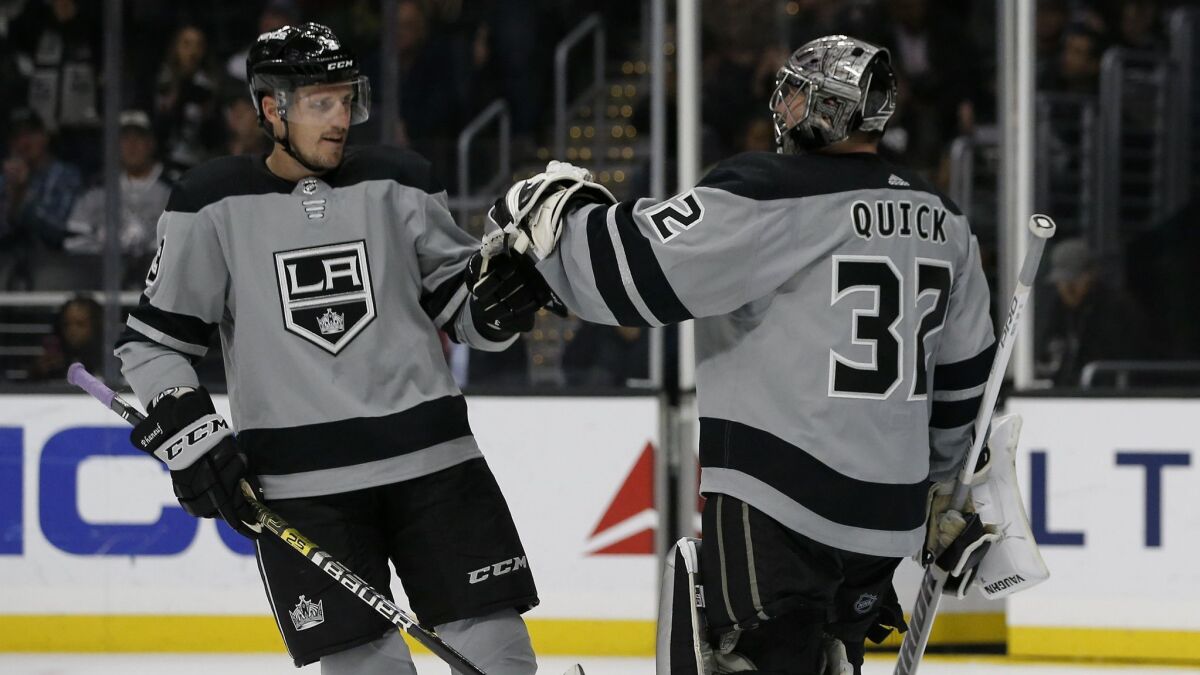 Reporting from COLUMBUS, Ohio —
They left this trip as the Kings. From the way it's gone, they might return as the Los Angeles Reign.
The injury repercussions continued Wednesday and made the Kings take another dip into their minor league system. Dion Phaneuf returned home to get evaluated for an upper-body injury, interim coach Willie Desjardins said, while Drew Doughty remained with the team and is day-to-day with the same-type injury.
"We just have to see how he responds from treatment," Desjardins said of Doughty. "We'll have a better idea [Thursday]."
Phaneuf fell over Buffalo Sabres forward Evan Rodrigues into the boards and Desjardins said "he'll be [out] a little bit [longer], for sure." Without Phaneuf and Alec Martinez, who was placed on injured reserve and isn't eligible to return until after the Kings come home, and possibly Doughty, the Kings called up Daniel Brickley from the Ontario Reign.
They also have Paul LaDue to plug into the back end of a lineup that includes Sean Walker, a rookie who again asserted himself well as one of four Kings defensemen, along with Jake Muzzin, Oscar Fantenberg and Derek Forbort, available for the third period and overtime Tuesday.
An offense-minded puck mover, Walker played more than 16 minutes in his first NHL game since Nov.1.
"He showed he can be an NHL player," Desjardins said. "He's showed it in the past."
Only Walker, Muzzin and Forbort were available in overtime because of Fantenberg's holding penalty. Desjardins said Anze Kopitar volunteered to play defense.
"And it's funny, because he'd be a great D," Desjardins said. "He'd be great, but the only problem is we needed him up front."
Muzzin logged a regular-season career-high 30 minutes, 35 seconds, and scored a goal with seven hits. He played almost seven minutes short-handed.
"Once Drew went down, he was kind of the leader back there," goalie Cal Petersen said. "It seemed like every time the puck was in our zone, he was blocking shots, directing traffic. He did a fantastic job, as well as all the D."
Brickley was regarded high among Kings defenseman prospects going into training camp, but his transition to the professional game has not gone ideally. He has two goals and three assists with a minus-17 rating and Ontario has struggled as well.
Etc.
Gabriel Vilardi and Jaret Anderson-Dolan are at Canada's training camp for the World Junior Championship but neither have reportedly practiced with the team. Vilardi has a history of back problems and Anderson-Dolan is recovering from a broken wrist. The tournament is Dec. 26- Jan. 5 in Vancouver and Victoria, Canada. … Austin Wagner played his fifth game in six nights Tuesday.
UP NEXT
AT COLUMBUS
When: Thursday, 4 p.m. PST.
On the air: TV: FS West; Radio: iHeartRadio (LA Kings Audio Network).
Update: Columbus defenseman Seth Jones leads the NHL in ice time per game, just ahead of Doughty. Cam Atkinson leads the Blue Jackets with 19 goals. The Blue Jackets lost a pair of third-period leads Tuesday against Vancouver and have lost four of five games.
Twitter: @curtiszupke
---
Get the latest on L.A.'s teams in the daily Sports Report newsletter.
You may occasionally receive promotional content from the Los Angeles Times.