Kings defenseman Derek Forbort turns out to be the perfect complement to Drew Doughty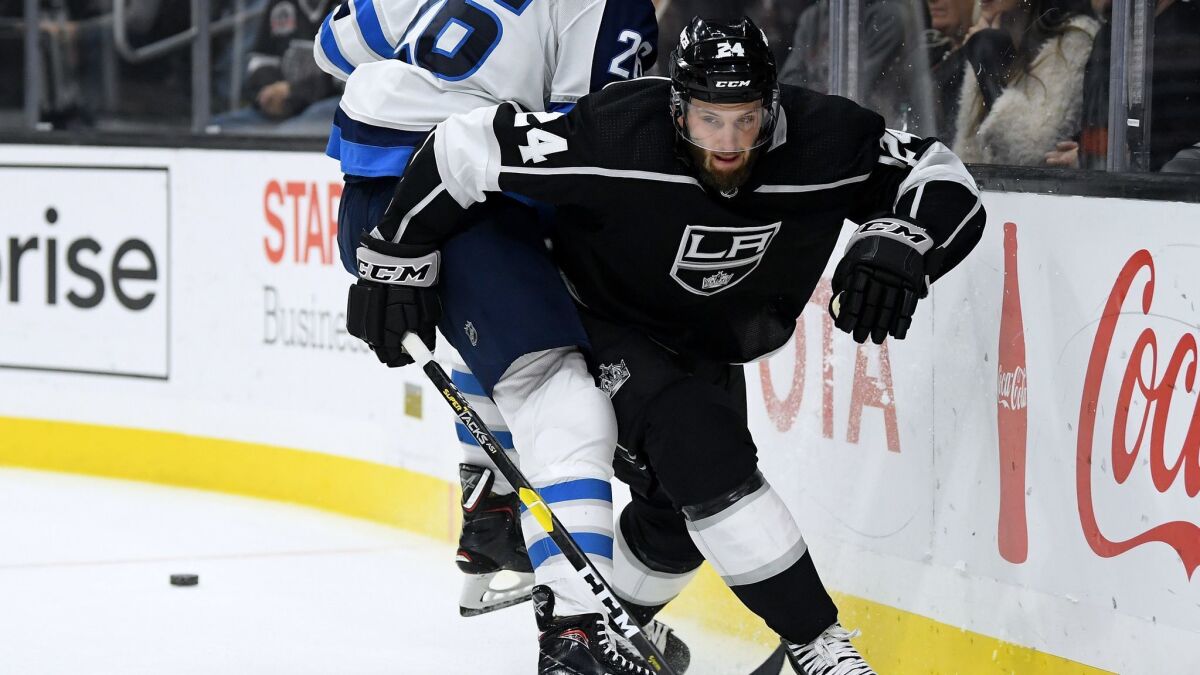 Don't count on Derek Forbort wearing a microphone during a game, like his partner Drew Doughty recently did.
While the chatty, unfiltered Doughty can fill up a television broadcast, Forbort is the polar opposite. As a stay-at-home defenseman, his job is not to get noticed much, if at all, as he faces the NHL's top lines by being with Doughty. He's the quiet, steady half of a duo that might qualify as a staple for the Kings, as different as they are.
"We definitely have a little thing where we don't even really need to talk sometimes," Forbort said. "You just kind of know where the person's going because we've done those plays so many times. It definitely makes it easier when you have that continuity with your partner."
Forbort won't get nearly the attention that Doughty receives, but the numbers bear out similar responsibility. Against the Pittsburgh Penguins, Forbort spent more than 10 minutes on the ice against Sidney Crosby, according to naturalstattrick.com. Forbort recently played more than 12 minutes against Connor McDavid of the Edmonton Oilers and more than 10 minutes against Nathan MacKinnon and Mikko Rantanen of the Colorado Avalanche.
Tough work, yes, but Forbort likes the challenge.
"It kind of adds a little more to the game," said Forbort, a Duluth, Minn., product who will make his biannual homecoming to Minnesota on Tuesday. "I take that personally. When they get a goal on you, it hurts. Before the game, you kind of look at the lineup and you're like, 'I want to shut them down.' [It's] a little game-within-the-game to get you going."
Coach Willie Desjardins said Forbort makes good defensive reads. That was evident in one of Forbort's best games, against the San Jose Sharks on Jan. 7, when he played more than nine minutes against Joe Pavelski and Joe Thornton.
It was an example of the ideal balance he's found with Doughty.
"We just know where each other is going to be all the time and we talk a lot to each other," Doughty said. "I know there's no other pair that talks as much as we do. We talk everything out. We know where to go.
"We can still work on things. We can be better at moving the puck, at breaking it out to minimize turnovers. But, yeah, if I go with another partner, I'm lost for a little bit, just because I'm so used to being with him and so used to knowing where he is on the ice."
LaDue waits
It's been an exercise in patience for Paul LaDue. He's been scratched in 15 of the last 19 games and played only 14 games this season.
"It's definitely tough," LaDue said. "You want to be out there with the team, helping the team, especially when you believe you can. At the same time, we have a great D-corps, we have a deep D-corps and you've just got to stay positive and stay motivated and come to practice and work hard every day and try to make my teammates better."
Sign up for our daily sports newsletter »
LaDue hasn't been able to crack the third defense pairing, over Oscar Fantenberg. Complicating matters is that LaDue would have to clear waivers to be reassigned to the minors, a chance the Kings might not want to take. LaDue said he hasn't talked with Desjardins about his role. He just tries to make a case in practices.
"I'm just going to come to the rink every day, act like it's a game day, and play as hard as I do in the game in practice, and see what happens," LaDue said.
UP NEXT
AT MINNESOTA
When: Tuesday, 5 p.m. PST
On the air: TV: NBCSN; Radio: iHeartRadio (L.A. Kings Audio Network)
Update: The Kings look to build off a 5-2 win against the Pittsburgh Penguins as they start a three-game trip against Central Division teams. Ilya Kovalchuk hasn't scored since his two-goal performance against the San Jose Sharks on Dec.22, a span of 10 games, but he is getting more chances with increased playing time. He played 20 minutes, 53 seconds on Saturday, his third-most this season. Minnesota won the first two games of the season series by a combined score of 7-2, with six players scoring. Jack Campbell stopped 43 of 47 shots in the two games for the Kings. This is the third straight game the Kings will play a team that is on the second of back-to-back games.
Twitter: @curtiszupke
---
Get the latest on L.A.'s teams in the daily Sports Report newsletter.
You may occasionally receive promotional content from the Los Angeles Times.