Kings forward Tyler Toffoli is mired in scoring slump, but he's helping in other ways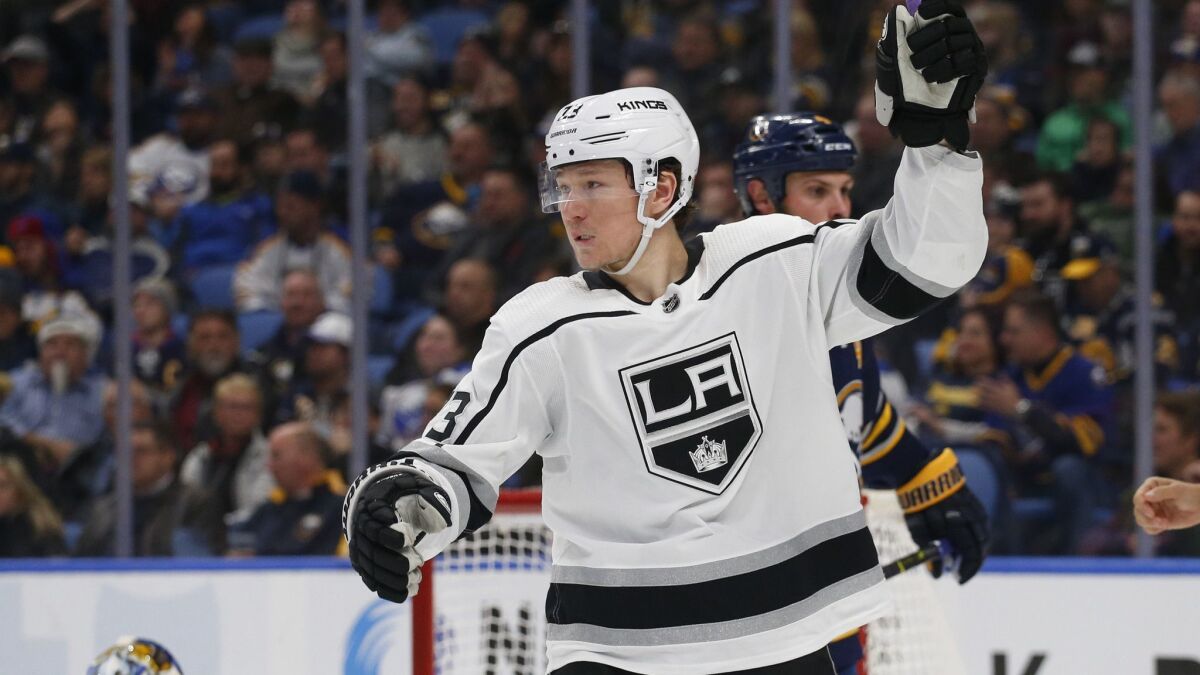 The default response for Tyler Toffoli during good and bad times is to tune out the outside noise.
It's a distraction, and it's not going to change what he does on the ice. But even when his play is effective, the drumbeat of his scoring dearth gets louder and more difficult to ignore.
Toffoli has scored two goals since Nov. 16, spanning 30 games, and sits on seven goals in 48 games. After he scored five goals in his first 18 games, it's been a steady helping of missed shots, stopped shots and goal posts. Toffoli leads the Kings with 136 shots but is on pace for a 12-goal season,which would be the lowest of his career in a full season.
"I think it's been a frustrating year for a lot of the guys on our team, myself included," Toffoli said. "You look at the points you have, and it's not where you projected yourself to be at the start of the season. [Ultimately], you look at the standings, and things are a lot closer than people think. If we just keep playing well and keep winning games, we've shown we can beat a lot of really good teams."
Thursday represented how Toffoli can impact a game in other ways. He forced the Dallas Stars into a hooking penalty that the Kings converted on the power play. He later made a great move to tee up Carl Hagelin's first goal as a King.
Coach Willie Desjardins said that Toffoli has been good defensively, adding that he's not concerned about the puck not going into the net regularly or how Toffoli has managed that frustration.
"He's handled it well," Desjardins said. "He wants to play. I think he's been pretty good. The numbers aren't there but the numbers will come."
Toffoli set the bar with 31 goals in 2015-16 followed by 16 in an injury shortened season and 24 last season.
Desjardins said that Toffoli, 26, is still a young player. But he's counted on to produce and got the organizational backing with a three-year extension in the summer of 2017.
Sign up for our daily sports newsletter »
The only thing Toffoli can do is to block out that talk and put in the work, like he's been doing.
"Obviously guys get points and score a goal and [people think] their games are way better, but that's not the way it is all the time," Toffoli said. "I'm happy with my game and I think our line's creating a lot of opportunities and playing really well."
Kopitar meets Doncic
Anze Kopitar met fellow Slovenian Luka Doncic of the Dallas Mavericks for the first time Thursday, and the two exchanged jerseys.
"Right now, he's probably the biggest athlete in the country, for sure," Kopitar said of the 6-foot-7 Doncic, who has been likened to a modern-day Larry Bird.
Kopitar said they had spoken on the phone but not face to face, in what was a good sporting representation of a country of about two million people.
"It's kind of funny, because for a small country like we are, we have a lot of professional athletes that play in the highest levels," Kopitar said. "You name it — you've got soccer, basketball, there's myself, ski jumpers are good, skiers are good. It's pretty fascinating how well we're represented."
Forbort's pratfall
Derek Forbort accidentally became an online sensation Thursday when he tripped and fell while skating back to his end on an icing. Replays revealed teammate Drew Doughty laughing at him.
Forbort retweeted the video and wrote, "New skates."
He rarely uses social media but he couldn't help it when he saw the video.
"I thought it was really funny," Forbort said. "We chirp each other all the time. It's like, our relationship."
Injury updates
Jake Muzzin needed another maintenance day, Desjardins said, and Oscar Fantenberg is "close" to returning from a lower-body injury.
UP NEXT
AT COLORADO
When: Saturday, Noon PST
On the air: TV: FSW; Radio: iHeartRadio (LA Kings Audio Network)
Update: Colorado has lost 10 of 12 games. Mikko Rantanen joined Joe Sakic as the only Avalanche players with 70 points in his first 50 games.
Twitter: @curtiszupke
---
Get the latest on L.A.'s teams in the daily Sports Report newsletter.
You may occasionally receive promotional content from the Los Angeles Times.