Adrian Kempe salvaging his season for the Kings after scoring slump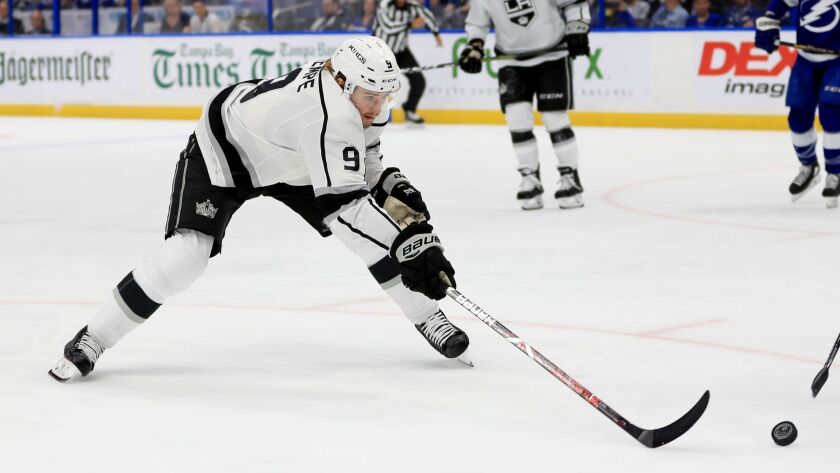 A line graph of Adrian Kempe's season practically mirrors that of the Kings.
He went into it with serious expectations, based on what he built in the previous season, but it was uphill from the start. Kempe scored three goals in his first 27 games, and by early December it became a matter of getting some confidence back.
"There was a lot of frustration," Kempe said. "We didn't play very well. We didn't really take advantage of our chances and we didn't play good enough in our [defensive]-zone, obviously, and that's going to create frustration. If you create a lot of chances and you don't score, you're going to get frustrated at one point. I feel like that happened to me a little bit."
Kempe endured 19 straight games without a goal, from Dec. 13 to Feb. 2, but he's managed to salvage the remnants of the season. He has 12 points in his last 18 games, with six goals scored since Feb. 2. Coach Willie Desjardins has allotted more ice time to the 22-year-old, who is averaging more than 14 minutes per game, nearly a minute more than last season.
On Sunday, Kempe played a season-high 19 minutes, nine seconds, and the Kings have the makings of a potent line with Kempe, rookie Carl Grundstrom and Tyler Toffoli. Desjardins said that Kempe likes having that added responsibility of ice time, but more important is the intangibles that have returned.
"I think he's enjoying it more," Desjardins said. "He's getting rewarded. They're starting to score a little bit, that line. They're getting offensive chances. And whenever you get rewarded, you're more likely to keep doing it."
Kempe's upswing is a good sign for a third-year forward who has received a crash course in consistency in the NHL. He went scoreless in the final 33 games of last season, which overshadowed the smaller aspects of his game that he did well. He thrives with his speed down the middle and on the forecheck, and it helps lately to have on his wing Grundstrom, a power forward whose style already draws comparisons to Dustin Brown.
"I think we play really good together," Grundstrom said of Kempe and Toffoli. "All three play fast and want the puck. It's real fun to play with these two guys."
Kempe's 11 goals are just off track from his 16 goals last season. He needs 12 points in 13 games to match his point production, but he's earned the opportunity to get there.
Sign up for our daily sports newsletter »
"I've got a little bit more confidence back, and my minutes went up," Kempe said. "It makes a pretty big difference when you play well. A few minutes can make a pretty big difference at the end of the night. I'm very glad that they trust me and put me out there a lot. But I think my game's been a lot better lately and I'm happy with the way I'm playing right now."
Ice-time juggle
Desjardins acknowledged it has been a challenge to divvy up playing time between young players and veterans. It has seen some lopsided returns, such as the one and two shifts given to Jonny Brodzinski and Ilya Kovalchuk, respectively, in the third period Sunday against the Ducks.
Desjardins pointed to their 11-forward lineup that night and said to not read into it too much.
"It's not just one player sometimes, it's a line," he said. "It wasn't that [Kovalchuk] was playing poorly, it was just that I was running three [lines] … [it's] the odd time I think it helps us just to play three lines, so it's not reflective of who's not in that three."
UP NEXT
VS. NASHVILLE
When: Thursday, 7:30 p.m.
On the air: TV: FS West; Radio: iHeartRadio (LA Kings Audio Network).
Update: Alec Martinez sat out practice with an illness but is expected to play, Desjardins said. Austin Wagner (lower-body injury) took turns with Brodzinski on the fourth line and Desjardins said there's "a good chance we'll see him." Former Kings winger Wayne Simmonds has one assist in five games with Nashville. The Predators won the first two games this season against the Kings and Kyle Turris scored in each game. The NHL announced that the draft lottery will be held on April 9 in Toronto.
Twitter: @curtiszupke
---
Get the latest on L.A.'s teams in the daily Sports Report newsletter.
You may occasionally receive promotional content from the Los Angeles Times.