Kings veterans feel for rookies as team preaches patience during rebuild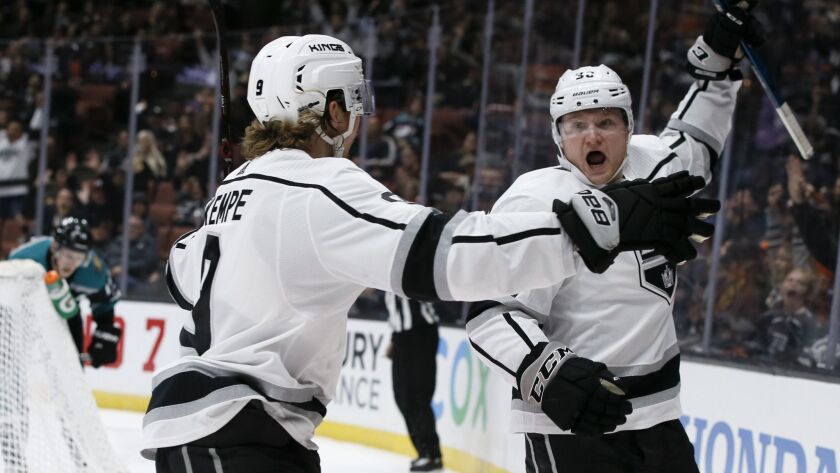 When Drew Doughty looks across the locker room at the future of the Kings he sees potential, but he also feels for the younger players.
The Kings are playing rookies Austin Wagner, Sean Walker, Matt Roy and Carl Grundstrom in a culture that has produced 15 losses in 17 games and one win at home since Jan. 21.
"It's good that they're getting NHL games in, but to come to a team that's in last place, [there's] no direction right now," Doughty said. "Obviously we're playing for something, but we're playing for nothing, and it's tough for these guys."
That's been the ongoing challenge for the aforementioned rookies, plus slightly more experienced players such as Jonny Brodzinski and Paul LaDue.
Brodzinski sees it as a win-lose situation in that it's good to get ice time but "it's also difficult in that aspect where, if we're not playing well, and we go through a stretch like we have, it's difficult to get some chemistry going.
"It has its pros and it has its cons. When you're winning and you're a playoff team, it seems like everything's clicking. You get out there, you're in the offensive zone. You're buzzing. You're creating plays. But right now, [we're] not making that many plays and late in the game we've blown a couple of leads."
Players like Brodzinski, 25, have the maturity to handle the adversity, having spent time in the minors, as opposed to teenagers. NHL teams tend to keep the latter away from a losing atmosphere because it hurts their development.
The Kings returned 19-year-old Jaret Anderson-Dolan to his junior team after five games, and Anderson-Dolan has 43 points in 32 games with the Spokane Chiefs. He recently tied a Chiefs record with a nine-game goal-scoring streak.
Walker, 24, takes the same view as Brodzinski.
"It's tough going in and losing games," Walker said. "You want to be winning. It can be disheartening at some times, but this is obviously a great opportunity for a lot of the young guys. You try to learn stuff every day, come in learn what you can and try to better your game every day. Go from there, and hopefully work towards getting a spot for next season on the team."
Brodzinski has found it difficult lately to get that opportunity. He was benched for the second straight game Saturday when interim coach Willie Desjardins employed another 11-forward, seven-defensemen lineup. One of those defensemen, Kurtis MacDermid, played fewer than four minutes, although MacDermid did try to energize the Kings with a fight.
Brodzinski said it's been instructional to watch the last two games but "any opportunity right now is what I want."
That could happen Monday, depending on Desjardins' latest alignment. Brodzinski took turns with Brendan Leipsic on a line with Ilya Kovalchuk and Jeff Carter in practice Sunday. Kovalchuk, through a team official, declined to speak the day after he did not play because of a coach's decision.
Whenever Brodzinski does return, Desjardins said he needs to see more from him after he worked his way back from shoulder surgery.
"I think it's a tough situation," Desjardins said. "We gave him some time early to get going and see where he's at. He's got a heavy shot. He worked hard to get back. I think once he's in the lineup, we need to see a few more things happen. If he's going to be a scorer, he's got to create more. If he's going to be a physical guy, he's got to play a little bit more physical. You've got to kind of identify yourself a little bit."
Overall, Desjardins sees both sides to exposing players to a down season. But he looks to players like Doughty to guide the prospects through times like this.
"We've got some guys in that room that's won," Desjardins said. "Our room's pretty good. They take time with the young guys. Overall, it's not going as good, [but] they still make sure that they're [directed] the right way."
UP NEXT
VS. WINNIPEG
When: Monday, 7:30 p.m.
On the air: TV: FS West; Radio: iHeartRadio (LA Kings Audio Network).
Update: Mark Scheifele has a career-high 34 goals, and the Jets could have three 30-goal scorers with Patrik Laine (29) and Kyle Connor (27). … Dustin Byfuglien (ankle) is on injured reserve.
Sign up for our daily sports newsletter »
Twitter: @curtiszupke
---
Get the latest on L.A.'s teams in the daily Sports Report newsletter.
You may occasionally receive promotional content from the Los Angeles Times.