Kings' Ilya Kovalchuk feels like he didn't 'have a chance' after Willie Desjardins took over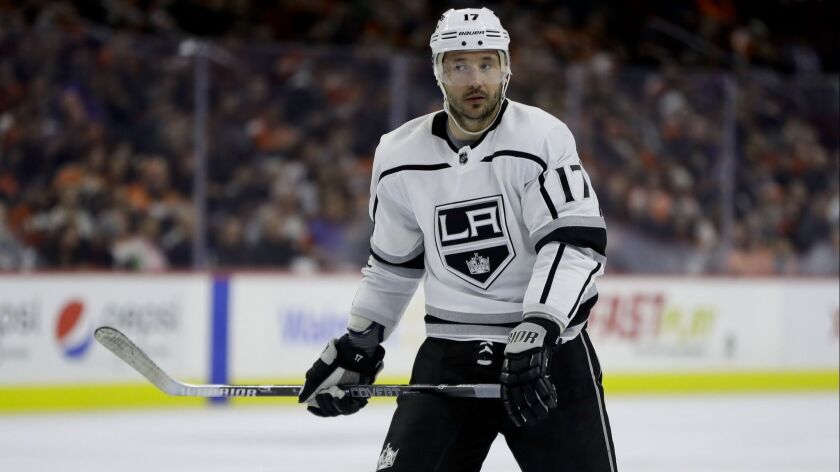 Ilya Kovalchuk looked sharp in a dark blue suit and loafers without socks when he appeared outside of the Kings' locker room after a recent game.
The Kings played the Florida Panthers, a team that Kovalchuk feasted on early in his career with 35 goals, his second-most against any opponent. But Kovalchuk didn't play that night, and it wasn't because of injury.
Kovalchuk has not played in two of the past three games because of a coach's decision by Willie Desjardins, and Kovalchuk's short response to that Friday summed up a long season.
"It's horrible," he said.
Kovalchuk would rather wear his uniform rather than a suit, a feeling echoed by Jonny Brodzinski, another forward that Desjardins has benched to mix things up and play younger players.
"But they're not playing young guys," Kovalchuk said. "They're playing seven D."
Desjardins has employed an 11-forward, seven-defensemen lineup three times in the past five games, and the Kings are 2-1 in that split. But it creates an awkward situation to bench a prideful Kovalchuk.
"I think it's a tough thing for him," Desjardins said. "We're at a time now where we need to look at some young players as well. That's just a hard spot for the other players. It puts them in a bad spot. But I have a lot of respect for him, and his love for the game."
Kovalchuk is an example of a Kings' season that started with potential, then nosedived. Kovalchuk started out with Anze Kopitar on the top line but gradually fell down the depth chart. The Kings lost six of their first nine games under Desjardins and Kovalchuk barely saw the ice in a late November stretch.
"After Willie came here, I don't have a chance," Kovalchuk said. "I play five, six minutes a game. A few games I play with Kopi. We did well. We score all five games, but then he decided to change and I never play again much. That's the way he sees the situation. He's the head coach and he's responsible for results."
Kovalchuk hasn't changed his thinking about staying with the team that signed him to a three-year, $18.75 million contract. "No, I'm not like that," he said. His wife and four children have settled in the area and he's willing to persevere.
"It's another challenge for me," Kovalchuk said. "I'm even more motivated now because [this has happened] … like, it's not fair to me but I'm not going to cry in the pillow. The sun's up and the kids are in school and they're happy and that's most important thing. I will find a way to go through this, for sure."
Brodzinski is frustrated, too, especially since he returned from a major shoulder injury to play eight games, only to be sat the past four.
"That was the one thing keeping me motivated, really, throughout the whole process of being hurt, was coming back and getting my chances," Brodzinski said. "[The idea] at the beginning of the year, was continue to play with [Adrian Kempe] and [Alex Iafallo], really trying to catch my stride here. I feel like I haven't really done that. It's kind of frustrating, but I've got to keep my head down and just keep plugging away."
Brodzinski could go back into the lineup by default Saturday because Brendan Leipsic looks to be a "few days" from returning from a lower-body injury, Desjardins said. In the larger construct, it's already a lost season for Brodzinski, who needed to hit the career 80-game mark this season in order to avoid being an unrestricted, Group 6 free agent.
"It was definitely the worst possible moment to get hurt in my career, for sure," Brodzinski said.
Kesler, Eaves updates
Ducks general manager Bob Murray told reporters that Ryan Kesler would meet with doctors Friday night to evaluate a career-threatening hip injury.
"Kes has to get everything in his life in order as to what he has to do in order to play," Murray said. "It's not exactly good for his body, the things he puts himself through. We need to take full inventory of where he is in his life and go forward from there. The agent and I have talked a bunch."
Murray cast doubt that Kesler, 34, would play again this season, and Murray did not have encouraging news about Patrick Eaves when he said the 34-year-old suffered an unknown setback. Eaves played just two games last season because of post-viral syndrome.
"There is no new diagnosis or anything," Murray said. "This is a very troubling situation, and everybody is doing the best they can with it. There is no diagnosis, and he's just struggling again with everything."
UP NEXT VS. DUCKS
When: Saturday, 7:30 p.m.
On the air: TV: FSW, Prime; Radio: 830, iHeartRadio (LA Kings Audio Network)
Update: The Kings can win the season series for the first time since they went 2-1-1 against the Ducks in 2012-13. Dustin Brown and Kyle Clifford scored in each of the first two games. Ducks winger Jakob Silfverberg went into Friday one goal short of his career-best 23 from two seasons ago.
Sign up for our daily sports newsletter »
Twitter: @curtiszupke
---
Get the latest on L.A.'s teams in the daily Sports Report newsletter.
You may occasionally receive promotional content from the Los Angeles Times.