Kyle Clifford shows his toughness by scoring first career power-play goal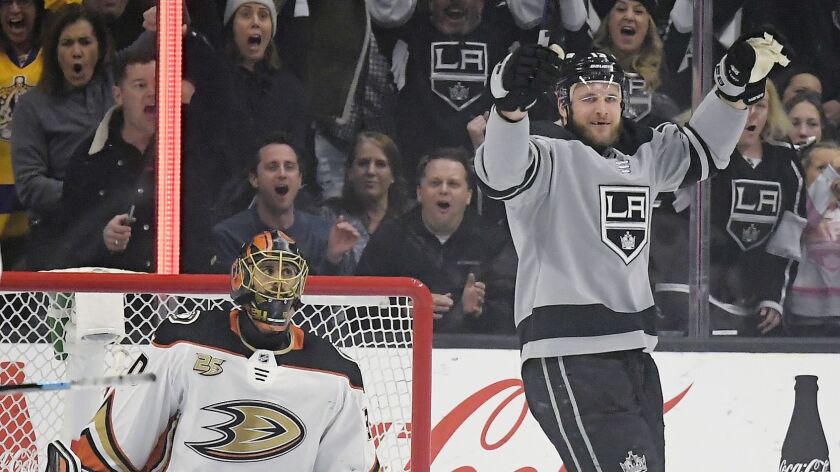 File it under strange-but-true statistics for the Kings this season: Kyle Clifford has more power-play goals than Anze Kopitar.
Clifford's man-advantage score Saturday was the first of his career, and it's one better than Kopitar, whose zero power-play goals is one of the head-scratching numbers in a Kings' season full of them.
Clifford found himself on the power-play unit because Ilya Kovalchuk sat out for the third time in four games because of a coach's decision and Brendan Leipsic is injured. Clifford made a clever deflection of Alec Martinez's shot for his first power-play goal and first power-play point, in his 599th game. He shrugged off being on the unit because it boils down to going to the tough areas.
"It kind of goes with the same as [playing] five-on-five," Clifford said. "Just be ready and know what you got to do out there."
Clifford re-invented his game this season to be more of a power forward, and it helped that he was given a larger role under interim coach Willie Desjardins shortly after Desjardins came on board in November. His nine goals are a career high. He doesn't care how he gets them.
"Everybody's got their role on the team and I know what mine is, whether it's being in front of the net on the power play or playing hard, forechecking, or just being a good team guy," Clifford said. "I don't really put a lot of thought into personal statistics."
His score was a good response goal against the Ducks. But more important for the Kings was how they responded to Rickard Rakell's goal.
A common refrain of former Kings coach John Stevens was to not let one incident in a game affect the rest of the game, and Stevens' former pupils heeded his mantra when they did not let Rakell's score with 0.9 seconds remaining in the second period deflate them. They rallied for an eventual 4-3 shootout win, and while that fortitude is too little, too late this season, it's good to see.
"I think the last couple of games we've been playing [with] mental toughness," Clifford said. "We're staying within ourselves. We're not letting things that happen within the game affect the way we're going to play. We're just keeping it simple. When things go wrong, we push back."
Carter's season
It probably doesn't qualify as being back on track, but Jeff Carter's two-game scoring streak comes after a 20-game slump, the longest of his career. He ended it with an empty-net goal Thursday and followed it with a more traditional score Saturday.
Sign up for our daily sports newsletter »
At the beginning of this season, Carter indicated he might still be impacted by a lacerated ankle tendon from October 2017. But Desjardins doesn't see it that way.
"I don't know if he's been slowed," Desjardins said. "I think he's been playing well of late. I don't mind his game. I think for a guy that's been around for a while, I think this is a tough situation. It's easier to play passionate when you're playing for something, but at the same time, we need him. We need him to be good."
Up next for Kings: at Calgary
When: Monday, 6 p.m.
On the air: TV: FSW; Radio: iHeartRadio (LA Kings Audio Network)
Update: Leipsic (lower-body injury) won't be on this trip and Michael Amadio was recalled. Calgary's Mark Giordano is the fourth defenseman in NHL history 35 or older to reach 70 points, after Ray Bourque, Sergei Zubov and Nicklas Lidstrom. The Flames won the first two games this season by a combined score of 5-1.
Twitter: @curtiszupke
---
Get the latest on L.A.'s teams in the daily Sports Report newsletter.
You may occasionally receive promotional content from the Los Angeles Times.