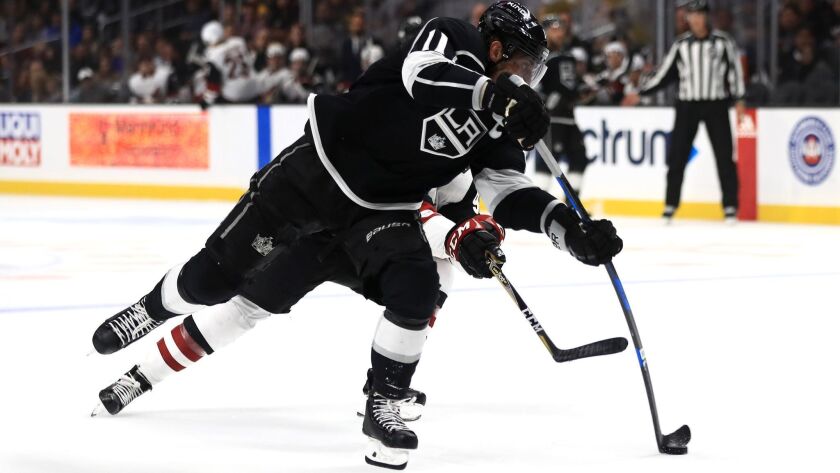 The Kings boast one of the best triumvirates in the NHL, and it isn't going anywhere.
Drew Doughty signed an eight-year extension to remain a franchise staple beside Anze Kopitar and Jonathan Quick. The complementary pieces around them, and the Kings' willingness to step out of their defensive comfort zone when it matters most, remain organizational question marks. But the bones of their two Stanley Cup-winning teams are there.
"We're in our window," Kings president Luc Robitaille told season-ticket holders in August. "Our goal, everything we're doing, is: What can we do to win the Stanley Cup?"
Here are projected lines, defense pairings and goalies, including sweater numbers.
L1 LW Alex Iafallo 19 C Anze Kopitar 11 RW Ilya Kovalchuk 17
Kovalchuk brings scoring punch next to MVP candidate Kopitar after an injury to Dustin Brown.
L2 LW Tanner Pearson 70 C Jeff Carter 77 RW Tyler Toffoli 73
Carter returns from an injury-interrupted season and Pearson and Toffoli strive for more consistency.
L3 LW Austin Wagner 51 C Adrian Kempe 9 RW Trevor Lewis 22
Wagner is the surprise of training camp, and Kempe and Lewis are versatile pieces who figure to move around the lineup.
L4 LW Kyle Clifford 13 C Nate Thompson 44 RW Michael Amadio 10
Amadio turned in a strong camp and might start next to the veterans on a line that could feature various combinations.
D1 Derek Forbort 24 Drew Doughty 8
Doughty reached a career-best 60 points last season under the new regime and can only benefit frequent partner Forbort, who missed most of the preseason.
D2 Jake Muzzin 6 Alec Martinez 27
Muzzin had career-best 42 points and will start out with usual sidekick Martinez, a prolific shot blocker who also had a career-high 81 giveaways.
D3 Dion Phaneuf 3 Oscar Fantenberg 7
Phaneuf plays with an edge and puts pucks on net while Fantenberg and Paul LaDue progress under his wing.
G Jonathan Quick 32 Jack Campbell 36
Quick won the Jennings Trophy and his .921 save percentage was his best since 2011-12. With only seven games of NHL experience, Campbell must show he's ready for more responsibility.
Spares: Brown, Jonny Brodzinski and Gabriel Vilardi are injured. LaDue likely will take turns with Fantenberg in the third pairing. Jaret Anderson-Dolan could make his Kings debut about a month after his 19th birthday.
Special teams: The Kings owned the NHL's best penalty-killing unit (85%) last season and were tied for 17th on the power play (20.4%).
Who's new: Kovalchuk was the prize offseason addition. Peter Budaj was brought back for a second turn for organizational depth.
Who's gone: Defensemen Christian Folin and Kevin Gravel and forwards Tobias Rieder and Torrey Mitchell were not re-signed. Andy Andreoff was traded to Tampa Bay for Budaj.
KINGS SCHEDULE
All times Pacific and p.m. unless noted. Home games in capital letters. Games televised on FS West unless noted.
(* NBCSN; # Ch. 13; + Prime)
Oct. 5 SAN JOSE 7:30
Oct. 7 DETROIT 7:30
Oct. 9 at Winnipeg 5
Oct. 11 at Montreal 4:30
Oct. 13 at Ottawa 11 a.m.
Oct. 15 at Toronto 4:30
Oct. 18 N.Y. ISLANDERS 7:30
Oct. 20 BUFFALO 12:30
Oct. 23 at Dallas 5:30
Oct. 25 at Minnesota 5
Oct. 28 N.Y. RANGERS 12:30
Nov. 1 PHILADELPHIA 7:30
Nov. 3 COLUMBUS 7:30
Nov. 6 DUCKS 7:30
Nov. 8 MINNESOTA 7:30
Nov. 10 CALGARY 7
Nov. 13 TORONTO 7:30
Nov. 16 at Chicago 5:30
Nov. 17 at Nashville 5
Nov. 19 at St. Louis 5
Nov. 21 COLORADO 7:30
Nov. 24 VANCOUVER 7
Nov. 25 EDMONTON 7:30
Nov. 27 at Vancouver 7
Nov. 29 at Edmonton 6
Nov. 30 at Calgary 6
Dec. 2 CAROLINA 7:30
Dec. 4 ARIZONA 7:30
Dec. 6 NEW JERSEY 7:30
Dec. 8 VEGAS 1
Dec. 10 at Detroit 4:30
Dec. 11 at Buffalo 4
Dec. 13 at Columbus 4
Dec. 15 at Pittsburgh 4
Dec. 18 WINNIPEG 7:30
Dec. 22 at San Jose 1
Dec. 23 at Vegas 1
Dec. 27 ARIZONA 7:30
Dec. 29 VEGAS 1
Dec. 31 at Colorado 5
Jan. 1 at Vegas 6
Jan. 3 TAMPA BAY 7:30
Jan. 5 EDMONTON 7
Jan. 7 at San Jose 7:30
Jan. 10 OTTAWA 7:30
Jan. 12 PITTSBURGH 7:30
Jan. 15 at Minnesota* 5
Jan. 17 at Dallas 5:30
Jan. 19 at Colorado noon
Jan. 21 ST. LOUIS* 1
Feb. 2 at N.Y. Islanders# 4
Feb. 4 at N.Y. Rangers 4
Feb. 5 at New Jersey 4
Feb. 7 at Philadelphia 4
Feb. 9 at Boston 10 a.m.
Feb. 11 at Washington 4
Feb. 14 VANCOUVER 7:30
Feb. 16 BOSTON 7:30
Feb. 18 WASHINGTON 7:30
Feb. 21 at Nashville* 5
Feb. 23 at Florida 2
Feb. 25 at Tampa Bay* 4:30
Feb. 26 at Carolina 4
Feb. 28 DALLAS 7:30
March 2 CHICAGO 1
March 5 MONTREAL 7:30
March 7 ST. LOUIS 7:30
March 9 at Arizona 5
March 10 at Ducks* 7
March 14 NASHVILLE 7:30
March 16 FLORIDA 1
March 18 WINNIPEG 7:30
March 21 SAN JOSE 7:30
March 23 DUCKS 7:30
March 25 at Calgary 6
March 26 at Edmonton# 6
March 28 at Vancouver 7
March 30 CHICAGO 7:30
April 1 CALGARY+ 7
April 2 at Arizona+ 7
April 3 at Ducks+ 7
April 6 VEGAS+ 7:30
Twitter: @curtiszupke
---