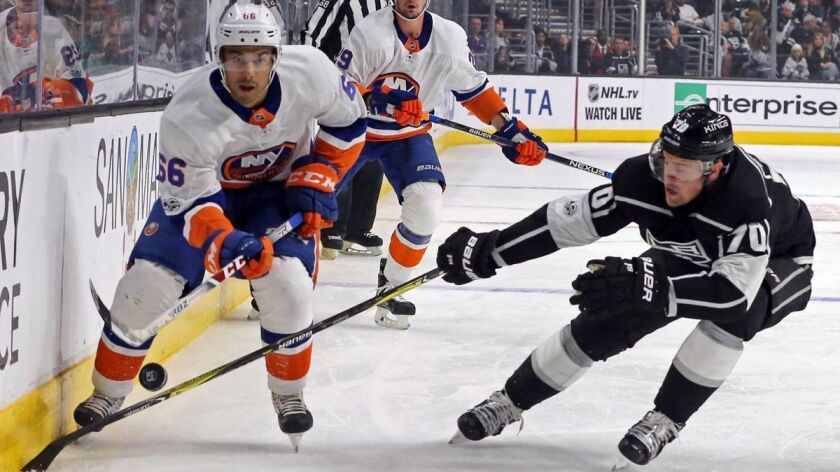 The Kings opened shop in 1967 and never achieved a start like this until Sunday. Their 4-0-1 record is the best five-game start in franchise history, thanks to a 3-2 win Sunday against the New York Islanders at Staples Center.
The caveat is that their four wins have come against teams with a combined record of 7-12-2, but the Kings are a good story in the young NHL season.
Here's what we learned:
Drew Doughty is unleashed. Doughty was one of the few players given carte blanche under former coach Darryl Sutter, but the offensive tweaks under coach John Stevens have seen him jump into the play a lot more without sacrificing defense. His two-on-one with Anze Kopitar was an extension of his offensive capability, although he said it felt odd.
"It's tough to be in that situation," Doughty said. "I'm not usually used to being in a two-on-one situation. To be honest, I couldn't even see the puck when he passed it and luckily I saw it at the last second. I just tried to get some wood on it. Luckily it went five-hole because I just tried to get a piece of the puck. Great pass by Kopi. You expect him to do that every game."
Darcy Kuemper passed his first test. One of the toughest jobs in sports is that of a backup goalie, who must be game-ready without ever getting proper game rhythm.
Kuemper is used to the role and showed it with 23 saves in his Kings debut. His two goals allowed came when the Kings got hemmed in by the Islanders, and when Casey Cizikas was alone to whack a wraparound attempt under Kuemper's left skate.
Kuemper and the Kings also escaped a dreaded score-tying goal when the Islanders missed a glorious chance with an extra attacker in the final 30 seconds.
But Kuemper is 1-0 as a King. He said he was "bouncing ideas" off Jonathan Quick during stoppages and intermission.
"He's great to talk to because he knows how the team plays and what our job is and how we play within that system," Kuemper said. "He's been a great help to me."
John Tavares remained under wraps. The Kings have a solid history defending one of the game's best centers. Tavares has just two goals in 14 career games against them, and he was kept at bay.
Tavares had one shot on goal in nearly 22 minutes and lost 10 of 14 faceoffs, playing against Kopitar, Jeff Carter and Doughty for most of the night.
Twitter: @curtiszupke
---