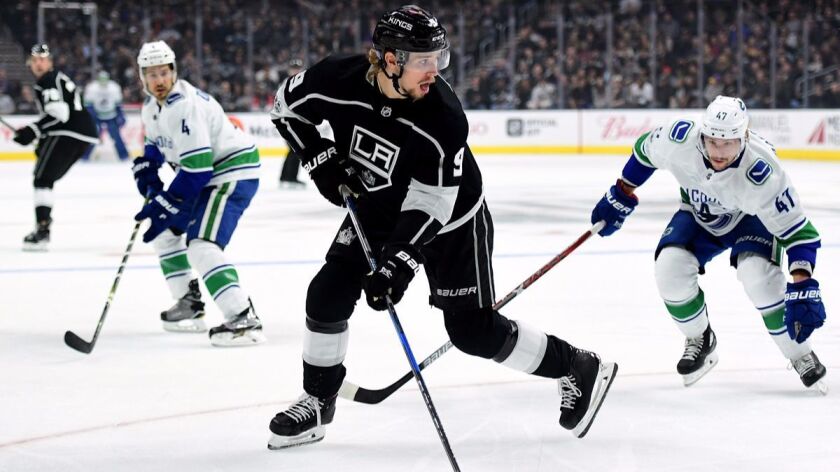 Was it really last week that the Kings were without a regulation loss at home, with their foot firmly on the gas pedal as they collected early standings points?
That was so last week.
The cracks in their armor have actually shown for a while, now splitting open into three straight home losses following a 3-2 defeat at the hands of the Vancouver Canucks on Tuesday.
The problems are clear, but are they easily fixable?
Here's what we learned:
The Kings can't get out of their own zone effectively. Time and again the Kings failed to break out cleanly, and that's been a theme lately. They are a vastly improved rush attack team, as coach John Stevens pointed out before the game, but the challenge is getting in position to make that rush.
"We've got work to do," Stevens said. "We had work to do when we were winning hockey games, and we've got work to do when we're losing hockey games. Those lessons tonight, it's two games in a row, quite honestly, where San Jose really got their forecheck established [on Sunday] and took the game over, and I thought Vancouver did that again tonight, especially in the second period."
The Kings need to take back the front of the net. A team that has hung its hat on sweeping intruders out of the slot and blue paint got beat in that department on at least one goal.
Bo Horvat was free to swat in a puck that bounced high off Jonathan Quick for Vancouver's second goal. Jake Muzzin was late in getting to Horvat.
"I'd like to see us win a battle in the blue paint there, but they go hard to the net," Stevens said.
Granted, it was on a power play, but the Kings own the NHL's top-ranked penalty unit. They allowed five goals on the power play prior to Tuesday and yielded two for the first time this season.
It's time to solidify the depth lines. That was addressed with the trade of Michael Cammalleri to the Edmonton Oilers for Jussi Jokinen as the Kings try to find sameness with their bottom-six forward group.
They've tried prospects Michael Amadio, Andrew Crescenzi, Justin Auger, Jonny Brodzinski, among others, and none have stuck.
"I would say we're looking for stability," general manager Rob Blake said.
Jeff Carter won't return for a while. Blake confirmed as much when asked if it's been a big enough sample size (12 games) to judge how they'll fare without Carter, out with a laceration to his ankle tendon.
"No, and unfortunately we're going to have a large sample size by the end of it, by the time he's coming back," Blake said.
Carter will at least have time to spend with his newborn daughter. He announced the birth of Emersyn on Twitter on Tuesday.
Twitter: @curtiszupke
---