What we learned from the Kings' 4-3 win over the Rangers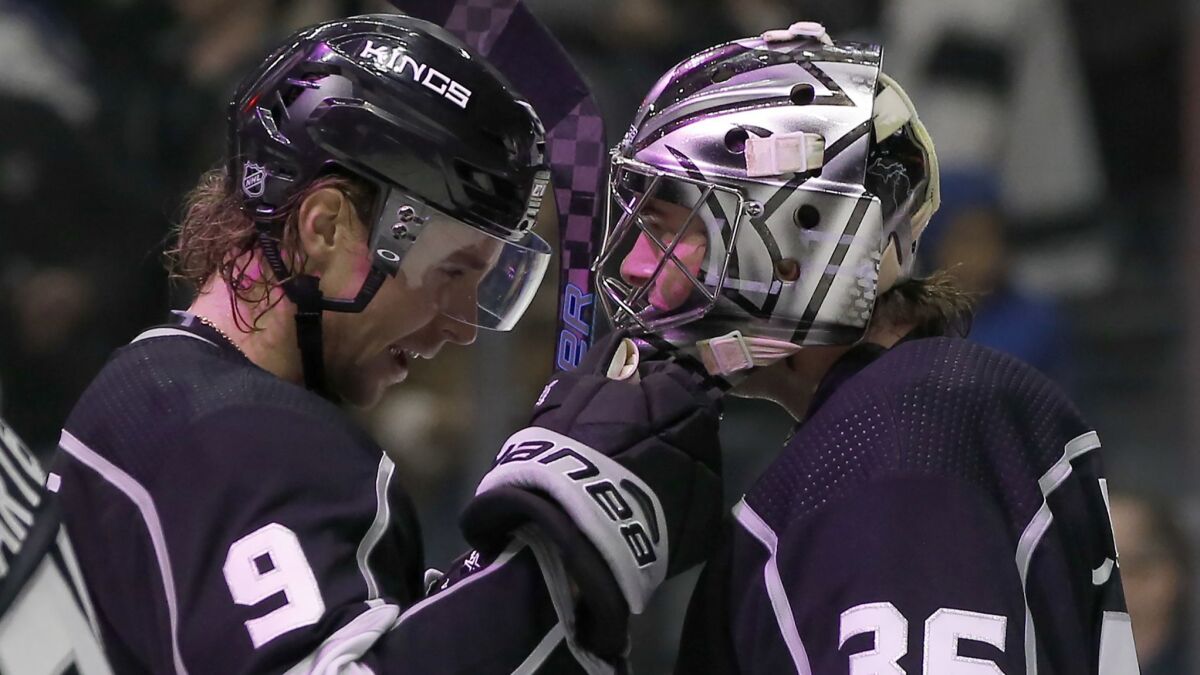 A stick salute to the fans. An Ilya Kovalchuk power-play goal. Dustin Brown crowding the net.
The first hadn't been seen at Staples Center since Oct. 7. The latter two hadn't been seen at all this season. It was a 4-3 win against the New York Rangers, and perhaps one that staved off big changes to the Kings.
But they earned two points for the first time since Oct. 11 with their resiliency, and the return of Brown.
Here's what we learned:
Brown's leadership cannot be overstated. If there was a tangible measurement of it, it occurred at a season-ticket holders' event in August when Brown received a standing ovation.
His presence on the ice and the bench went a long way toward the Kings' ending a six-game losing streak. Brown had a goal and was credited with seven hits in more than 22 minutes of ice time.
"Oh my goodness," goalie Jack Campbell said. "What a leader. Even when he wasn't playing, he was leading in the room. Just an outstanding player. Just to see him – there was a huge spark out there."
Kovalchuk was noticeable in both good and bad ways. It only took 11 games, but Kovalchuk scored on the power play, a rocketed shot off a pass from Drew Doughty to the upper left corner of the net on a too-many-men penalty by the Rangers.
It's what the Kings have been waiting to see ever since Kovalchuk signed in the summer. But there were some warts, too.
New York got its first goal when Kovalchuk lost the puck at his feet in the first period. He had a turnover in the third period that led to a Rangers chance. "Unfortunately, I think he was the bearer of some bad bounces there," coach John Stevens said. "But he didn't let it get him off track … he just looked like he created a lot, and looked really confident with the puck, so I think when he starts to have success in the power-play situation, I think it's going to give him a lot of confidence in the rest of his game."
There isn't any clarity on the goalie situation.Stevens said Jonathan Quick consulted trainers after Saturday's practice before he was subsequently listed as day-to-day with a lower-body injury. Stevens said it wasn't one incident and "we were all a little surprised that he came up lame on that."
The Kings don't play again until Thursday, which would, in theory, give Quick time to recover. If not, it's Jack Campbell's net, unless they decide to give veteran Peter Budaj a start.
Campbell continues to keep the Kings in games, but he's also prone to a bad goal. Quick has been a victim of play in front of him, Stevens said, but his numbers are also sagging. And now he's hurt.
Where that leaves the Kings is unknown.
Twitter: @curtiszupke
---
Get the latest on L.A.'s teams in the daily Sports Report newsletter.
You may occasionally receive promotional content from the Los Angeles Times.