What we learned from the Kings' 7-1 loss to the Avalanche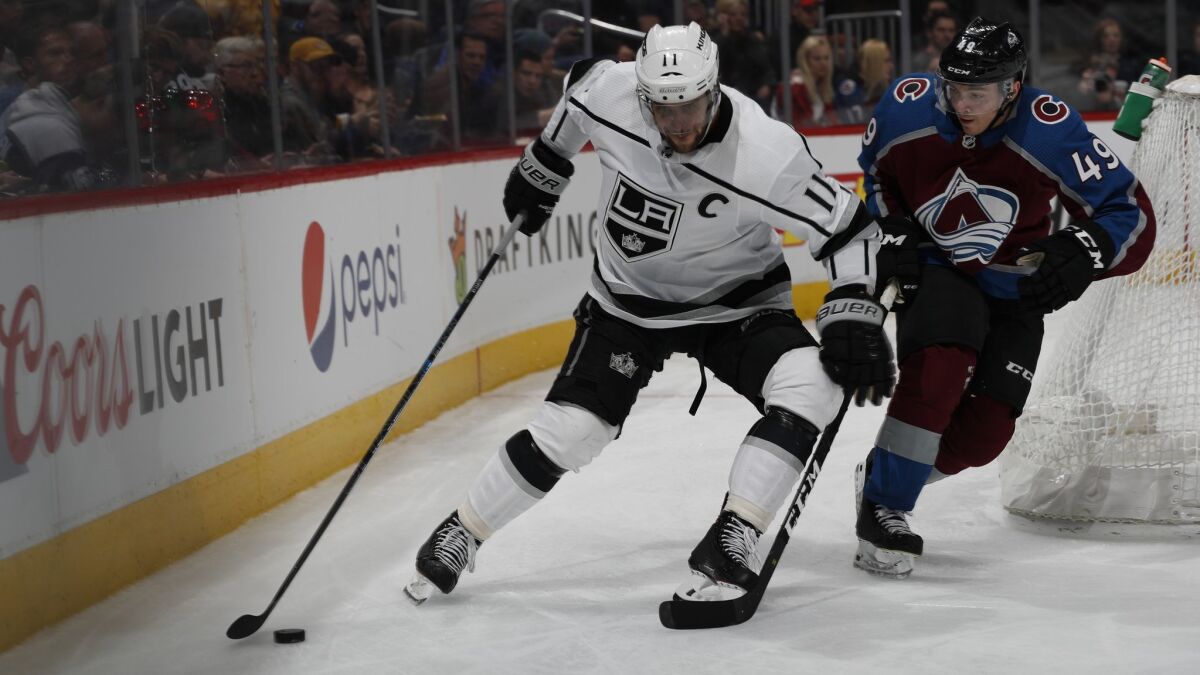 Reporting from Denver —
It would be easy to call it a low in the Mile High City. This really isn't anything new, though, for the Kings.
Their season is defined by disconcerting blowout games. A 7-1 loss to the Colorado Avalanche was the ninth time they've allowed five or more goals, and the fifth time they've been beaten by four goals. They felt ready going into Saturday and knew that Colorado was revved up to get out of one of the worst parts of its season.
And yet the Kings seemed helpless in getting steamrolled in a six-goal second period that was the most goals they've allowed in a period since the New York Rangers scored six in the first period of an 8-3 defeat in 1999.
Here's what we learned:
The clock is ticking to the trade deadline. Given the profundity of the loss and how loudly their problems reverberate off it, the urgency for change seems to be picking up with the Feb. 25 trade deadline drawing closer.
General manager Rob Blake isn't inclined to comment on his strategy, but the Kings are among the more interesting sellers. Jake Muzzin, Alec Martinez and Jeff Carter are the reported assets, and Jonathan Quick's name has also surfaced.
The Kings are on their way to one of the worst seasons in franchise history, and it's time to transition to the future by securing prospects or draft picks. In the interim, the Kings are stuck with themselves and more inevitable embarrassing losses.
Where would the Kings be without their goalies? Quick went into Saturday having allowed seven goals in his last three games. His goals-against average was 2.80. Jack Campbell owns the NHL's best save percentage at .932.
Their performances, set against the lack of scoring in front of them, makes this season all the more wasted. Campbell was thrown into a 5-0 game Saturday and the Kings didn't bother to clean up their game for him.
"He comes in and has to take … two-on-ones and three-on-ones," Drew Doughty said. "It's just a pathetic game for us."
Muzzin is OK. He left the game following a shot by Gabriel Landeskog that he blocked with his hand, but he returned and finished the game.
Muzzin has been playing hurt for some time. He needed maintenance days last week and, at Game 49, is feeling the wear of a season but playing through it.
If the 29-year-old is moved, whoever gets him will get a rugged defender ideal for the rigors of playoff hockey. Muzzin has not missed a game this season.
Sign up for our daily sports newsletter »
Twitter: @curtiszupke
---
Get the latest on L.A.'s teams in the daily Sports Report newsletter.
You may occasionally receive promotional content from the Los Angeles Times.