What we learned from the Kings' 3-1 loss to Minnesota
The Kings stared at their doppelganger in the Minnesota Wild. What they saw Thursday was a reasonable version of themselves that knows how to pull out close wins.
Not a lot separated two of the older teams in the NHL (the Kings and Wild have an average age of 29.3 and 29, respectively), but Minnesota won the special-teams battle, and much of the second period, in a 3-1 win at Staples Center.
Here's what we learned:
This wasn't an ordinary game. Nor was it a ho-hum early November match against an opponent that plays a similarly dull, defensive game.
The pregame moment of silence for the victims of the Thousand Oaks mass shooting, and the image of players holding up signs reading "Enough" was powerful.
The Kings were the only local team playing at home Thursday. They woke up to the news on their phones. Postgame, they talked about a game played against a tragic backdrop.
"It's extremely tragic and when something like that happens in general and so close to home here, it's sad, and I wish all the families and everybody involved to heal, and my prayers are going toward them," Tyler Toffoli said.
Jake Muzzin concurred with team president Luc Robitaille's declaration that "enough is enough" with incidents like the one in Thousand Oaks.
"I know we've all been talking about making change, but it's a tough situation, Muzzin said. "It seems like it's happening too often. They said [it had been] 12 days [since the last shooting]. Are you kidding? I don't know.
"It just makes you appreciate every day and how lucky we are to play this sport as a job. So if we can use our platform to make a change, then we're trying to do our part."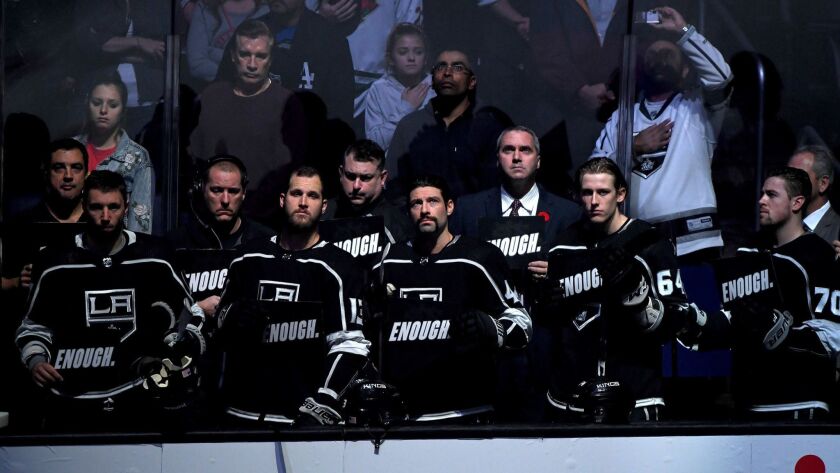 Tanner Pearson and Adrian Kempe, where are you? Games like Thursday's underline how much the Kings can use the secondary scoring that Pearson and Kempe used to provide.
Pearson had a deflection go wide and his breakaway attempt poke-checked away by Minnesota goalie Devan Dubnyk in the second period. Kempe has been noticeable at times but is working on one goal in his past 48 games dating to last season. He has one shot on goal in three games.
The linemates have combined for zero goals in 15 games. Goalie Jack Campbell has as many points (one) as Pearson, a 24-goal scorer two seasons ago.
At least a defenseman scored. One area that has dropped off substantially for the Kings is scoring by defensemen. They went into the game with only three goals by their defense, compared with 14 by Minnesota.
Muzzin addressed that with his first goal this season, a carry across the neutral zone and a wrist shot that beat Dubnyk far side.
Twitter: @curtiszupke
---
Get the latest on L.A.'s teams in the daily Sports Report newsletter.
You may occasionally receive promotional content from the Los Angeles Times.