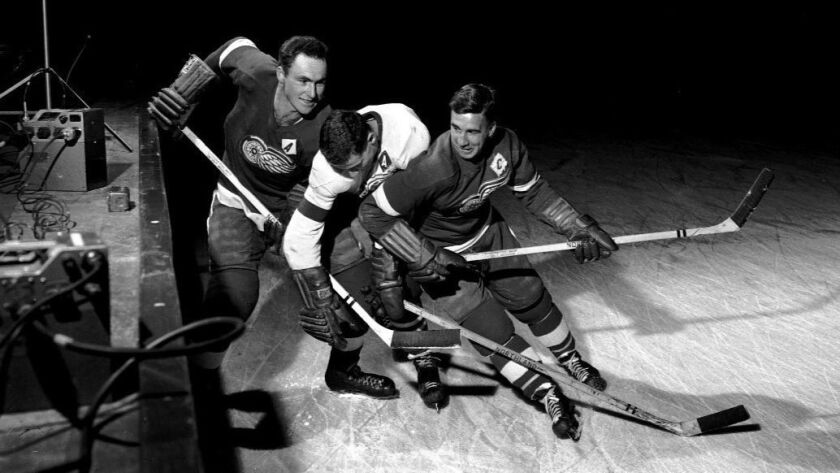 The overwhelming sentiment among those who knew Red Kelly was class and charm. The man who went from being cut from his prep school hockey team to a Hall of Fame career and stint as the original coach of the Kings could go from elbowing an opponent to rubbing elbows with political leaders.
"A gentleman, a true gentleman," said Jiggs McDonald, the Kings' first play-by-play broadcaster.
McDonald was among those who mourned a major loss to the sport, as well as an integral piece of Kings history, when Kelly died Thursday. He was 91.
Kelly's death was announced by the Detroit Red Wings, with whom Kelly played his first 13 seasons before he finished a decorated career with the Toronto Maple Leafs in 1967. Kelly coached the Kings in their inaugural season in 1967-68 and the following season. He was inducted into the Hockey Hall of Fame in 1969 after he won eight Stanley Cup titles, four each with Detroit and Toronto.
"Mr. Kelly enjoyed an incredible Hall of Fame career as a player before embarking on a coaching career that included helping lay the foundation of the L.A. Kings," team President Luc Robitaille said in a statement. "Coach Kelly also carried himself with a great deal of dignity and he respected everyone around him, and it was our tremendous honor and pleasure to help host he and his wife, Andra, in 2017 when they came back to Los Angeles as the Kings hosted the NHL All-Star game. The L.A. Kings send our deepest condolences to the entire Kelly family."
Those who knew Kelly remarked on that aforementioned dignity.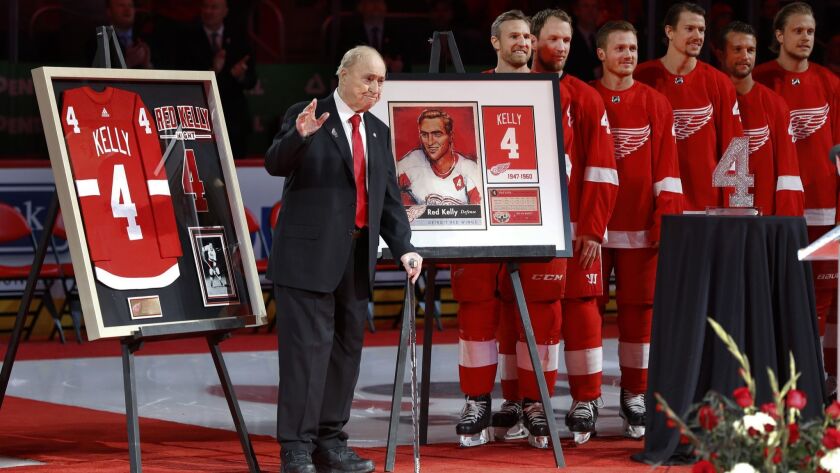 "He was a caring individual, a family man," McDonald said. "There was never profanity with Red. The most you heard from him was, 'Son of a sea cookin' bottle washer.' When he got mad, you heard, 'Son of a sea cookin' bottle washer.' And you cringed."
McDonald said Kelly "did everything in his power to sell the game in the community" in those expansion years. The Kings made the playoffs in that inaugural season and lost to the Minnesota North Stars 9-4 in Game 7.
Kelly attended the NHL's centennial celebration in 2017, when many of the recognized top 100 players of all time gathered at L.A. Live before All-Star weekend at Staples Center.
"I played against a lot of great players and I played with some great players," Kelly said. "To be recognized, at least to be put up there was amazing, really."
Kelly was unable to attend the Kings' 50th anniversary celebration in 2016. But when the original Kings gathered and recreated a team photo in the Staples Center locker room with their purple and gold jerseys, some of the players shouted, "Put me in, coach!" in reference to Kelly, according to The Times' Helene Elliott.
"He was our first coach in L.A., and I found him to be all class," said Ted Irvine, an original Kings player.
Leonard "Red" Kelly was born July 9, 1927, in Simcoe, Canada. He signed with Detroit at 19 and went straight from junior hockey to the NHL in 1947. Kelly became a dominant defenseman and was the inaugural winner of the Norris Trophy in 1954. He tallied 823 points in 1,316 games with Detroit and Toronto and was a three-time 20-goal scorer as a forward with the Maple Leafs.
The Kings had to trade for Kelly in order to secure him as their coach in 1967. Kelly had retired after he won the Cup with Toronto that year, and the Maple Leafs reportedly required the Kings to select him in the expansion draft. But the Kings did not draft Kelly, and Toronto did not release Kelly's rights until the Kings traded minor league defenseman Ken Block.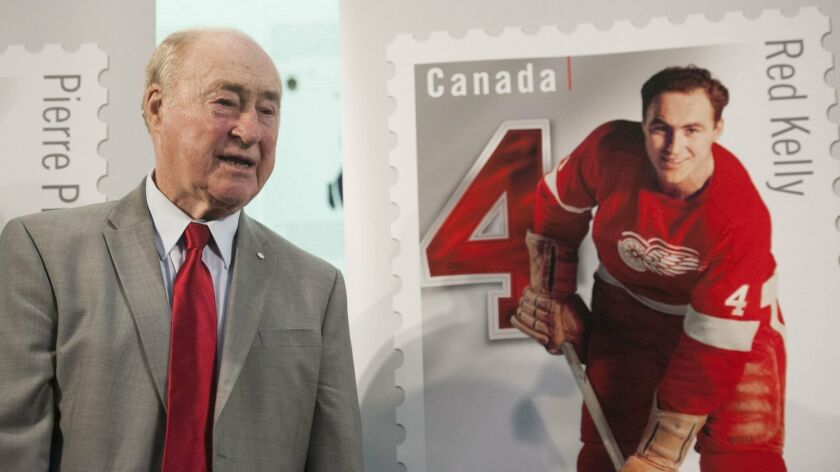 Kelly guided the Kings through an expansion season in which they played home games at Long Beach Arena and the L.A. Sports Arena before the Forum opened in December. The Kings scored wins against all of the so-called Original Six teams that first season and advanced to the second round of the playoffs in their second season.
Kelly went on to coach the Pittsburgh Penguins and Toronto. Described as "the ultimate hockey renaissance man who seemingly could do it all" by Commissioner Gary Bettman in a statement, Kelly was elected a member of Canada's Parliament in 1962 and served in the legislature for three years while still an active player.
McDonald remembers Kelly taking him on an impromptu visit to Parliament Hill in Ottawa.
"We hadn't gotten five steps in the door when the prime minister [Pierre Trudeau] walked in and went right up to him and said, 'Hi,' " McDonald said. "He was a gem."
Kelly is survived by his wife, Andra, and their four children and eight grandchildren.
Sign up for our daily sports newsletter »
Twitter: @curtiszupke
---