Anze Kopitar to miss finale of Kings' road trip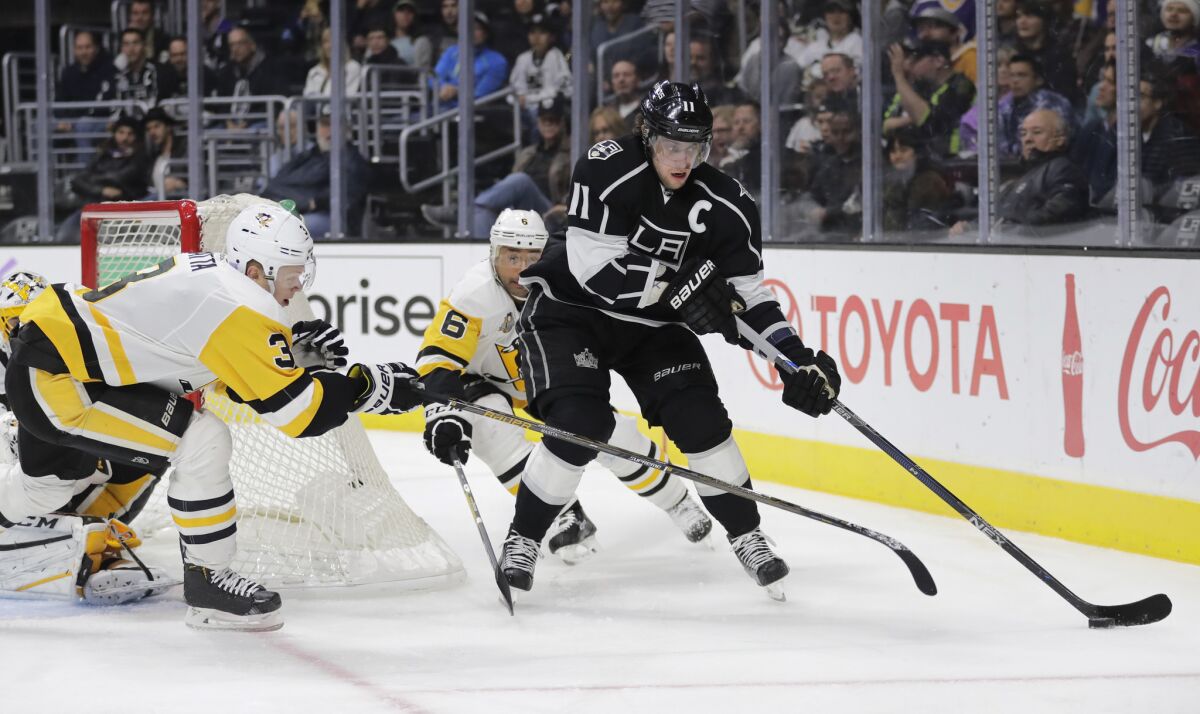 Reporting from DENVER —
Greetings from the Pepsi Center, where the Kings will face the Colorado Avalanche on Tuesday night in the finale of a five-game trip. The Kings are 1-2-1 so far, leaving their road record this season at 2-6-1.
Goaltender Peter Budaj is scheduled to start against the team that he played for during his first six NHL seasons. Jeff Zatkoff (groin spasms) skated but probably isn't ready to be the backup; Jack Campbell is the expected backup.
Center Anze Kopitar will miss his second straight game because of an apparent arm or hand injury. Kopitar, the team's leading scorer the past nine seasons, was injured in the Kings' 2-1 loss at Ottawa on Friday and didn't play in their 3-2 shootout loss at Winnipeg on Sunday.
"He's better, but still day to day," Coach Darryl Sutter said after the morning skate Monday. "See improvement and just kind of go from there, if every day we keep seeing improvement."
Sutter said Kopitar hasn't skated since the injury. "We'd prefer to not, just to let it quiet down," Sutter said, adding that Kopitar might skate Wednesday at the team's facility in El Segundo.
Defenseman Drew Doughty said that while Kopitar's absence was a blow, the Kings can't dwell on it. "People can make a lot of excuses that we have a lot of guys out right now, including Kopi," he said, referring to the absences of goalie Jonathan Quick and winger Marian Gaborik, "but in this room we're not thinking about that at all. We're just thinking who's our next matchup and who do we play next and how are we going to win that game.
"Having those guys out gives the opportunity for other guys to step up to the plate and prove how good they can play and prove that they deserve to be in the lineup. I think a lot of those guys have done a good job with that so far, and we need them to continue to."
Left wing Dwight King said no single player can replace Kopitar, whom he called the team's best player. "When a guy like that goes out, you need more than one guy to step up. You need probably secondary scoring from the bottom of the lineup," King said. "We've got to be hungry around the net. We've played pretty well defensively — we've allowed a couple goals only, so stay strong there and let's get a little hungry and get pucks to the net."
The Kings' power-play woes predate Kopitar's exit from the lineup. They've scored only one man-advantage goal in their last 30 opportunities over nine games, which is baffling given Doughty's excellent shot from the point and similar potential from defenseman Alec Martinez. Overall, the Kings rank 28th among 30 teams in power-play efficiency at 9.8% (five of 51). Their success rate on the road is merely 8.5% (three of 35).
"We got a lot of looks last game. We probably should have scored a goal," Doughty said. "I know me, myself, I was pretty frustrated I didn't get one in overtime because I had a few good looks.
"The power play needs to come up big for us. It hasn't, obviously, so far this season, and it's about time that it does because it can make a big difference."
Sutter said Budaj had been "solid" as the replacement for the injured Quick, but Sutter stopped short of superlatives. "We need to win games," Sutter said. "He hasn't played good enough to steal us a game in the last three or four now, so there's always points in the season where goalies do win you games by themselves …. Every team goes through it where you say, 'The goalie stole us one,' and we haven't said that yet."
Follow Helene Elliott on Twitter @helenenothelen
Get the latest on L.A.'s teams in the daily Sports Report newsletter.
You may occasionally receive promotional content from the Los Angeles Times.