What we learned from the Kings' 5-2 victory over Minnesota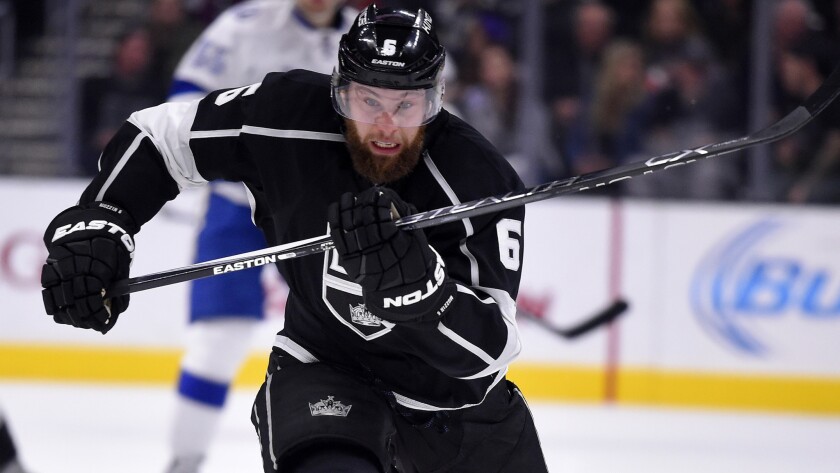 Here are some things we learned from the Kings' win over the Wild on Tuesday.
1. The Kings have been good at closing out games
By outscoring Minnesota 4-0 in the third period the Kings improved their goal differential in the third period this season to an impressive +27. They've scored 40 goals in the third period and have given up only 13, and opposing coaches are paying attention to that. "You knew they were +23 in the third and leading the league in that. We knew they were going to come out," Wild coach Bruce Boudreau said of his expectation that the Kings would be formidable in the third period. "We had three turnovers in the last five minutes [of the second period] that gave them a little life going into the third. When they put their push on, we just didn't do anything about it."
2. A six-game winning streak hasn't made the Kings complacent
Winger Marian Gaborik was pleased with the team's third-period rally but wished it hadn't been necessary. "We've got to fix some problems prior to that so we don't get down in a hole and have to dig ourselves out," he said. "The second period we need to work on. Overall, it was a good game."
Coach John Stevens liked the final 20 minutes. "It was probably as good a third period as we've had this year in terms of moving the puck, getting it deep, coming up with loose pucks and obviously scoring goals," he said. "Just a really solid third period coming off a tough road trip."
But he said he believes the Kings can be better. "We're going to keep working on our team game," he said. "I thought the team game the last two games of the trip was really, really sound. We knew it would be a tough game coming off the road. …Their defense can really skate and move pucks. I was really happy to see our guys had the resilience to stay with it there and have that kind of a third period, especially in the circumstances of coming off the road."
And soon enough they'll be leaving again. "We have two more games at home. Home games has been an issue for us a little bit lately, so coming off the road it's a huge two points," he said, referring to the Kings' 8-5-2 record at Staples Center. "It would be nice if we can get another four before we head out east."
3. They played the numbers game well
Gaborik, who scored his 400th career NHL goal and 800th NHL point, has four goals in six points in seven games since returning from a knee procedure. Center Anze Kopitar, who earned his 500th career assist, is the fifth player in Kings history to reach that mark with the team. He has three goals and six points in a three-game point streak.
Defenseman Jake Muzzin's goal was his third this season and 42nd of his career, surpassing Bob Murdoch's 41 and moving him into the top 10 among Kings defensemen in all-time goals.
---
Get the latest on L.A.'s teams in the daily Sports Report newsletter.
You may occasionally receive promotional content from the Los Angeles Times.