Dominic DiMaggio dies at 92; seven-time American League All-Star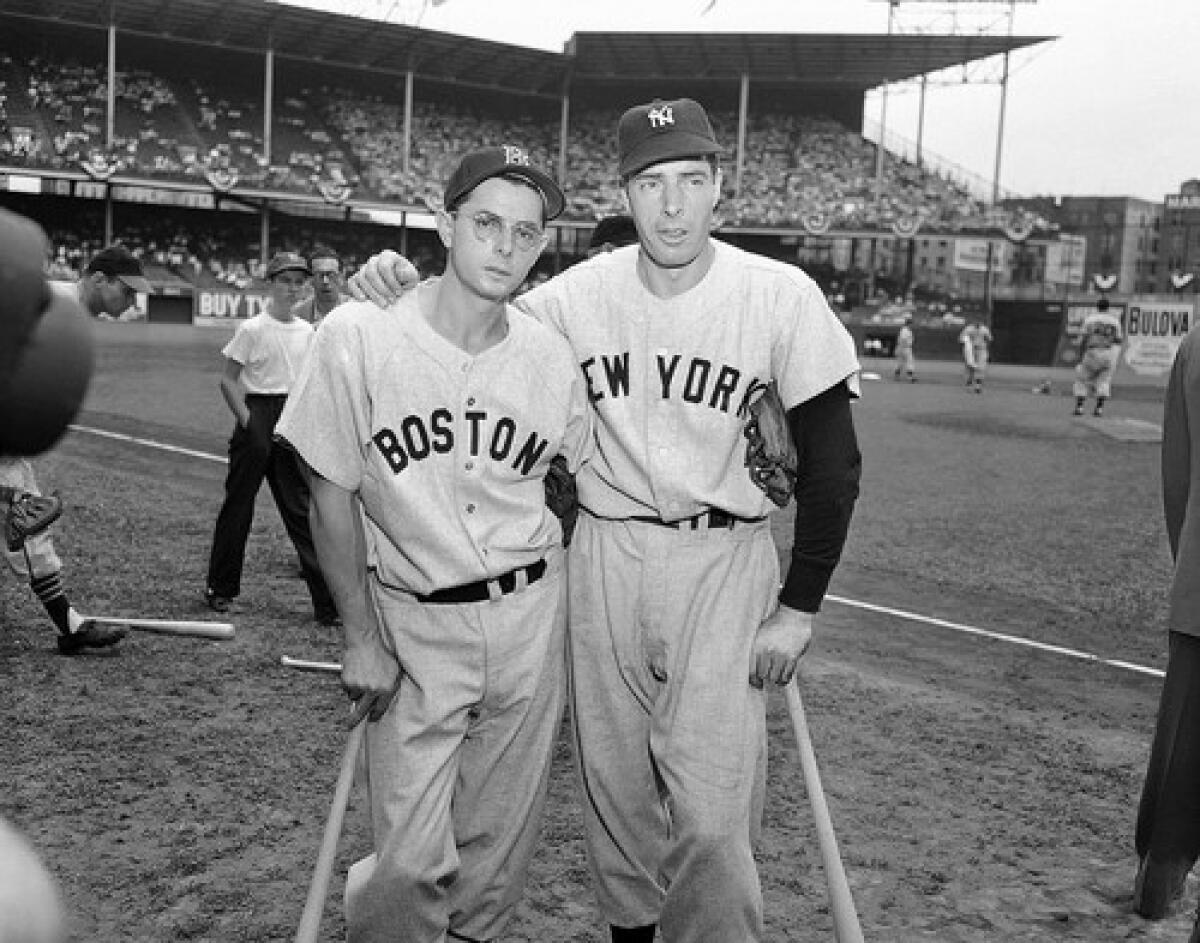 Dominic DiMaggio, the Boston Red Sox center fielder and seven-time American League All-Star whose impressive career was overshadowed by the towering legend of his older brother Joe, the Yankee Clipper, died Friday. He was 92.
Known as the "Little Professor" because of his compact size and the fact that he was one of the few players of his era to wear glasses, DiMaggio died at his home in Marion, Mass., his wife, Emily, told the Associated Press. The Red Sox said in a statement that he had pneumonia.
---
FOR THE RECORD:
Dom DiMaggio obituary: The obituary of Boston Red Sox outfielder Dom DiMaggio in Saturday's Section A misspelled the last name of his teammate Leon Culberson as Culbertson. —

---
A daring leadoff hitter who was the sparkplug for the Red Sox from 1940 to 1953, Dom DiMaggio had a .298 lifetime batting average and still holds the Boston record for hitting in 34 consecutive games. He set the mark in 1949, eight seasons after his brother Joe set the consecutive game standard by hitting in 56 straight for the New York Yankees. Joe ended Dom's streak when he caught a sinking line drive off his brother's last at-bat on Aug. 9, 1949, in a game the Red Sox ultimately won.
Dom DiMaggio also was one of the few players to average 100 runs a season for his career. In the 10 seasons he played, he had more hits than anyone else with 1,679. And he held the American League record for RBIs by a leadoff man until another Boston player, Nomar Garciaparra, broke it.
DiMaggio also was one of the finest center fielders to play the game. Gifted with a rifle arm and extraordinary quickness, he set an American League record for center fielders in 1948 with 503 putouts. The mark stood until 1977, when it was broken by Chet Lemon of the Chicago White Sox, who notched 512 putouts.
Despite all of that, DiMaggio was never elected to baseball's Hall of Fame. The late broadcaster Curt Gowdy called him baseball's "most underrated great player."
DiMaggio was born in San Francisco on Feb. 12, 1917, and was the youngest of nine children born to Sicilian immigrants.
He was the third member of his family to play in the major leagues along with Joe, who was three years older; and another brother, Vince, who was five years older and who played with five National League teams and was the least accomplished of the three.
Author David Halberstam, in the book "The Teammates" about the relationship among four Red Sox players including Dom and Ted Williams, wrote that of the DiMaggio brothers "it was said that Joe was the best hitter, Dom had the best arm and Vince, who wanted to be an opera singer, had the best voice."
Dom DiMaggio also was the smallest of the three brothers, and during his major league days stood 5 feet 9 and weighed 168 pounds.
As a boy growing up in San Francisco, he worked on his father's fishing boat and didn't play high school baseball until his senior year, batting .400.
After graduating, he worked in a mattress factory and played for a semipro team on weekends. In 1937, he got time off from work to attend a tryout camp held by the minor league San Francisco Seals and was signed to a contract.
He played with the Seals, who moved him from shortstop to the outfield so an errant ground ball wouldn't break his glasses, until Boston bought his contract after the 1939 season.
As a rookie in 1940, he hit .301, scored 81 runs and had a team-leading 16 assists for the Red Sox and established himself as a fixture for years to come.
Like many of the excellent players of his generation, he lost three years to military service during World War II, a fact he never complained about.
After serving in the Navy, he returned to baseball for the 1946 season, hitting .316 for a Red Sox club that made it to the World Series against the St. Louis Cardinals.
DiMaggio had a key role in the seventh game of the series, knocking in two runs in the top of the eighth inning to tie the score, 3-3. But he injured a leg running out the hit and had to leave the game.
In the Cardinals' half of the eighth, Enos Slaughter was on first base when Harry Walker hit a ball to DiMaggio's replacement in center, Leon Culbertson. Culbertson was slow to field the ball and made a poor throw to shortstop Johnny Pesky, whose relay to the plate was late and allowed Slaughter to score what proved to be the winning run.
The prevailing view was a healthy DiMaggio, with his rifle arm, would have played the ball better and prevented what came to be known as Slaughter's "mad dash" from first to home.
Slaughter, himself, later conceded it.
"If they hadn't taken DiMaggio out of the game, I wouldn't have tried it," he told reporters.
DiMaggio was selected to eight All-Star teams and played in seven games -- he was injured and unable to play in one game. In three of those games, he played in the outfield with his brother Joe.
In 1950, they had the distinction of being the first brothers to hit home runs in the same game in the majors in 15 seasons.
Over the years, the inevitable comparisons with his brother Joe surfaced. Although Dom put up excellent numbers as a career .298 hitter with 87 home runs, Joe was a .325 career hitter with 361 home runs. And many, including Dom, considered Joe the best player in baseball history.
After retiring from the game because of an eye injury during the 1953 season, Dom DiMaggio, who never earned more than $40,000 a season as a baseball player, became a highly successful businessman in textile manufacturing for automobile interiors in New England.
His brother Vince died in October 1986 and Joe died in March 1999.
In addition to his wife, survivors include his three children, Dominic Paul, Peter and Emily; and several grandchildren.
Services are pending.
Get our high school sports newsletter
Prep Rally is devoted to the SoCal high school sports experience, bringing you scores, stories and a behind-the-scenes look at what makes prep sports so popular.
You may occasionally receive promotional content from the Los Angeles Times.