Yankees' Alex Rodriguez, 12 other players suspended over drugs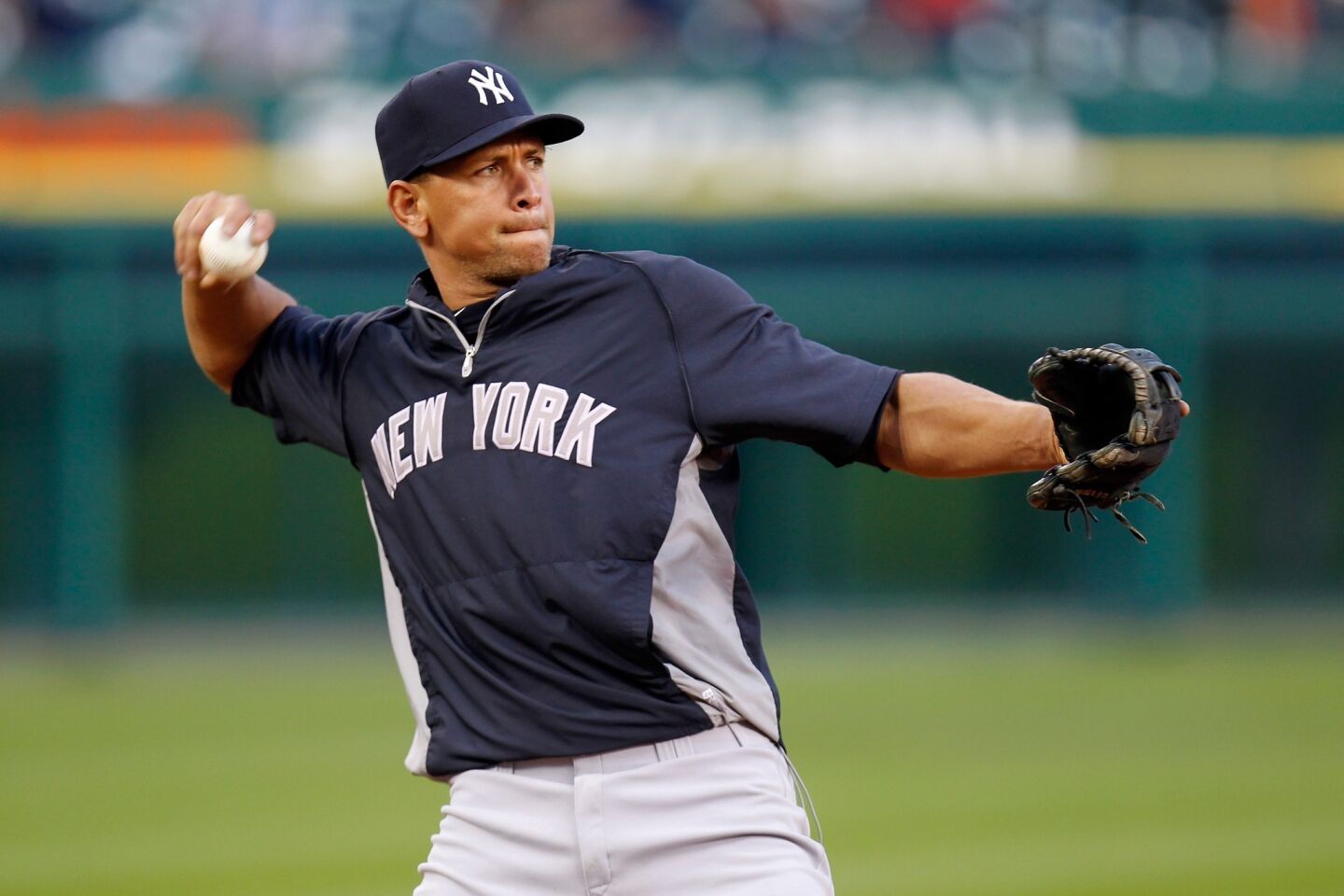 New York Yankees third baseman Alex Rodriguez, who has not played this season while recovering from hip surgery, was
suspended until after the 2014 season
by Major League Baseball over allegations of use of performance-enhancing drugs. Rodriguez will be allowed to play while his suspension is under appeal.
(Gregory Shamus / Getty Images)
Texas Rangers right fielder Nelson Cruz, the MVP of the 2011 American League Championship Series,
was suspended 50 games
by Major League Baseball for using performance-enhancing drugs.
(Tom Pennington / Getty Images)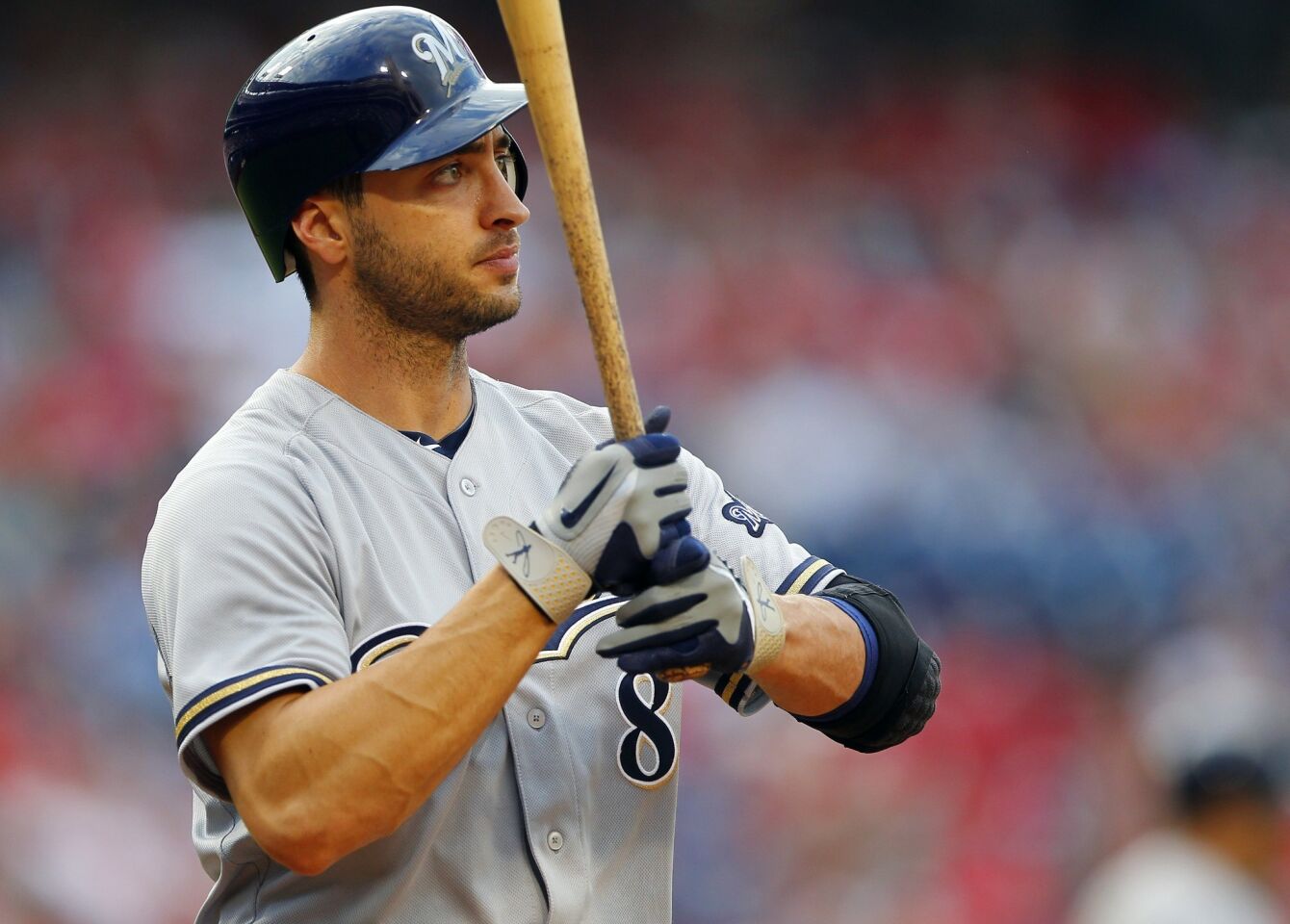 Oakland Athletics pitcher Bartolo Colon was suspended 50 games in 2012 after testing positive for synthetic testosterone.
(Reed Saxon / Associated Press)
Detroit Tigers shortstop Jhonny Peralta, a two-time All-Star who helped the club get to the 2012 World Series, was suspended 50 games by Major League Baseball for using performance-enhancing drugs.
(Leon Halip / Getty Images)
San Diego Padres catcher Yasmani Grandal was suspended 50 games in 2012 after testing positive for a high testosterone level.
(Lenny Ignelzi / Associated Press)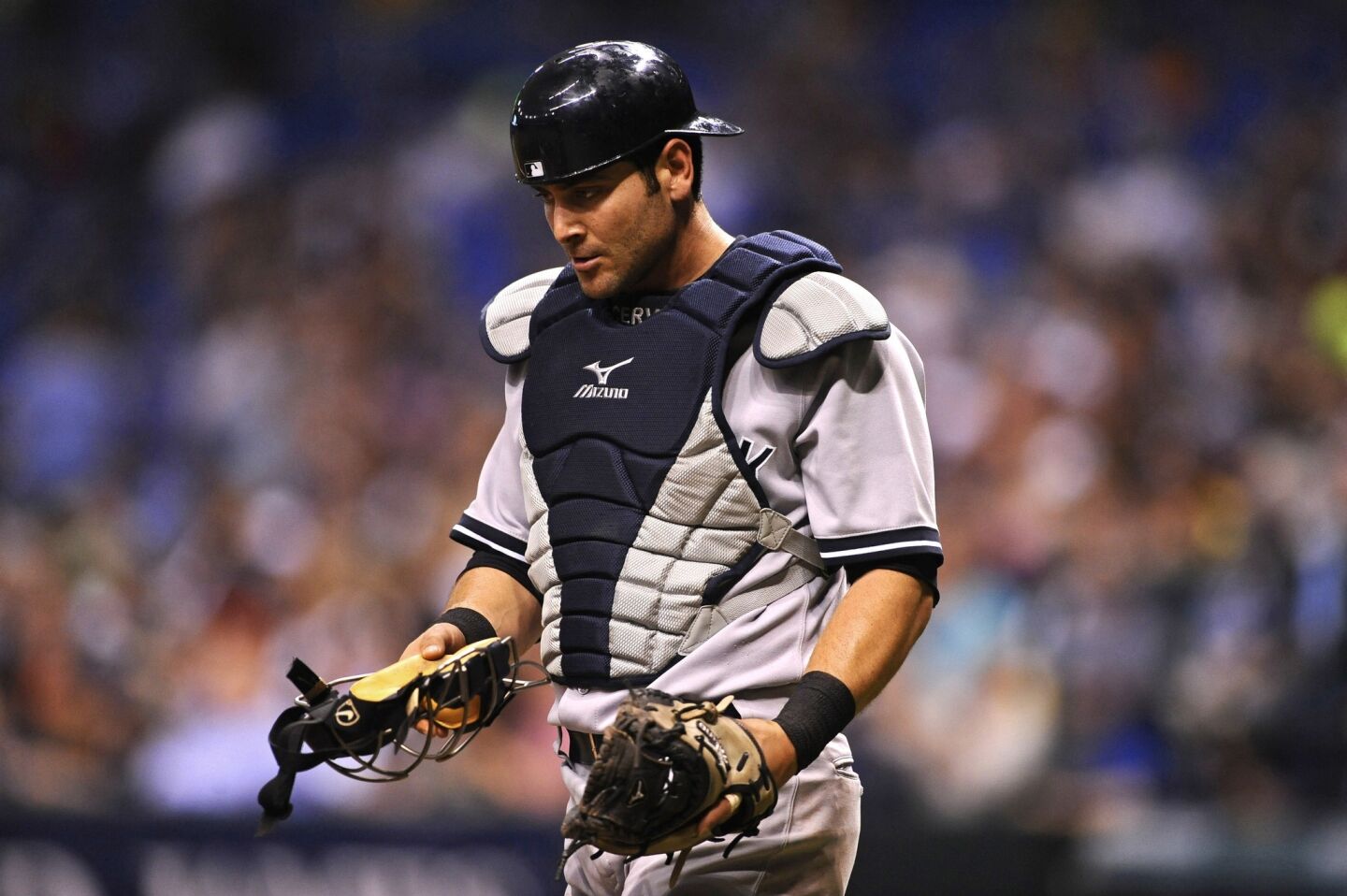 The New Yankees catcher, who has played parts of six seasons with the team but only 17 games this season because of injuries, was
suspended 50 games
by Major League Baseball for using performance-enhancing drugs.
(Brian Blanco / Associated Press)
Seattle Mariners catcher and designated hitter, who hit .260 with 15 home runs last season, was
suspended 50 games
by Major League Baseball for using performance-enhancing drugs. He was sent to triple-A on May 20 and has since been sidelined with a torn meniscus in his left knee.
(Stephen Brashear / Associated Press)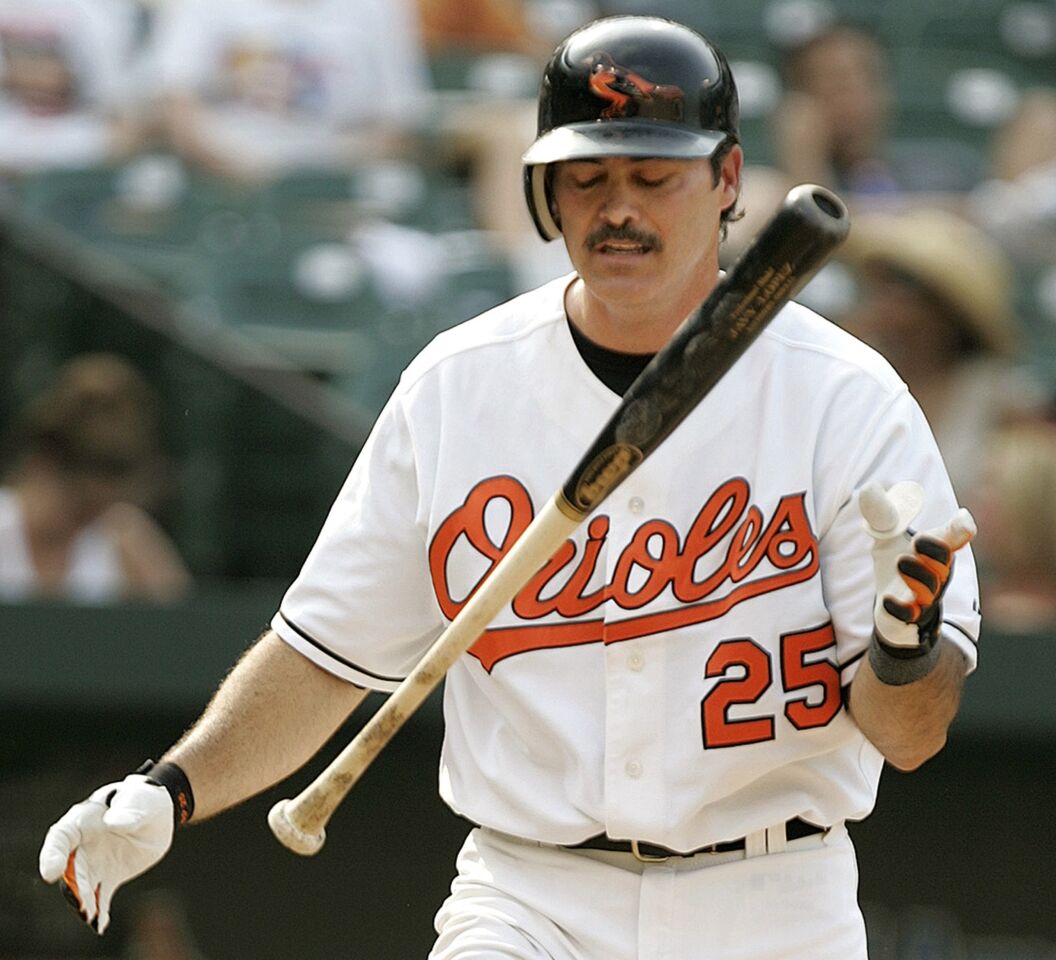 Former Baltimore Orioles designated hitter Rafael Palmeiro was suspended 10 days in 2005 after testing positive for a steroid.
(Chris Gardner / Associated Press)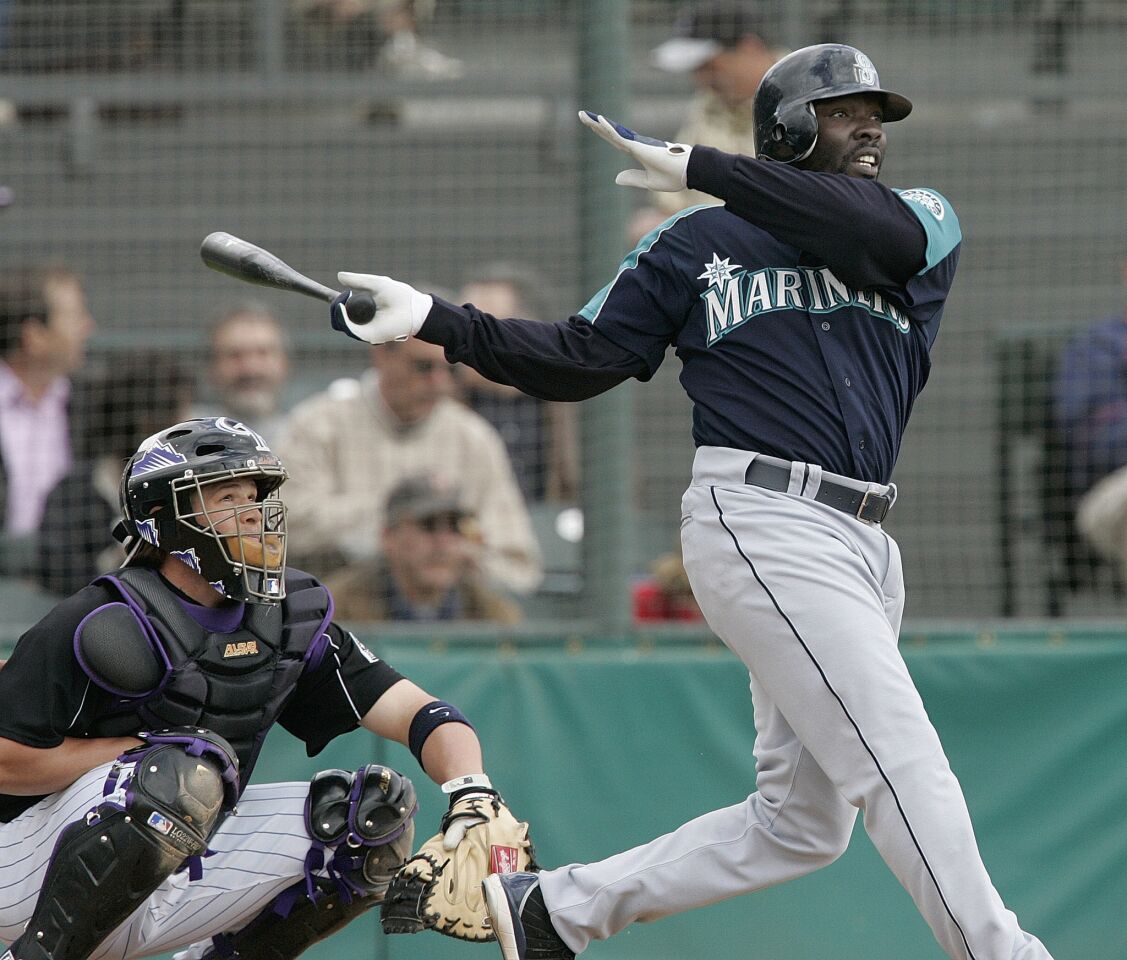 Former Seattle Mariners outfielder Matt Lawton was suspended for 10 days during the 2006 season after testing positive for performance-enhancing drugs while with the New York Yankees.
(Ed Andrieski / Associated Press)
Former San Francisco Giants relief pitcher Guillermo Mota was suspended 50 games during the 2007 season for testing positive for performance-enhancing drugs while with the New York Mets. He was issued a 100-game suspension in 2012 after testing positive for a performance-enhancing substance.
(Jeff Roberson / Associated Press)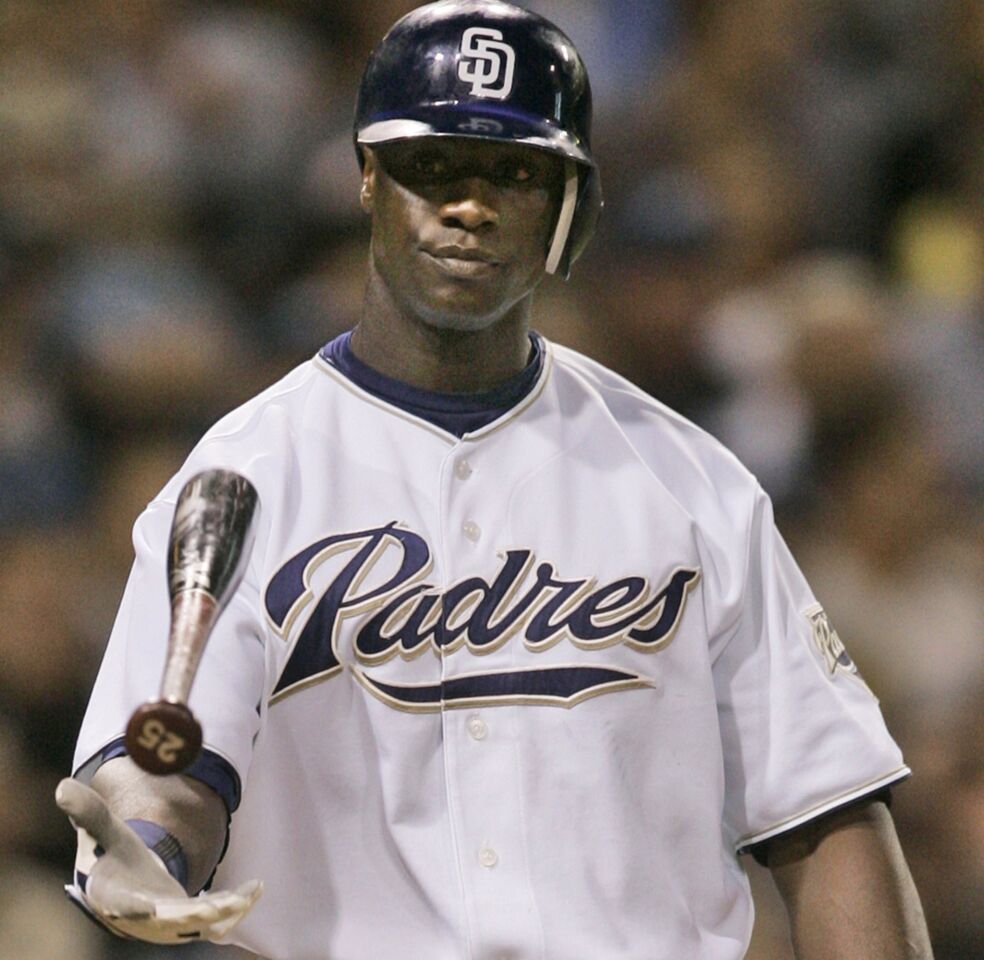 Former San Diego Padres center fielder Mike Cameron was suspended 25 games in 2008 after testing positive for banned stimulants.
(Lenny Ignelzi / Associated Press)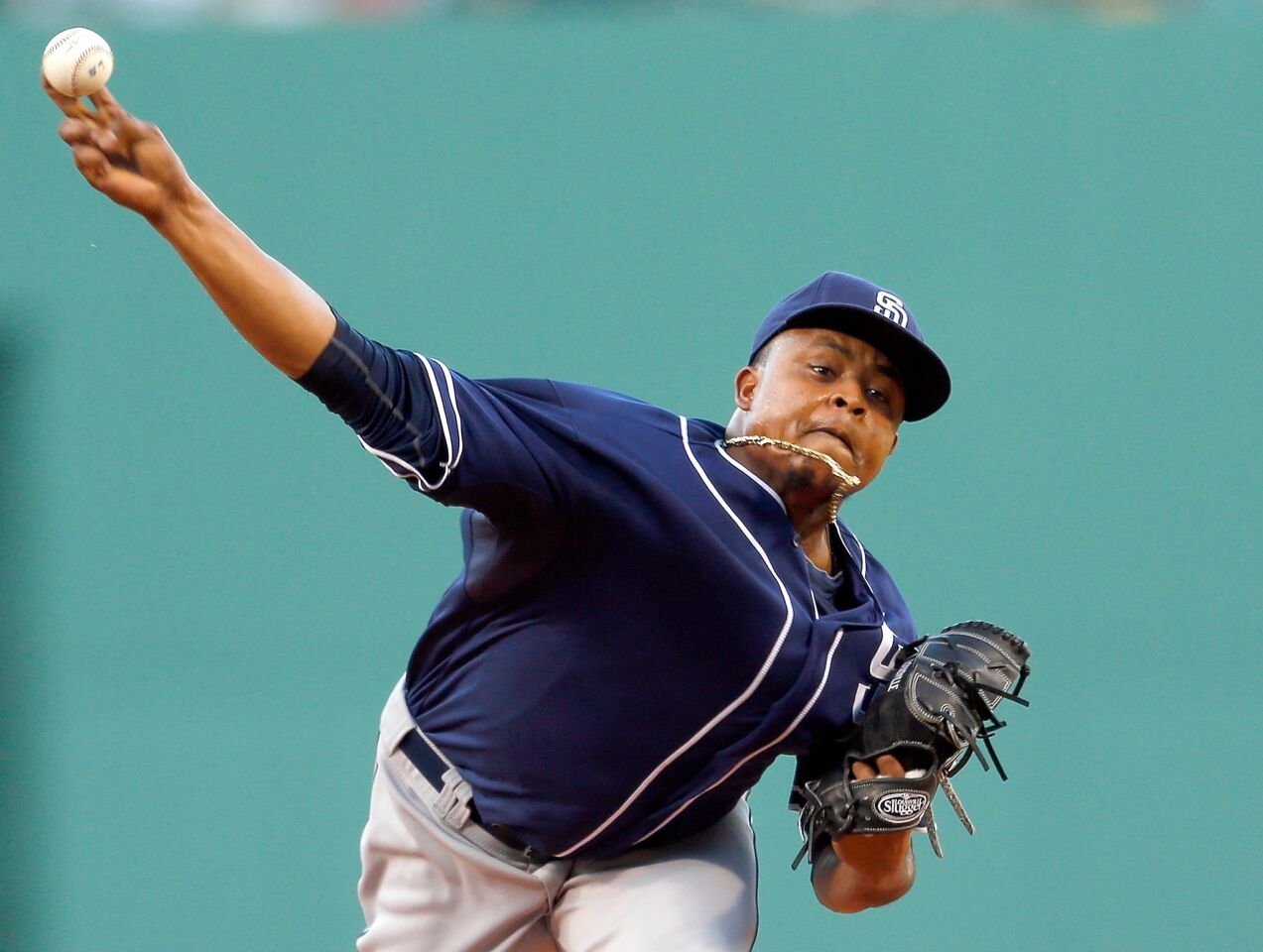 San Diego Padres pitcher Edinson Volquez was suspended 50 games in 2010 after failing a test for performance-enhancing drugs while with the Cincinnati Reds.
(Jim Rogash / Getty Images)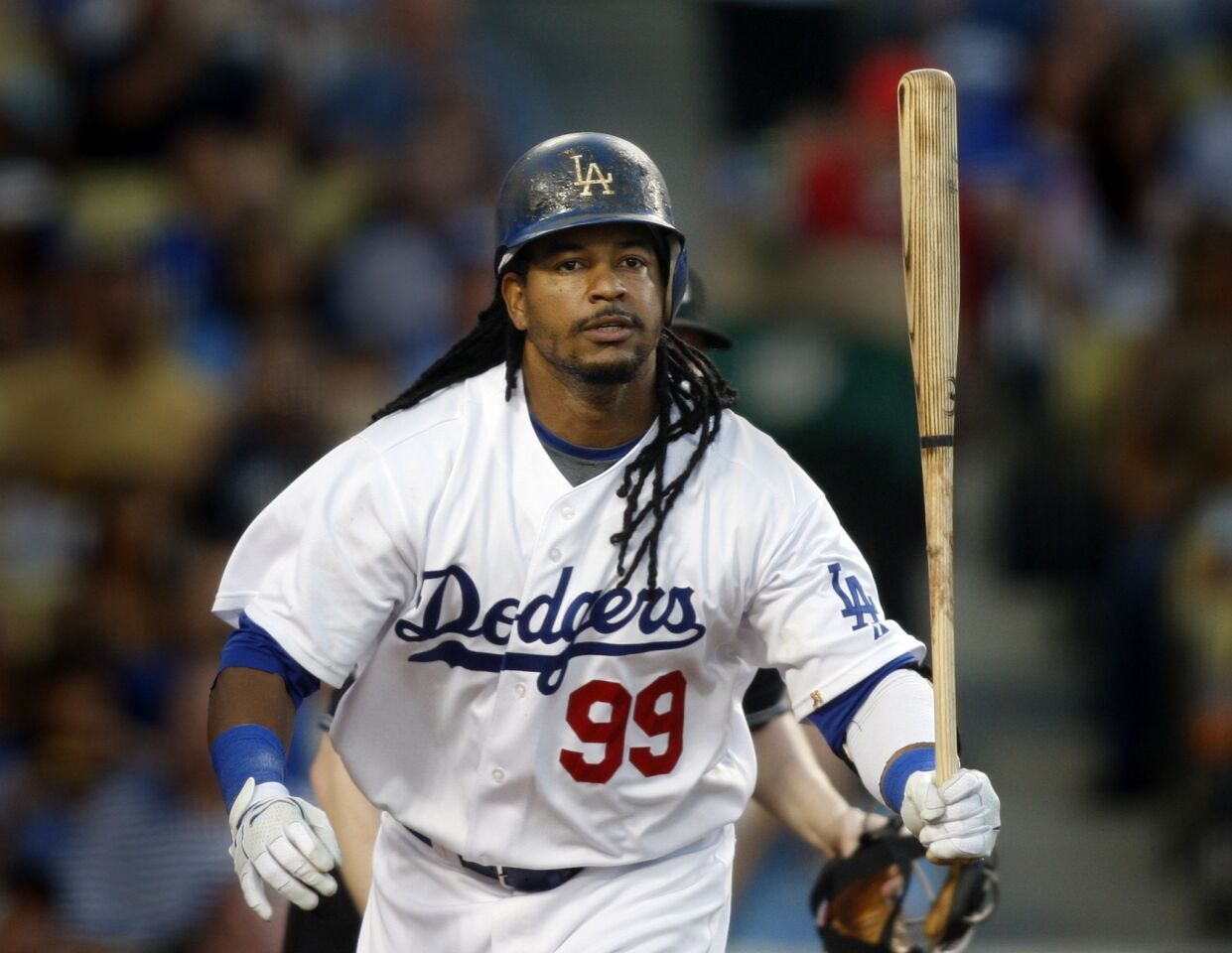 Dodgers slugger Manny Ramirez was suspended 50 games in May 2009 for violating baseball's drug policy. While with the Tampa Bay Rays in 2011, Ramirez avoided a 100-game suspension when he abruptly retired following another drug policy violation.
(Allen J. Schaben / Los Angeles Times)
Philadelphia Phillies catcher Carlos Ruiz was suspended for the team's first 25 games of the 2013 season after testing positive for an amphetamine.
(Jim McIsaac / Getty Images)
Major League Baseball suspended Alex Rodriguez, the game's highest-paid player and active career home run leader, for using performance-enhancing drugs, reflecting Commissioner Bud Selig's determination to root out cheaters and impose stiff penalties as a deterrent.
Rodriguez, the New York Yankees third baseman and a three-time American League most valuable player, received the harshest drug-related sanctions in the game's history Monday. He was banned for the remainder of this season and all of 2014 — 211 games in all.
Also suspended were 12 other players, including All-Stars Nelson Cruz of the Texas Rangers, Jhonny Peralta of the Detroit Tigers and Everth Cabrera of the San Diego Padres. Those 50-game penalties formed what is now MLB's largest single case of sanctions.
The punishments all stem from an MLB investigation into Biogenesis, a now-closed anti-aging clinic in Coral Gables, Fla., that provided substances that players used to help build strength and recover more quickly from injuries.
Rodriguez said he would appeal his suspension, which was due to take effect Thursday. During his appeal, he will be allowed to continue playing and draw his salary. He has been recovering from hip surgery and made his season debut for the Yankees in Chicago against the White Sox, singling in his first at-bat only hours after his punishment was announced.
Speaking before the game, Rodriguez refused to say whether he had used performance-enhancing drugs. "Obviously I'm disappointed," he said. "What we've always fought for is the process, and … at some point we'll sit in front of an arbiter and we'll give our case. That's as much as I feel comfortable saying right now."
Although Rodriguez has never failed an MLB drug test, he has admitted using now-banned performance-enhancing substances while playing for the Texas Ranger from 2001 to 2003, before players were tested.
First-time offenders receive 50-game suspensions, but in a statement Major League Baseball said it was punishing Rodriguez "based on his use and possession of numerous forms of prohibited performance-enhancing substances, including testosterone and human growth hormone, over the course of multiple years."
MLB also said Rodriguez had attempted to "cover up his violations of the Program by engaging in a course of conduct intended to obstruct and frustrate the Office of the Commissioner's investigation."
The suspensions stemmed not from baseball's regular drug-testing but from an eight-month MLB investigation into Biogenesis, which provided performance-enhancing substances to athletes in several sports. The clinic's founder and director, Tony Bosch, cooperated with authorities by providing records and other documents that baseball officials say proved the players violated baseball's drug rules.
Rodriguez will remain eligible to play until arbitrator Fredric Horowitz rules on his case. That could take months, during which time Rodriguez could add to his lifetime statistics — he is fifth on baseball's career home run list with 647, 13 shy of Willie Mays.
Michael Weiner, executive director of baseball's players' union, said he would back Rodriguez in fighting the suspension, making the case that the commissioner did not act properly under MLB's collective bargaining agreement with its players.
Rodriguez's suspension would cost him $38 million in salary and possibly end his career. By the end of 2014, he would have missed two entire seasons as he approached his 40th birthday.
The suspensions of players who had not tested positive for the drugs have highlighted the weakness of MLB's testing procedures and the number of players who have found ways to hide drug use, said Travis Tygart, chief executive of the U.S. Anti-Doping Agency.
"Athletes with resources will attempt to circumvent the drug-testing process, which is why it's important to hold them accountable when they cheat with these measures," he said.
Unlike other major U.S. sports, Major League Baseball supplements its testing program with investigators who pursue leads such as those that emerged in the Biogenesis case.
Several major league players called on their union to push for stricter penalties for drug use, something Weiner said would be discussed.
"There's been a huge change in the ways players view this," said pitcher Chris Capuano, one of the Dodgers' union representatives. "A lot of guys have been outspoken in wanting to clean up the game and wanting guys that are trying to cheat to get punished."
Angels pitcher C.J. Wilson said the situation stemmed from greed. "The players want to do well because they want to get bigger contracts," he said. "That money they earn is tainted, just like their statistics are. Hopefully we can take this as a lesson, for everybody watching, all the clean players, that we're cleaning up the game and getting rid of the incentive to do this stuff."
In addition to Cruz, Cabrera and Peralta, also accepting suspensions without pay were Yankees catcher Francisco Cervelli, Philadelphia pitcher Antonio Bastardo, New York Mets outfielder Jordany Valdespin and Seattle catcher Jesus Montero.
Bastardo's suspension drew an immediate response from former big-league reliever Dan Meyer, who lost a battle with the left-hander for the final spot in the Philadelphia Phillies' bullpen in 2011. "Hey Antonio Bastardo remember when we competed for a job in 2011. Thx alot …" Meyer tweeted.
Minor leaguers suspended for their association with Biogenesis were Yankees outfielder Fernando Martinez, Mets outfielder Cesar Puello, Houston pitcher Sergio Escalona and free-agent pitchers Fautino De los Santos and Jordan Norbert.
Former National League MVP Ryan Braun of the Milwaukee Brewers was given a 65-game suspension last month as a result of his ties to Biogenesis. Toronto outfielder Melky Cabrera, Oakland pitcher Bartolo Colon and San Diego catcher Yasmani Grandal, each of whom served 50-game drug suspensions last season, were not additionally disciplined, MLB announced.
"Hopefully, this will be the end of it," said Dodgers hitting coach Mark McGwire, an admitted steroid user who at one time held baseball's single-season home run record.
"Wish I never was a part of it. Everybody, especially the players, they don't want any more part of it."
Twitter: @Kbaxter11
Times staff writers James Peltz, Lance Pugmire and Mike DiGiovanna contributed to this report.
---
Get our high school sports newsletter
Prep Rally is devoted to the SoCal high school sports experience, bringing you scores, stories and a behind-the-scenes look at what makes prep sports so popular.
You may occasionally receive promotional content from the Los Angeles Times.