Michael Young supplies qualities that stat sheets can't measure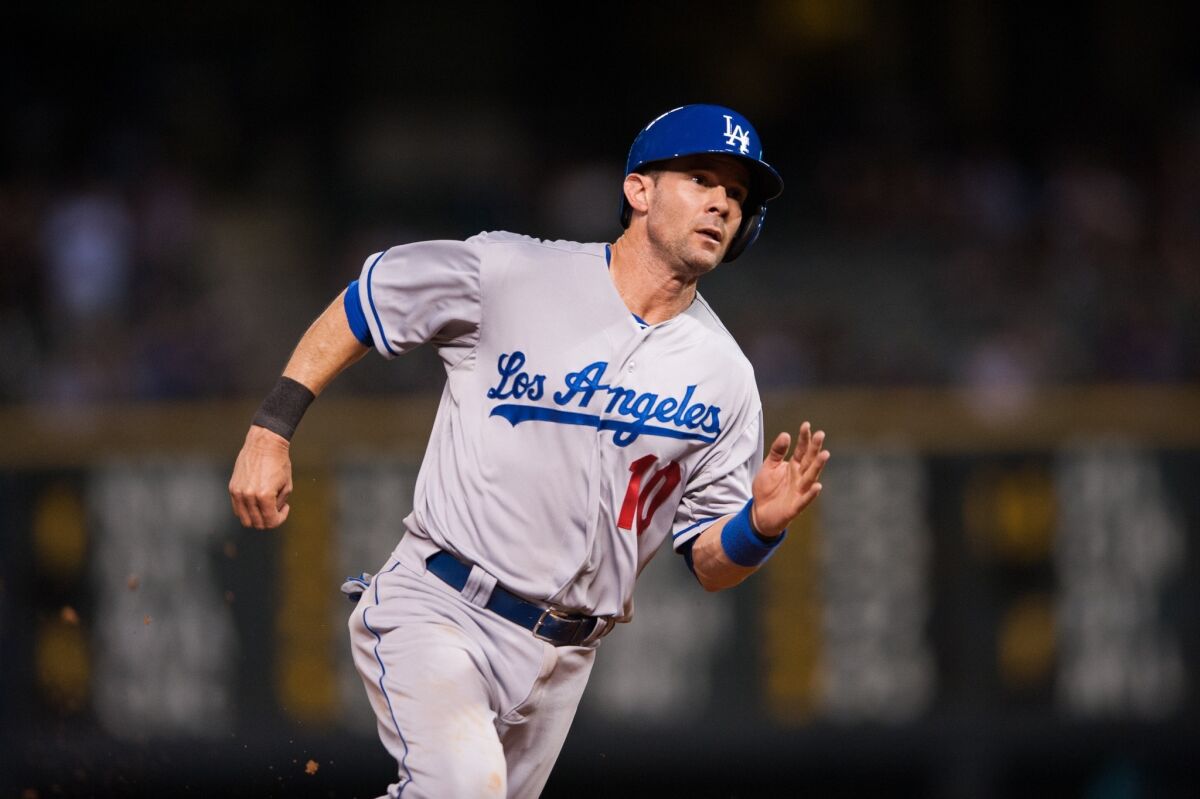 Josh Hamilton was still getting the hang of being a big leaguer.
Hamilton showed up in the majors belatedly but abruptly, after a three-year suspension for drug use and 15 games in the minor leagues. The Cincinnati Reds took a flier on him, and he hit 19 home runs, largely on raw skill.
The Reds traded him to the Texas Rangers, where one of the veterans took Hamilton under his wing. Hamilton spent five All-Star seasons in Texas and one of the reasons for his success was a guy who showed him that preparation for every game and every at-bat should not be optional.
The guy's name was Michael Young.
"I was fortunate enough to play with him," Hamilton said Friday at Angel Stadium. "He taught me all about having a routine and sticking with it."
The Dodgers acquired Young a week ago, a transaction that earned thumbs up in the clubhouse and thumbs down from a sabermetric community concerned that General Manager Ned Colletti had lost his stat sheet, or his ability to read it.
Young is 36. His power is largely gone. His defense is not very good any more, long removed from when he replaced Alex Rodriguez as the Rangers' shortstop.
The Dodgers understand this, and so do their players. The Dodgers did not bring him to L.A. with the expectation he would bat at the top of the lineup, play every day, or resemble the player who was a seven-time All-Star.
Young gives the Dodgers an experienced backup first baseman, for the first time this season. He can play third base too. He is a contact hitter, good enough to try as a pinch-hitter.
But it is the universal acclaim Young received from his peers that appeared to grate on the statistically minded. Former major league outfielder Gabe Kapler is as analytical as players come, and yet his Twitter post saluting Young as a "top 5 all-time teammate" drew mocking responses, including this one: "How many GQAR (Good Quotes Above Replacement) is he worth?"
In an interview Friday, Kapler said Young could do for the Dodgers what Dave Roberts did for the Boston Red Sox en route to the 2004 World Series championship: accept a backup role, help his teammates and come up with the occasional big play. Roberts will be forever beloved in Boston for one stolen base, the one that triggered a legendary comeback in the 2004 American League Championship Series.
"Whenever you make an acquisition, you evaluate a player on his makeup — plus, neutral or minus," Kapler said. "When you're making an acquisition down the stretch, it's more important that you don't bring a minus in the clubhouse. It's like icing if you get a plus.
"I see Mike as a plus-plus makeup guy."
Kapler and Joe Nathan, the Rangers' closer, each talked of how players gravitate toward Young, how he can mesh with every circle of players on a team, how he injects positive energy into the clubhouse.
"He acts like he's a Little Leaguer every day," Nathan said.
Said Hamilton: "He's kind of like [Derek] Jeter, a professional's professional. He prepares himself well — on the field, off the field and in the clubhouse. And he's somebody who likes to keep it loose and light."
None of these testimonials is likely to sway the sabermetric crowd. After all, leadership can't hit.
Jon Daniels, the Rangers' general manager, generally is well regarded in the analytical community. Yet he sees a place for leadership in the clubhouse.
"You have to have a balance between talent and makeup," Daniels said Friday. "You can't win with 100% of one or the other."
Daniels also rejected the notion that all teaching should come from the coaching staff, and that players should earn their spots on talent alone.
"You can have the best coaches in the world," Daniels said. "We all learn from our peers."
Young had public feuds with Daniels over position changes and trade talks, but Daniels said neither episode damaged Young's credibility as a clubhouse leader.
"We all acknowledged some of those things were not handled as well as they should have been on anyone's side," Daniels said.
In his career, Young has been a significantly above-average hitter with runners in scoring position, or with the bases loaded. If he gets a big hit off the bench — or if he gives a teammate a scouting report that leads to a hit off an unfamiliar pitcher — that would be enough to call the trade a success. (The Dodgers gave up minor league left-hander Rob Rasmussen in exchange for Young.)
"It's a case of having accurate expectations," Kapler said. "I think the Dodgers acquired Michael Young to get a couple of big hits in September and October. I think he will."
You never know. The last time the Dodgers won the World Series, one of their veterans came off the bench for one at-bat. His name was Kirk Gibson, and it worked out pretty well.
Twitter: @BillShaikin
Get our high school sports newsletter
Prep Rally is devoted to the SoCal high school sports experience, bringing you scores, stories and a behind-the-scenes look at what makes prep sports so popular.
You may occasionally receive promotional content from the Los Angeles Times.