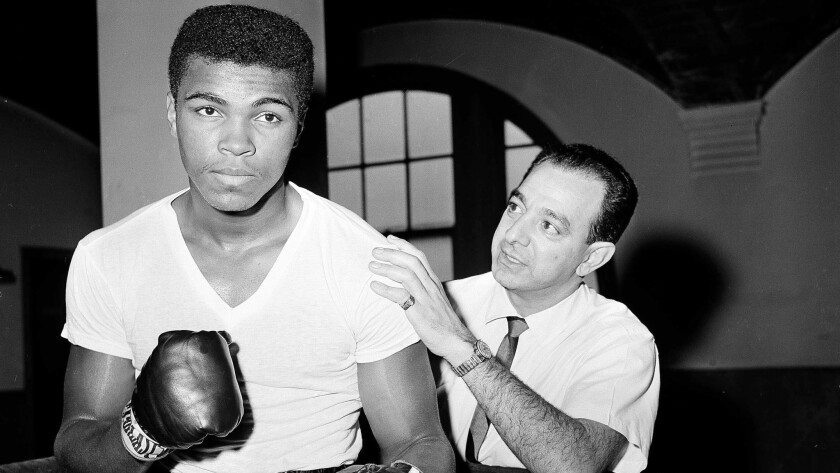 Hopes for an L.A. showdown between Cassius (The Great) Clay and Argentine Alejandro Lavorante brightened quickly here Monday night when promoter John Horn revealed he has wired $20,000 offers to each of the colorful young heavyweights for a July 9 clash at the Sports Arena.
Horn said both Clay and Lavorante have expressed strong interest in such a bout, and he is sure they will agree to these terms.
In addition to the $20,000 guarantees, Horn said he also has tossed in $1,000 traveling expenses for each fighter.
Lavorante, who was stopped in the 10th round by Archie Moore March 30 at the Sports Arena, is currently ranked No. 7. Clay, who notched his 14th straight victory with a 7th round TKO over Billy Daniels last Saturday on television, is rated No. 9.
Meanwhile, things continue to heat up on the local fight front with three attractions on tap within the next 10 days.
The Olympic is presenting Lalo Guerrero-Harold Gomes Friday night and Alvaro Gutierrez-Tiger Smith May 31, while Horn and matchmaker Joe Louis of United World Enterprises have Moore risking his prestige once again next Monday night against Willie Pastrano at the Sports Arena.
Shot at Ramos
With world champ Davey Moore still finding excuses to evade No. 1 contender Sugar Ramos, Guerrero's debut appearance may help temporarily solve the frustrating featherweight situation.
"If Guerrero looks as good as I think he will, I'll give him a shot at Ramos," said matchmaker George Parnassus Monday.
The 25-year-old Mexican has been almost as flashy as Sugar in recent months.
Nothing special as a bantamweight, Lalo has found himself since growing into the 126-lb. class.
He knocked out Juan Ramirez in three rounds last Oct. 1 to capture Mexico's featherweight crown, and is now ranked No. 7 title contender by the NBA.
Recent Victories
Lalo also boasts recent victories over Toluco Lopez, Jose Cruz, Ike Chestnut and Japan's Kenji Yonekura. His total record in 38-9-1, with 18 knockouts.
Gomes, former world junior lightweight king, also will be making his local debut Friday night as will Pastrano.
Angelo Dundee, who trains and manages both Gomes and Pastrano, introduces them thusly:
GOMES — He's 28, has fought pro since 1951, but is currently starting comeback after sitting out 1961 following two KO losses to Flash Elorde.
PASTRANO — Probably the fanciest boxer in action today. Packs swiftest pair of hands Archie has seen since Floyd Patterson in '56. An 11-year pro, it seems that Willie has been around longer than Jack Kearns. But he's only 26.
Note: This article was originally published on May 22, 1962.
---