Billy Eppler has smoother path with Mike Scioscia, unlike Jerry Dipoto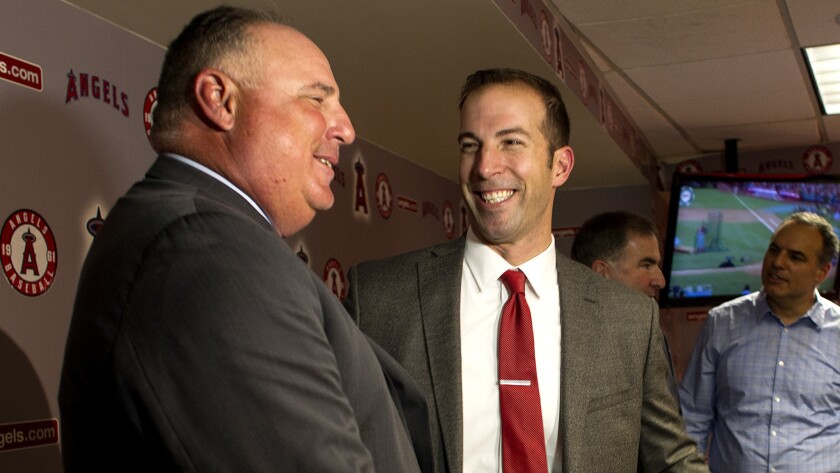 Reporting from Tempe, Ariz. —
On the occasional slow day when he worked for the New York Yankees, Billy Eppler liked to make his way over to Joe Girardi's office and settle in for an episode of their favorite television show.
It was "Seinfeld," with reruns on constantly, and Eppler found the mutual laughter it engendered productive for his relationship with the Yankees longtime manager. Now, in his first spring training in charge, the new Angels general manager is trying to find an off-the-field equivalent he shares in common with deep-rooted Manager Mike Scioscia.
It need not be a sitcom. So far, their relationship has relied on steady ribbing from both sides. It is a relationship both men maintain is working wonderfully four months into its existence.
Former Angels GM Jerry Dipoto gleamed light on it Friday when he opened up for the first time about the failures in his accord with Scioscia. They disagreed too often and, sometimes, too vehemently to make things work.
"Healthy disagreements are a good thing," Dipoto said in an MLB Network radio interview, explaining why he resigned July 1. "And, sometimes in Anaheim, as you saw played out nationally multiple times over the four years, it wasn't quite as healthy."
Dipoto made a point of saying his new situation in Seattle is disparate. He hired former Angels assistant GM Scott Servais as the manager there, and the contrast in their relationship is striking, he said. In Anaheim, Dipoto frequently found himself in between Scioscia and Angels owner Arte Moreno on issues, or on the opposite side of the two men.
"There were times when it was very difficult to do the job that I was asked to do because I was caught in between perhaps two different dynamics," Dipoto said. "And I would say the same of them: I had some different ideas that maybe they weren't as comfortable with."
Moreno arrived at Angels camp Friday, addressed the players he pays and watched two-plus hours of their workouts while talking to several team executives at Tempe Diablo Stadium. He then declined to answer questions from The Times.
"I'm good," he said.
Moreno did agree to a lengthy interview with an MLB.com reporter.
Made aware of Dipoto's remarks, Scioscia said he was uninterested in closure.
"I think there were certainly times that you are not going to agree on everything," Scioscia said. "I I think there were times when the communication was there, maybe times where it wasn't what it could have been. But I'm not looking back."
Scioscia brought up Bill Stoneman and Tony Reagins, the two men who held Dipoto's post earlier in his tenure. He said he acted the same way and offered the same amount of opinions while they were in charge.
"I think you have to have that free-flowing of ideas," he said. "I think at times we did."
Eppler is intent on having it more often by establishing a culture of communication. He is as intent about creating a culture of statistical analysis in the organization. He talks about "a lot of openness." He talks about being a farm-to-table, "fully organic" organization, growing everything in-house, from coaches to executives.
As a means to the latter end, he hired a director of quantitative analysis, Jon Luman, in December, from a pool of roughly 10 candidates he researched extensively. Then, this month, Angels hired five people to fill out the department: two programmers, two analysts and an intern.
The Angels had never before employed a full-time analytics staffer. The Yankees employ nine. That, in time, is Eppler's goal, but he cautioned against too much too fast.
Short hops
The Angels returned left-hander Christian Friedrich to the Rockies on Friday after raising concerns about the results of his physical. They claimed him earlier this month and subsequently traded infielder Taylor Featherston to Philadelphia to make room for him on the 40-man roster. … Venezuelan catcher Juan Graterol, a non-roster invitee, remains in his home country because of visa issues. He is the only one of 36 Angel pitchers or catchers to not report to spring training.
Follow Pedro Moura on Twitter: @pedromoura
---
Get our high school sports newsletter
Prep Rally is devoted to the SoCal high school sports experience, bringing you scores, stories and a behind-the-scenes look at what makes prep sports so popular.
You may occasionally receive promotional content from the Los Angeles Times.