Josh Hamilton signing is a gift that keeps on giving the Angels grief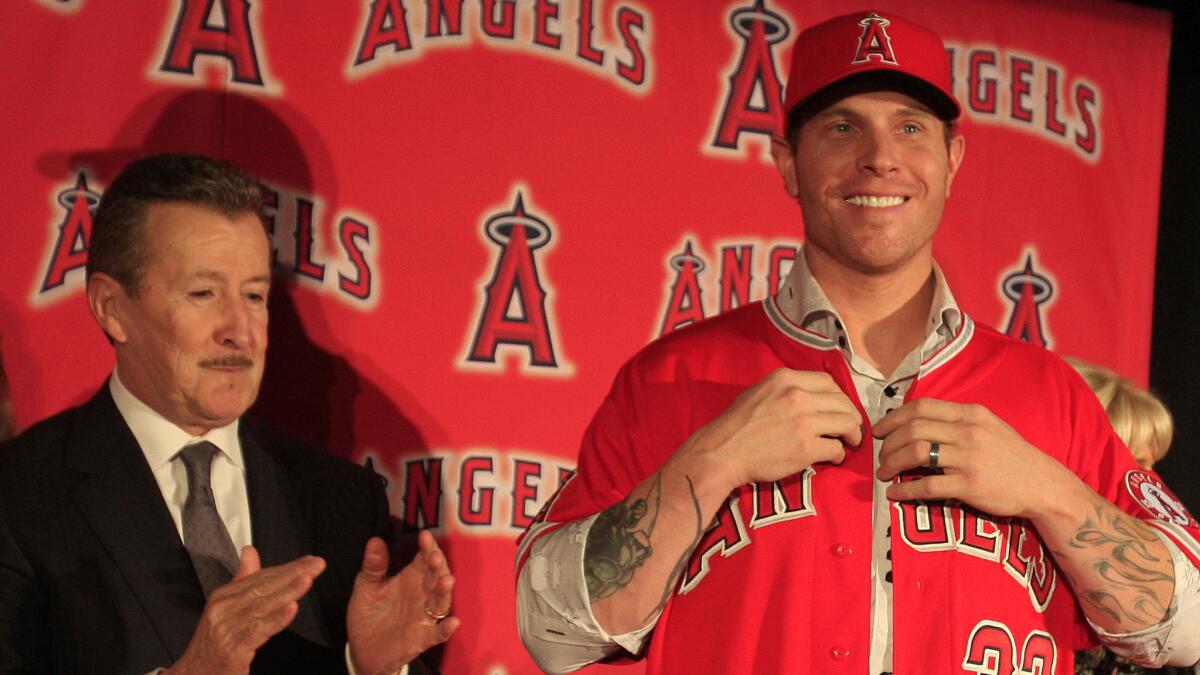 That Josh Hamilton was a terrible signing for the Angels is self-evident. Baseball is flush with cash, but paying $3.4 million for each home run nonetheless is a horrendous rate of return.
The true nature of the damage is reflected not in what Hamilton did for the Angels, but in what they could not do because they signed him. In hindsight, the decision to break the bank for Hamilton instead of Zack Greinke could haunt the Angels for years to come.
The Angels were interested in retaining Greinke after the 2012 season, but they were concerned that he would not stay healthy enough to justify a nine-figure contract. Maybe the Dodgers would have outbid all comers anyway –- that was their first winter under Guggenheim management — but Angels owner Arte Moreno never seriously bid for Greinke.
Greinke got his $147 million from the Dodgers, and Moreno lured Hamilton for $125 million. That put the Angels close enough to the luxury-tax threshold that General Manager Jerry Dipoto had to cut corners in trying to build the pitching staff, and he added Joe Blanton, Tommy Hanson, Sean Burnett and Ryan Madson.
With Hamilton, the Angels went 0 for 5 that winter.
And, with Hamilton, the Angels had no place for young slugger Mark Trumbo, who had been displaced from first base the previous winter, when Moreno signed Albert Pujols for $240 million.
Dipoto needed young pitching — he could not afford high-priced veterans — so he traded Trumbo and second baseman Howie Kendrick in consecutive winters, for Hector Santiago, Tyler Skaggs and Andrew Heaney.
Those arms could pan out in time, but right now the Angels are desperate for someone like Trumbo in the cleanup spot.
"A lot of people have brought that to my attention," Trumbo said Friday, before his Arizona Diamondbacks played at Dodger Stadium. "It doesn't do any good to dwell on it. I'm in an excellent place right now."
With Trumbo in left field, the Angels could have spent on pitching, Greinke or otherwise. Without Hamilton or Trumbo, without Kendrick, and with Pujols sitting out two games last week because of a hamstring injury, the depleted Angels lineup is a Mike Trout injury away from devastated.
Matt Joyce, the primary replacement for Hamilton, finished April with the lowest OPS in the major leagues. A lineup with Trout, Pujols and Trumbo would have looked pretty solid.
"On paper, sure," Trumbo said. "They're doing their thing. We're doing ours."
Pinstriped hypocrisy
Moreno was the target of intense criticism for his blunt remarks about Hamilton, and for how the Angels treated Hamilton on his way out. But at least Moreno put his money where his mouth was.
When the Angels yanked Hamilton merchandise from their team store, Moreno cost himself money. Teams make more money off jerseys and T-shirts sold at the ballpark than from those sold anywhere else.
The Angels probably did not miss out on a windfall — Hamilton was on the disabled list, not on the field, and fighting the league and the team in the aftermath of his drug relapse — but Moreno acted on principle.
That is more than can be said about the New York Yankees. They insist they will not pay a $6-million bonus for Alex Rodriguez's milestone home run — he tied Willie Mays for fourth on the all-time list, at 660, on Friday — because the feat is not marketable. But they continue to sell Rodriguez jerseys and T-shirts at Yankee Stadium, so he must be marketable.
Teams do not stock merchandise for every player, just the ones that are most likely to drive sales. On Friday, for example, the Dodgers' team store displayed jerseys and T-shirts for Adrian Gonzalez, Yasiel Puig, Clayton Kershaw, Greinke, Andre Ethier, Jimmy Rollins and the injured Hyun-Jin Ryu.
If the Yankees really believe no one will buy A-Rod merchandise, they ought to stop selling it.
The way we were
The Angels' Jered Weaver and the Giants' Tim Lincecum face off Sunday in San Francisco, in a game that a few years ago would have generated the excitement of Friday's marquee matchup: the New York Mets' Matt Harvey vs. the Washington Nationals' Max Scherzer.
In 2010, Weaver led the major leagues in strikeouts, and Lincecum led the National League. Weaver's fastball velocity has fallen from 90 mph then and 86 mph last year to 83 mph now, the slowest of any major league starter aside from knuckleballer R.A. Dickey, according to Fangraphs.
Lincecum's fastball velocity has fallen from 94 mph in 2008 — the year he won the first of back-to-back Cy Young awards — to 90 mph last year and 87 mph now.
Lincecum dominated as a reliever during the Giants' run to the 2012 World Series title, but he disappointed as a starter in 2013. The Giants bet on him as a starter again — signing him to a two-year, $35-million contract after the '13 season — and he struggled so mightily that San Francisco used him once in the run to the 2014 title.
The 1-2-3 innings are few and far between. In 22 innings this season, Lincecum has given up 23 hits and 10 walks.
Foul brew
The Dodgers open a series Monday in Milwaukee, where the home team could unravel before their eyes. In an era where two wild-card spots in each league mean teams are hesitant to call it a season too soon, the Brewers are turning supply and demand in their favor by putting their players on the trade market now.
The Brewers, off to a 5-18 start, could move shortstop Jean Segura, third baseman Aramis Ramirez, outfielders Khris Davis and Gerardo Parra, and pitchers Matt Garza, Kyle Lohse and Francisco Rodriguez. They would get the best return for the players they would least want to move: catcher Jonathan Lucroy and outfielder Carlos Gomez, each an All-Star last season.
How about that?
The Houston Astros lost 416 games over the previous four seasons, finishing a combined 155 games out of first place. They awoke Saturday five games up in the AL West, the largest advantage of any division leader.
Twitter: @BillShaikin
Get our high school sports newsletter
Prep Rally is devoted to the SoCal high school sports experience, bringing you scores, stories and a behind-the-scenes look at what makes prep sports so popular.
You may occasionally receive promotional content from the Los Angeles Times.