Bryce Harper a future Yankee? Dodgers may have something to say about that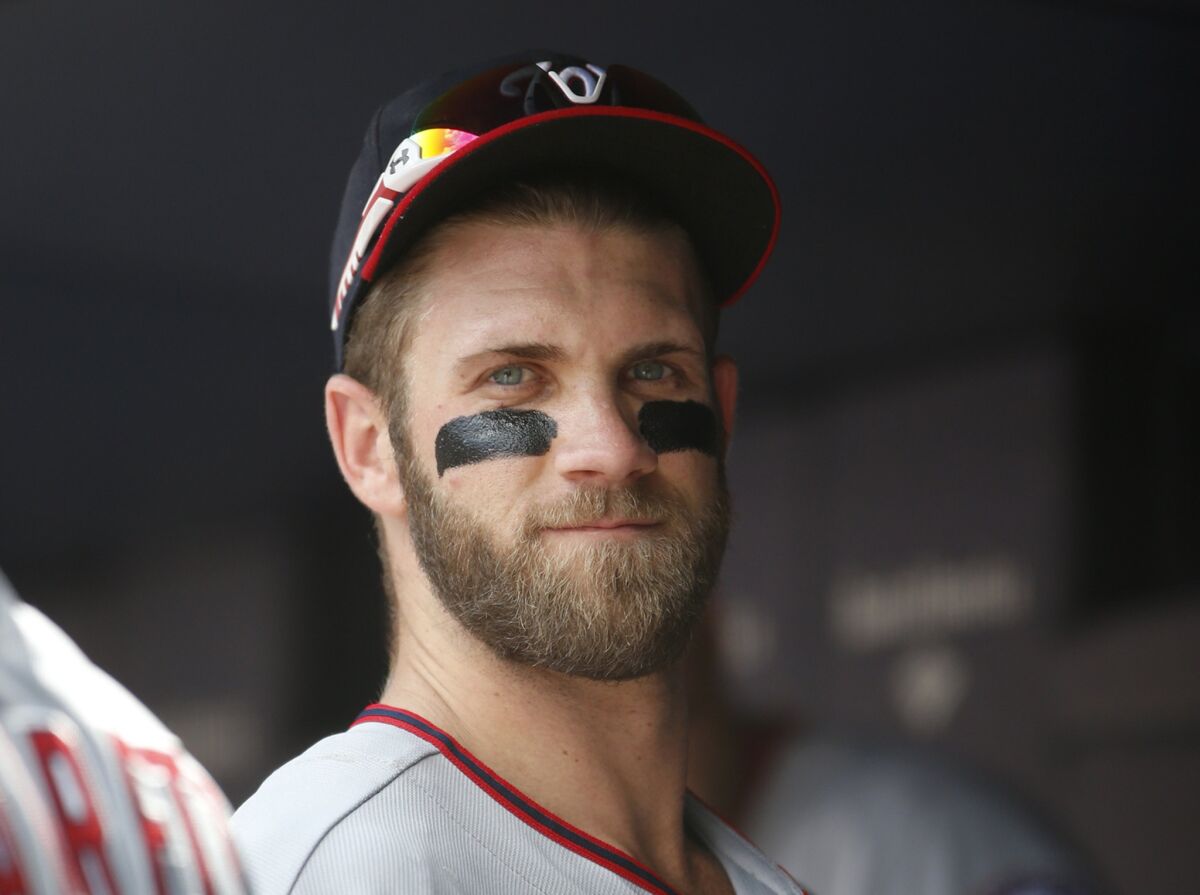 The last few years have not been kind to fans of the New York Yankees, at least not to the ones conditioned to believe every great young player is destined to be seduced by the Yankees' wallets, er, tradition.
Clayton Kershaw shrugged off free agency and stayed with the Dodgers. Mike Trout did the same with the Angels. So did Buster Posey with the San Francisco Giants, Felix Hernandez with the Seattle Mariners and Giancarlo Stanton with the Miami Marlins.
Bryce Harper showed up at Yankee Stadium last week, and the faithful showered him with chants. "FU-TURE YAN-KEE" was one. So was "2019," in reference to the first year he could play for the Yankees, or any other team. The Washington Nationals control their star outfielder through 2018.
Harper said all the right things about enjoying his time with the Nationals, how ownership has treated him well, and how he wants to bring a championship to Washington. But it is difficult to imagine Harper passing up a chance at free agency; clients of agent Scott Boras almost always test the market.
It has been suggested it would be a surprise if Harper did not sign with the Yankees. The argument is that Harper would be extraordinarily marketable in New York, and that the Yankees have several massive contracts expiring before 2019 and could afford whatever it took to sign him.
All true of the Dodgers too. And Harper might well judge the Dodgers as the team that gives him the best chance to win.
The Nationals never have won a postseason series. Although they were projected as the best team in the National League this season, they are two games over .500.
The Yankees are old. Their only starting position player under 30 is shortstop Didi Gregorius, whose on-base percentage and slugging percentage were both under .300 before the weekend. Of Baseball America's top 30 prospects, the Yankees have none. Baseball America ranks their organizational talent 18th among the 30 major league clubs.
The Dodgers rank third, and their minor league system is about to get much deeper, after they conduct an expensive raid on Latin American talent when the signing period opens July 2. The Yankees have spent heavily there, and baseball rules preclude them from doing it again this year.
If the Dodgers' top prospects pan out, imagine a franchise foundation of Harper, outfielder Joc Pederson, infielder Corey Seager and pitcher Julio Urias. Harper and Pederson would turn 27 in 2019. Seager would be 25. Urias would be 23.
The Dodgers would be wary of investing so much money in one player, and team President Stan Kasten has said he would be reluctant to acquire a player whose contract extended beyond age 36. But even a 10-year contract for Harper would expire before he turned 36.
Harper grew up a Yankees fan, idolizing Mickey Mantle. And his swing is all but designed for Yankee Stadium. But maybe Harper wants to play close to his Las Vegas home, leading a cast of young stars. He grew up idolizing Vin Scully too.
It has been a long time since the Dodgers and Yankees had a bidding war. The Dodgers were not interested in Masahiro Tanaka. The Yankees were not interested in Zack Greinke or Manny Ramirez. The Dodgers, under previous ownership, could not afford to make a run at Alex Rodriguez or CC Sabathia.
If Harper maintains his excellence, his next deal could approach $500 million no matter whether his cap has a curly W, an interlocking NY, or an interlocking LA.
Royals feeling the love
Billy Butler played eight seasons with the Kansas City Royals, most of them good ones. He was selected to one All-Star team, as a reserve. Little did he know that, in his first year playing for another team, Royals fans would turn the All-Star game into the Kansas City Invitational.
Of the nine elected starters for the American League team, the only non-Royals players among voting leaders are Trout and Houston Astros second baseman Jose Altuve.
"You can see what a little bit of winning does," said Butler while in Anaheim with the Oakland Athletics. "I would have liked to have had that a few more times. I made All-Star in 2012, but I had some definitely worthy years other times. The teams I was on weren't very good. I just kind of got overlooked.
"That town has been a baseball town for a long time. They had a tough run before last year. They're really eating it up."
Kansas City advanced to the World Series last season, its first postseason appearance in 29 years, and home attendance is up 44% this season. The last Royals player elected to start an All-Star game: outfielder Jermaine Dye, 15 years ago.
The All-Star game should be about giving the fans what they want to see, and Royals fans have spoken the loudest.
But the voting offers the latest reminder of how Major League Baseball tries to have it both ways — a giddy celebration of baseball's most popular players, and a serious game infused with trumped-up importance, with the winning league rewarded with home-field advantage in the World Series.
If you truly are playing to win, Trout plays the whole game. When the National League won the All-Star game 50 years ago, the majority of the lineup played the whole game: Hank Aaron, Ernie Banks, Willie Mays, Pete Rose and Joe Torre. Willie Stargell, the left fielder, yielded his final two at-bats — to Roberto Clemente.
Dollars and sense
In 2013, in his first season as an everyday player, infielder Jedd Gyorko hit 23 home runs for the San Diego Padres. In 2013, in his first season as an everyday player, infielder Matt Dominguez hit 21 home runs for the Houston Astros.
The Padres signed Gyorko for six years and $36 million. The Astros offered long-term contracts to several young players, including a reported five years and $14.5 million to Dominguez.
He was not the only player to say no to an Astros offer, and not unjustifiably. If he continued to hit, Dominguez might have made as much in one year alone at the back end of his contract as the Astros proposed to guarantee for all five years.
But such bargains are the price of security for a young player, when the team takes the risk of non-performance. That is worth remembering when agents criticize teams for trying to take advantage of a young player with a below-market contract.
The Padres demoted Gyorko to the minor leagues last week, but he has $33 million guaranteed beyond this year, even if he never makes it back to the big leagues. The Astros designated Dominguez for assignment last week, and he has zero dollars guaranteed beyond this year.
---
Get our high school sports newsletter
Prep Rally is devoted to the SoCal high school sports experience, bringing you scores, stories and a behind-the-scenes look at what makes prep sports so popular.
You may occasionally receive promotional content from the Los Angeles Times.