Smokeless tobacco ingrained in baseball, despite bans and Gwynn's death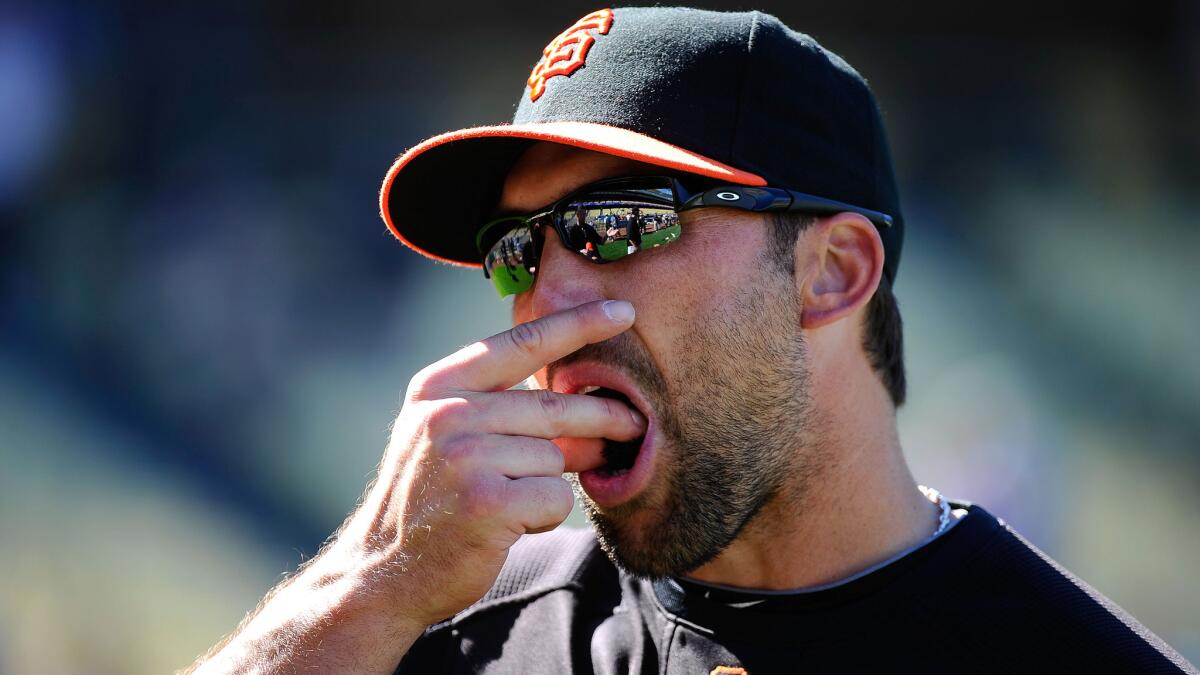 Rick Vanderhook played for Cal State Fullerton's 1984 College World Series championship team and was a Titans assistant when they won two more. So he remembers the days when cans and pouches of smokeless tobacco were omnipresent in the uniform pockets of the participants.
Not anymore. The NCAA banned tobacco use on the field in the early 1990s.
"It's probably cut back, I'll say, almost 90% compared to what it was 25 years ago," said Vanderhook, who in his fourth season as head coach has guided the Titans back to Omaha, where they will open against defending national champion Vanderbilt on Sunday at 5 p.m.
Smokeless tobacco remains ingrained in baseball culture, however, including the college and high school levels where it is banned.
"It sounds bad, but it's part of the game," said Fullerton pitcher Thomas Eshelman, echoing nearly every coach and player interviewed for this article.
Minor league players can be fined for having tobacco products in their locker or partaking on the field. Major leaguers are prohibited from using tobacco during televised interviews and player appearances, and they cannot carry tobacco products in their uniforms. But they are otherwise not prohibited from using it on the field.
Before he died of salivary gland cancer last year, baseball Hall of Famer Tony Gwynn said he believed his habit of using smokeless tobacco caused the disease that took his life at age 54.
Curt Schilling, a former All-Star pitcher, said last year he had undergone treatment for cancer that resulted from smokeless tobacco use. In April, he penned an open letter to his younger self warning of the dangers.
And last month, the mayor of San Francisco signed an ordinance that in 2016 will ban tobacco from all sporting venues in the city, including AT&T Park, home of the defending World Series champion San Francisco Giants.
That has not stopped many college players from using smokeless tobacco.
"No matter how many times you look a guy in the eye and say Tony Gwynn and Curt Schilling, if that guy wants to dip, he's going to find a way," said Andy Lopez, who guided Pepperdine and Arizona to national titles before retiring last month after 33 years as a college coach.
The NCAA prohibits players, coaches, umpires, athletic trainers and managers from using tobacco at game sites. If umpires catch players using tobacco, the player and coach face ejection.
"There is zero tolerance," said Chuck Lyon, a college umpire for nearly three decades.
According to the NCAA rule book, "umpires who use tobacco before, during or after a game in the vicinity of the site shall be reported to and punished by the proper disciplinary authority."
Players and coaches interviewed for this story said they had seen umpires using tobacco. But Lyon said, "as a crew chief, I would turn that in immediately."
Results of the NCAA's most recent quadrennial survey of about 21,000 college athletes from all sports showed that tobacco use by college baseball players was decreasing. The 2013 results, released last July in a report titled, "NCAA National Study of Substance Abuse Habits of College Student-Athletes," showed a drop in "spit" tobacco use since 2009.
In 2005, the overall percentage of acknowledged use in the previous 12 months was 42.5%. It climbed to 52.3% in 2009, but dropped to 47.2% in 2013 — though that's still nearly half of the players in a sport in which it is banned.
Coaches said they address tobacco with their players before every season.
"You also bring it up throughout the season," UCLA Coach John Savage said, "but it's not a daily reminder."
Cal State Northridge Coach Greg Moore said, "We educate them constantly and talk about their choices." But, he added, "I know that me saying smokeless tobacco is unhealthy is not going to get a guy to change his habit."
The California Interscholastic Federation, which governs high school sports in the state, forbids the use of tobacco products by athletes and coaches. But most players say they first experimented with tobacco in high school.
"They get into it for the same reason 12-year-olds start smoking — they think it's a cool thing to do," UC Irvine Coach Mike Gillespie said.
Chatsworth High Coach Tom Meusborn said tobacco use by players has dramatically dissipated since he began coaching at the school in 1990. "I think they understand and are becoming more health conscious with their training and diet," he said.
Jim Ozella, Newhall Hart's coach since 2000, also sees fewer high school players using tobacco. "I just bring up the topic of Tony Gwynn," said Ozella, whose son worked as an equipment manager at San Diego State when Gwynn coached there.
College players said they were aware of the risks of using tobacco products.
Still, Cal State Northridge infielder William Colantono began to dip as a young member of a mostly older varsity high school team. "Being around them, I picked it up," he said. "Not that I'm proud of it."
Colantono said that while most of his summer league teammates used smokeless tobacco, only "a handful" of his Northridge teammates do, and they partake off the field.
"It's easy for me not to have to do it on the field," he said. "I'm not crazy about it where I have to have it all the time."
Eshelman, Fullerton's ace right-hander, started to dip in high school because "I thought it was cool." Fellow Titans pitcher John Gavin began in high school on "a dare." Both said they occasionally use tobacco, but not on the field.
"After a game when you want to hang out and relax," said Eshelman, a junior.
"Just kind of a stress reliever," said Gavin, a freshman.
Several college baseball summer leagues, which have rosters comprised of players from across the United States, also ban the use of tobacco during games.
Sal Colangelo, longtime manager of the Bethesda (Md.) Big Train in the Cal Ripken Collegiate League, said he attempts to educate players, but for some "it's a way of life."
"You go into their trucks and there are cases and cases of tobacco and dip," he said. "It's like a 7-Eleven."
Several coaches from West Coast schools acknowledged using tobacco, though a few agreed to speak about it only if they were not identified.
One, who said he recently quit, recalled an umpire once threatening to eject him for chewing when he went out to argue a call. Another, who has used smokeless tobacco for more than two decades, admitted he was addicted.
"For me, personally, that would be one of my greatest accomplishments if I can stop," he said.
Former Pepperdine coach Steve Rodriguez played on Pepperdine's 1992 national championship team and professionally for seven seasons, including 18 games in the major leagues. He coached the Waves for 12 seasons before being hired this week as coach of Baylor. He said he chewed leaf tobacco until about five years ago.
"I was a hypocrite because I would say, 'You can't do it,' but I would still do it," he said, adding he is now passionate about educating his players about the risks.
"I want to make sure," he said, "that I give them the best opportunity to not have to deal with really, really big issues."
Twitter: @latimes.com
Get our high school sports newsletter
Prep Rally is devoted to the SoCal high school sports experience, bringing you scores, stories and a behind-the-scenes look at what makes prep sports so popular.
You may occasionally receive promotional content from the Los Angeles Times.