He shoots the shots — and so much more: Basketball Hall of Fame to honor photographer Andrew Bernstein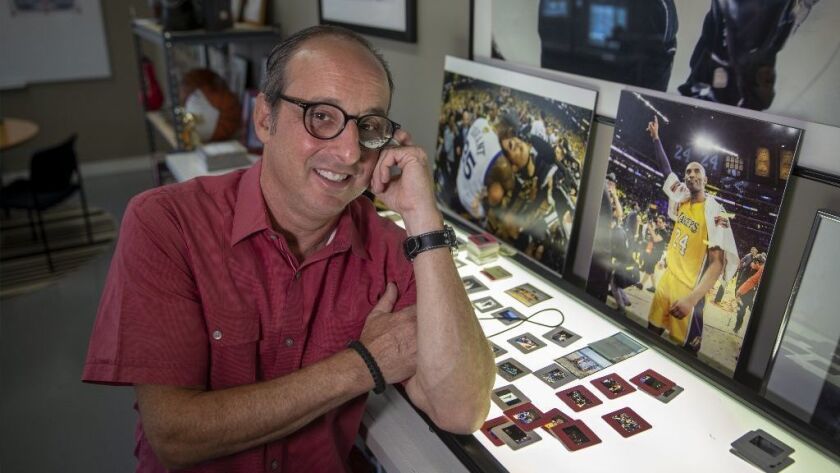 The images speak for themselves. The captions provide the particulars of what's in the frame.
Eventually, Andrew D. Bernstein gets the credit he deserves.
This week, that fine print of distinction is enlarged. The Basketball Hall of Fame will honor Bernstein with the Curt Gowdy Award for print media excellence, recognizing far more than just his decades of work as the Southern California-based official team photographer of the Lakers, Clippers, Sparks and other teams.
If it's Magic Johnson interlocking arms with Larry Bird, Michael Jordan providing a death stare on defense, or the unsinkable Charles Barkley in a hot tub with a rubber duck, they're all unmistakably a Bernstein byproduct.
The San Marino resident, who works out of a studio in South Pasadena as well as one at Staples Center, said he shudders to think how he will thank everyone when he is feted at a dinner in Springfield, Mass., on Thursday.
Bernstein will be the second photographer to be acknowledged with the media award. Rich Clarkson, a longtime NCAA game shooter, received it in 2015.
Other than Neil Leifer's inclusion in the International Boxing Hall of Fame, no other sports institution has taken the step to include photographers as important media image shapers of their history. Those Bernstein calls "the Godfathers" include John Zimmerman, who, at Sports Illustrated, was the first person to put remote cameras behind and beyond the glass backboards. That's now standard. There is also John McDonough, Walter Iooss, Nathaniel Butler, Layne Murdoch …
"I think it's a little strange, honestly, that the Gowdy Award has these categories, but print honors have only gone to writers; how do we photographers not fit into that category?" said Bernstein, referring to the honor named after the late ABC and NBC broadcaster who, during his diverse career from the 1960s to the '80s, covered 24 NCAA Final Fours.
"Photos lend themselves to the image of a great player, or great moment in time. When something historical happens, usually there is a photo to go to with it. With a Kirk Gibson World Series home run, there's Vin Scully's call, all the great stories written about it, but there's also the Joe Kennedy iconic photo to go with it — and I was lucky enough to be there for that moment.
"I'm stoked and grateful for this recognition, and if helps open up the category to deserving photographers, videographers, cinematographers who have documented the game, I hope I can give them my two cents about this."
Why stop there? Basketball Hall of Fame President and CEO John Doleva imagines a social media or a podcast host recipient in this category.
"We need to pay attention and be contemporary as the game grows around the world," Doleva said, noting that Doris Burke is a rare female who will be honored in the electronic media for her ABC/ESPN work. "Some think that Halls of Fame look backward at things in the past, but basketball history happens as recently as last night. We have to try to be on the cutting edge.
"Our media award has to make sure there's a continuum of how people consume the medium and the images they cherish. There is a real art in photography and bringing the passion of the game alive, and Andy has done that. It's appropriate and joyful that Andrew is getting this Gowdy Award."
The praise only heightens from those on the other end of Bernstein's lens.
"Andy is very deserving of this wonderful honor," said Jerry West, the Hall of Famer and current Clippers consultant. "I have watched him grow over many years and have always admired his craft. He is one of the most talented sports photographers of modern time, but just as importantly he has been a loyal friend to me, my family and the entire NBA family."
Clippers coach Doc Rivers called Bernstein "an invisible pro" as well as "the best legal voyeur ever. His amazing pictures reflect that he's a master at his craft. He is extremely deserving of being inducted into the Hall of Fame."
Kobe Bryant and Bernstein have a special mutual trust and respect relationship. And it's not just about who snapped the first and last photos of the Lakers star's 20-year career; it's about Bernstein's work years before that.
"I would classify him as an artist, not a photographer," Bryant said. "Andy's vision for his craft goes well beyond it being a profession.
"I connected with Andy's photos because they helped teach me the game. As a kid, I would study Andy's shots to understand foot angles, arm placement on defense, all those small things that taught me how the slightest detail can change an outcome. The first time we met, I was so excited to meet the guy whose name I'd seen on iconic images for so long."
Add to that a Bernstein-Bryant production of "The Mamba Mentality: How I Play," due out in late October and already No. 1 in basketball biographies on Amazon.com pre-orders.
"We created a teaching tool because that's what Andy's photos have always meant to me," Bryant said. "We talked through key moments to bring the messages to life and Andy got to work finding the images to illustrate my point. Having been through it all with Andy for more than 20 years, this collaboration was the fun and easy part."
Of the thousands of photos he has shot over the last 30 years, including helping to create the NBA Photos company in 1996, Bernstein said his most powerful and poignant shot was captured off the court, after Jordan won his first NBA title — in 1991 at the Forum, over the Lakers.
"I was standing on a bridge table in the locker room," Bernstein said, "and as people are frantically looking for him to do a live TV shot some sixth sense told me to look to my left. As I looked down, he was sitting in this locker with his dad."
Bernstein said he snapped off two quick shots.
That was important to me, to the history of the league, and even more important to Michael after his father died.

Andrew Bernstein
"That was important to me, to the history of the league, and even more important to Michael after his father died," he said.
The 60-year-old father of four knows he can only survive so long crouched under the basket on a baseline night after night, avoiding bodies flying at him. He has already undergone job-related back surgery. So he is looking to a new media platform he helped create, called Legends of Sport.
The long-term plan is to create a place to aggregate and document the most iconic moments in sports. To start it, Bernstein hosts a show on PodcastOne — the platform created by longtime Lakers fan Norm Pattis — and has produced nearly 30 episodes featuring famous people talking about their fields of expertise.
Bernstein also has a trove of "Through the Lens" shows for the Lakers' SportsNet L.A. channel, in which he discusses moments in his career.
A new episode could be focused on this weekend.
The Brooklyn native, who transferred from the University of Massachusetts to hone his craft at Pasadena's ArtCenter College of Design, recalled the first photo he had published in a newspaper was of a college game at UMass when he was a freshman in 1975.
Just up the road from Springfield.
"There is a lot of nostalgia going on around me right now," said Bernstein, who, if not for a rare day off, might be snapping shots during Friday's Hall of Fame inductions of Steve Nash, Ray Allen, Grant Hill and Jason Kidd.
"Phil Jackson likes to talk about the full-circle life events," he added. "I'm not sure you can get any more full-circle."
---
Get our high school sports newsletter
Prep Rally is devoted to the SoCal high school sports experience, bringing you scores, stories and a behind-the-scenes look at what makes prep sports so popular.
You may occasionally receive promotional content from the Los Angeles Times.