Column: American Pharoah stands alone after Breeders' Cup Classic triumph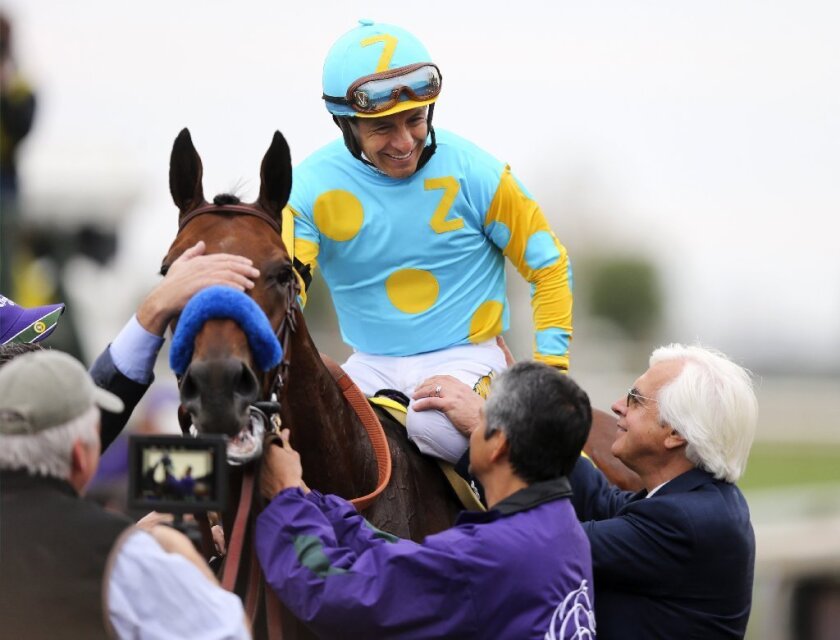 From Lexington, Ky. —
Saturday at Keeneland became a day when the routine became spectacular, when what was expected and obvious became celebrated like it was a stunning surprise.
Which was exactly the appropriate reaction.
American Pharoah won the Breeders' Cup Classic, the $5-million horse race for all comers that was designed to, and usually succeeds, in establishing the best of the best.
American Pharoah didn't need any showcasing. He simply deserved it.
He had already won the Triple Crown. No horse had done that in 37 years, going back to the legendary Affirmed in 1978. Being one of those 12, American Pharoah was already legendary. But thanks to horse racing's creation of this annual tap-into-Fort-Knox gathering, this year's worth $26 million over two days, American Pharoah had the opportunity for a cherry on his whipped cream.
American Pharoah, with Victor Espinoza aboard, wins the Breeders' Cup Classic by 6 1/2 lengths on Saturday at Keeneland Racecourse.
(Mark Humphrey / Associated Press)
Triple Crown-winning horse trained by La Cañada Flintridge's Bob Baffert claims racing Grand Slam with victory in final race at Breeders' Cup.
()
Jockey Victor Espinoza and American Pharoah lead the field during their winning ride in the Breeders' Cup Classic on Oct. 31.
(Dylan Buell / Getty Images)
Mongolian Saturday, with Florent Geroux aboard, poses in the Winner's Circle at Keeneland Racecourse with its owners and trainer Saturday.
(Rob Carr / Getty Images)
Jockey Julien Leparoux and Tepin (7) challenge for the lead going into the first turn of the Breeders' Cup Mile on Saturday.
(Rob Carr / Getty Images)
Nyquist, with Mario Gutierrez aboard, finishes ahead of Swipe and jockey Victor Espinoza in the Breeders' Cup Juvenile on Saturday.
(Brynn Anderson / Associated Press)
Jockey Ryan Moore heads to the Winner's Circle aboard Found after winning the Breeders' Cup Turf on Saturday.
(Dylan Buell / Getty Images)
Jockey Irad Ortiz, Jr., aboard Stephanie's Kitten, looks back at the field en route to victory in the Breeders' Cup Filly & Mare Turf on Saturday.
(Garry Jones / Associated Press)
Jockey Joel Rosario guides Wavell Avenue (7) past La Verdad (4), with Jose Ortiz aboard, for victory in the Filly & Mare Sprint.
(Dylan Buell / Getty Images)
Jockey Mike Smith rides Songbird to the win in the Breeders' Cup Juvenile Fillies at Keeneland Racecourse on Saturday.
(Rob Carr / Getty Images)
Runhappy, with Edgar Prado aboard, wins the Breeders' Cup Sprint at Keeneland Racecourse on Saturday.
(Brynn Anderson / Associated Press)
Florent Geroux acknowledges fans after riding Catch a Glimpse to victory in the Breeders' Cup Juvenile Fillies Turf on Friday.
(Garry Jones / AP)
Hit It a Bomb (14), with Ryan Moore up, finishes ahead of Airoforce (8) and Julien Leparoux in the Breeders' Cup Juvenile Turf on Friday.
(Garry Jones / Associated Press)
Javier Castellano rides Stopchargingmaria down the front strecth enroute to winning the Breeder's Cup Distaff at Keeneland Racecourse on Friday.
(Rob Carr / Getty Images)
Jockey Javier Castellano rides Liam's Map to the win in the Breeders' Cup Dirt Mile at Keeneland Racecourse on Friday.
(Dylan Buell / Getty Images)
The Breeders' Cup began in 1984, so this was the first chance for a Triple Crown winner to double down. American Pharoah did so, by a dazzling 6 1/2 lengths.
He was the class of a field weakened by the Thursday scratch of Beholder, Richard Mandella's two-time Eclipse Award-winning mare. She had a fever, bled a little and was scratched. How Beholder's presence would have changed things will never be known.
What is known is that American Pharoah deserves to be in that Triple Crown club of 12, maybe near the top.
His trainer, Bob Baffert, who pulled the strings and kept the faith and remained cool right to the end of this all Saturday, might have best established what sort of historical perspective we ought to have for his horse.
"Growing up, Secretariat was the greatest horse I ever saw, watched run," he said. "Just to be close to him, or in the same sentence as him … I can't judge … how great he [Pharoah] is or whatever."
Neither can the rest of us. We all have seen film of Secretariat's 31-length romp in the 1973 Belmont. That stands as the defining testimony of his greatness.
But Saturday, we saw similar greatness, even if American Pharoah's romp was more a definition than a demolition.
Jockey Victor Espinoza needed two moves with American Pharoah and he made them both. With much of the speed gone in the race with the scratches of Beholder and Smooth Roller, Espinoza needed to break clean and get Pharoah to the front. That he did, perfectly.
"I wanted to bounce out there and let him run," Espinoza said. "I don't want to take any chance. I don't want to take one inch out of him, and during the race to let anybody get close to him."
Before his run for home, American Pharoah slowed a bit on the backstretch.
"I look at the track and it is a little bit deep, and in that path," Espinoza said. "I decided to move him like one, maybe two lengths out."
When he did, Pharoah was able to dig in better and take off.
"Turning for home, I wasn't worried about the track," Espinoza said. "I was gone."
The orchestra conductor of this all, Baffert, was watching from the paddock, on a big-screen TV, surrounded by friends and media.
He chattered nervously. Even though this wouldn't even be his first Breeders' Cup Classic victory — he won last year with Bayern — this was another level of pressure.
The sign on the wall showed six minutes to post time.
"Six more minutes and then we have to start over," he said, painfully remembering that this was American Pharoah's last race.
He tried to entertain the gathered media. Baffert always has stories.
"I remember being up at Woodbine one time years ago," he said. "Had a horse named Zipper Up. People kept walking by and saying, 'Zipper Up.' I thought they were talking about my horse. They weren't. My fly was down."
Joe Torre called and a Baffert associate took the call. All around, it was pent-up emotion, awaiting chaos.
Much of the throng that had flooded the paddock had gone to the track to watch. They had cheered American Pharoah's arrival, his every step, his saddling. He has become, perhaps, the most photographed living thing on the planet. The Kardashians are furious.
Baffert remained stoic until American Pharoah turned for home and nobody went with him. Mike Smith, aboard the horse most disregarded in the field, longshot Effinex, stayed closest to American Pharoah and got a surprising second, paying $14.20 and $6.60.
American Pharoah paid $3.40, $3 and $2.40, and a large percentage of those tickets will be taken to frame stores, not pay windows.
All the talk about the chances of Honor Code, who got third, and Keen Ice, who beat American Pharoah in the Travers, and Tonalist, Frosted and Gleneagles turned out to be just that. Talk. American Pharoah does that.
When it was clear American Pharoah would not be caught, Baffert's wife, Jill, began to cry and hugged her husband. Soon, Ahmad Zayat, the horse's emotional owner, was embracing Baffert and sobbing. He had said he wanted a proper farewell for his superstar horse, that American Pharoah deserved to go out on a high.
Zayat's wish was perfectly fulfilled.
Throngs swarmed the finish line. Hundreds found their way into the winners' circle. Someday, they will study the champion's picture and see faces neither the Zayats nor Bafferts have ever seen before.
As the celebrating continued at a fever pitch, American Pharoah was quietly led away, blanket on his back, barn in the distance, oats on his mind.
It was 6:07 p.m., a time that should be noted as the last public sighting of a great American sports figure.
He will head to his stud duties soon, his procreation potential more valuable than his already-proven turn of foot. The trip will be short, just 10 miles or so down the road to Coolmore Farms.
They should let him run there. It would take only about 20 minutes and he'd probably pass a bunch of cars.
Twitter: @DwyreLATimes
---
Get our high school sports newsletter
Prep Rally is devoted to the SoCal high school sports experience, bringing you scores, stories and a behind-the-scenes look at what makes prep sports so popular.
You may occasionally receive promotional content from the Los Angeles Times.