Column: Clayton Kershaw uses baseball to help battle child sex trafficking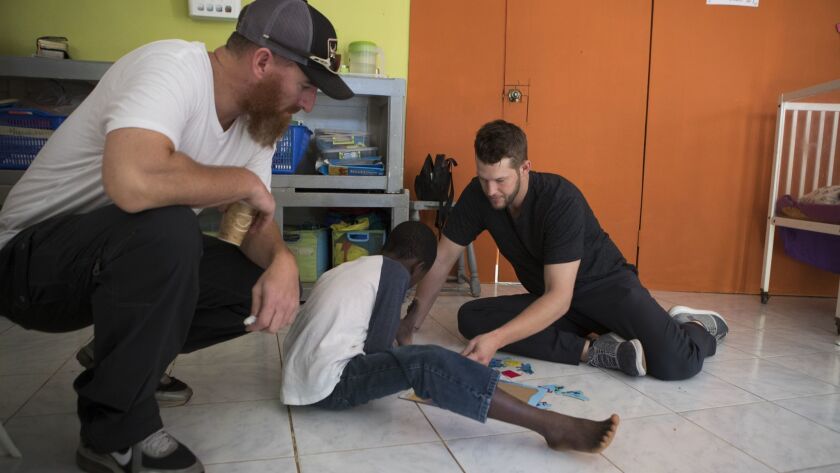 Clayton Kershaw stared into the distance as he recounted his travels. Standing in the Dodgers' clubhouse, the world he now pictured was larger than he previously imagined, with more poverty and more suffering, but also with more possibilities.
Two weeks before he reported to spring training, Kershaw was invited to the Dominican Republic's National Palace and granted an audience with President Danilo Medina. The president listened to his concerns about child sex trafficking in the country and assured him his office would support the International Justice Mission's efforts.
Baseball made it all possible.
"It was a very eye-opening trip, all the way around," Kershaw said. "Very fortunate that baseball means so much."
His meeting with the president was featured on the country's television news programs. Photographs of him presenting Medina with an autographed jersey were printed in the daily newspapers. His message spread.
If Kershaw's and his wife's longstanding mission to provide housing and education for African orphans was evidence of what he could do with the wealth he accumulated from playing baseball, his four-day trip to the Dominican Republic was a testament of the influence he could exert in places where the sport is a cultural touchstone. A day after meeting the president, Kershaw participated in a news conference that also included the attorney general of the Dominican Republic and the U.S. ambassador to the island nation.
Even before the back injuries that sidelined him in recent seasons, and before shoulder problems largely limited him to playing catch this spring, the three-time Cy Young Award winner always maintained perspective about his talent, which he considers God-given. He said his view was shaped by his Christian faith.
"I love this game, I love getting to play this game," Kershaw said. "But it's only as important as what you do with it, if that makes sense. There's so many people you can reach just because you're gifted with the ability to throw a baseball. I try to remember that and these trips help me.
"There's nothing I did to deserve to be able to throw a baseball. Those talents were something that were just completely given to me. Yeah, you can work at it and get better at it, but you either can do that or you can't."
This particular expedition to the Dominican Republic made him reconsider the boundaries of what he could accomplish.
The scourge of child sex trafficking was brought to Kershaw's attention at a morning religious service provided to teams on weekends. Adam LaRoche, then a first baseman for the Washington Nationals, was already heavily invested in the cause and was working with IJM, an anti-trafficking organization based in Washington. Kershaw thought about the mission of his own foundation, which hosts an annual charity ping-pong tournament at Dodger Stadium.
"Kershaw's Challenge, the heartbeat's always been kids," Kershaw said. "I've always wanted to be able to help kids. And who's more vulnerable than a kid that's involved in this type of exploitation?"
Two years ago, Kershaw reached out to IJM's office in Dallas, where he lives in the winter. IJM became an official beneficiary of Kershaw's Challenge last year and Kershaw dropped by the organization's headquarters when the Dodgers visited the Nationals.
Sign up for our daily sports newsletter »
"Here's this young man who's been given so much power and is so gifted and that he would come in and so humbly, without any edge or any arrogance, to talk to us, just like an ordinary, normal person … I was sort of blown away," IJM President Sean Litton said.
Kershaw and his wife, Ellen, wanted to further familiarize themselves with the group's work. Kershaw was especially interested in visiting IJM's office in the Dominican Republic because he had played alongside countless players from the country. Similar motivations prompted him to participate in Major League Baseball's goodwill trip to Cuba in 2015.
So Kershaw and Ellen traveled to the Dominican Republic in late January as part of a group that included Litton, LaRoche and LaRoche's wife, Jennifer.
Child sex trafficking, which the IJM website describes as "a form of modern slavery in which someone coerces or deceives another person into commercial sex exploitation for profit," remains a significant problem in the country. The Dominican Republic passed its first anti-trafficking law in 2003 and enacted its first nationwide plan to combat child sex trafficking three years later, but the efforts resulted in only six convictions, according to IJM. In the five years since IJM opened its offices in the country and started working with the government, there have been 46 convictions, said Andrea Rodriguez, the communications manager of the organization's Latin American operations.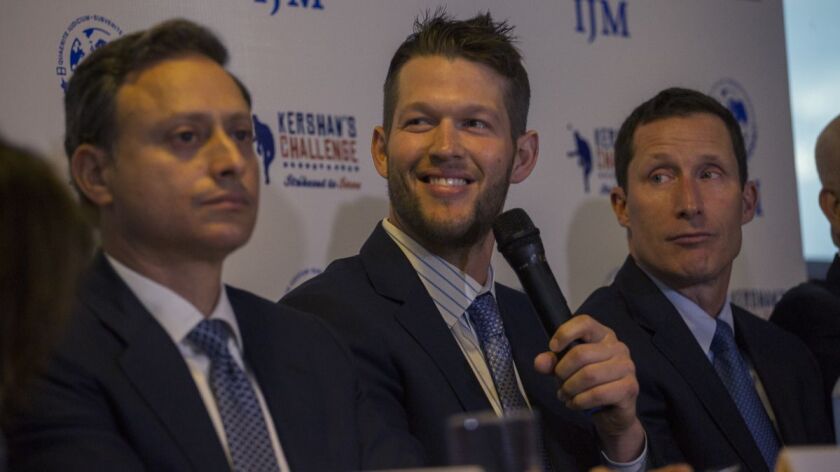 Kershaw witnessed the problem up close when he accompanied IJM investigators to Santo Domingo's red-light district.
"We sat with the investigators and we acted like we were tourists there," Kershaw said. "The girls sat at a different table, but we got to see firsthand what these girls are going through, try to talk with them and just gathering intel as they called it."
Kershaw described the experience as "uncomfortable," adding, "It's just sad to see these girls in that situation. It's just a different world than I've ever known."
On his last day in the country, Kershaw visited Lily House, a rehabilitation facility where survivors of the illegal trade receive intense therapy and vocational training.
"You get to hear their stories and it's super emotional," Kershaw said.
His accomplishments on the baseball field gave him access to some of the most powerful political figures in the country.
"These athletes coming in raises the profile of this issue," Litton said. "Obviously, the victims and their families can't do it. They're from the most poor, most vulnerable, weakest people in the country."
Generally reluctant to draw attention to himself, Kershaw understood why doing so was necessary in this case.
"The biggest thing about trafficking is just bringing to light what's happening," he said. "That's half of the battle. These people that run these boys and girls, they want to live in the darkness. They don't want to be seen. They don't want to be heard from."
Kershaw has made it a point to remember what he saw.
"That's the biggest challenge," he said. "When you go somewhere and come back, it's so easy to get wrapped up in your routine again. You know, just like out of sight, out of mind. You have to fight to not let that happen. You can't become calloused to what's going on because regardless of if you're here in nice hotels playing baseball in great cities, those kids are still going through what they're going through. That's not going to change.
"Right now, I feel like my role is being an ambassador for them and trying to get the word out and trying to get as many people knowledgeable about that as I can. But maybe I will be a little more hands-on when I'm done" playing.
Though Kershaw doesn't have any idea when that could happen, he pondered his life after baseball in the wake of the recent retirements of close friends A.J. Ellis, Shawn Tolleson and Scott Van Slyke. He is mindful that building a platform now will allow him to better help others later, which is why he opened an Instagram account while in the Dominican Republic.
"Your reach is so big while you're playing baseball, especially when you're having success on the field, people are going to care about what you have to say," he said. "But once you're retired, people don't care as much."
Entering his 12th major league season, Kershaw is considered a veteran in baseball circles. But he will turn only 31 this month, which makes him young by almost any other measure.
He is preparing for his future pitch by pitch, word by word, trip by trip.
Follow Dylan Hernandez on Twitter @dylanohernandez
---
Get the latest on L.A.'s teams in the daily Sports Report newsletter.
You may occasionally receive promotional content from the Los Angeles Times.