10 Images
Clippers vs. Mavericks
Mike Dunleavy Sr.
Clippers head coach Mike Dunleavy Sr. watches his team.
(Matt Slocum / AP)
Devean George, Greg Buckner, James Singleton
Former Laker, current Maverick Devean George goes up for a shot as Los Angeles Clippers forward James Singleton defends.
(Matt Slocum / AP)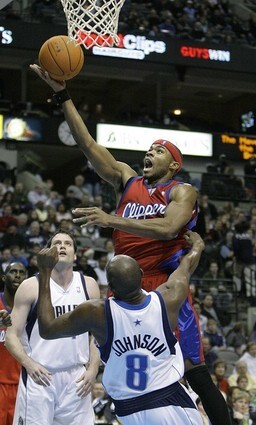 Anthony Johnson, Corey Maggette
Corey Maggette is fouled on the way to the basket by Mavericks guard Anthony Johnson.
(Matt Slocum / AP)
Tim Thomas
Clippers forward Tim Thomas falls onto a ball boy while chasing a loose ball.
(Matt Slocum / AP)
Chris Kaman, Devin Harris, Erick Dampier
Chris Kaman goes up for a shot as Dallas Mavericks guard Devin Harris, left, and center Erick Dampier, bottom, defend.
(Matt Slocum / AP)
Josh Howard, Chris Kaman, Elton Brand
Josh Howard, center, dunks the ball as Clippers center Chris Kaman, left, and forward Elton Brand look on.
(Matt Slocum / AP)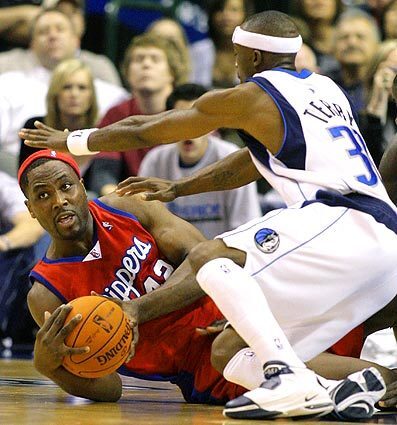 Elton Brand, Jason Terry
Clippers forward Elton Brand, left, battles for a loose ball with Dallas Mavericks guard Jason Terry.
(Matt Slocum / AP)
Dirk Nowitzki, Chris Kaman
Dirk Nowitzki, right, gets a shot past Chris Kaman.
(Matt Slocum / AP)