College basketball: Illinois upsets No. 13 Maryland; Duke, Virginia win big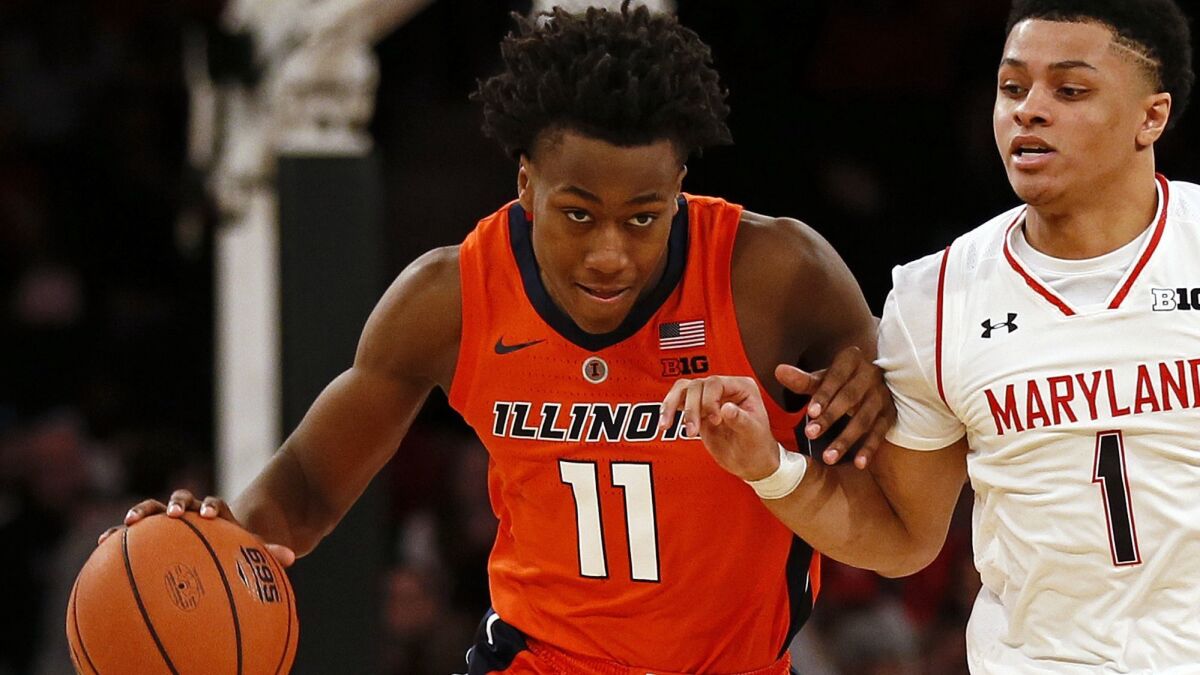 Ayo Dosunmu scored 20 points, Tevian Jones had 18 and Illinois beat No. 13 Maryland 78-67 at Madison Square Garden on Saturday.
Andres Feliz had 15 points and the Fighting Illini (6-14, 2-7 Big Ten) snapped a two-game skid by handing the Terrapins their second straight conference loss.
Bruno Fernando led Maryland (16-5, 7-3) with 19 points and 10 rebounds. Anthony Cowan Jr. had 18 points and Jalen Smith had 11.
The Terrapins led by 11 during the first half, but Illinois pulled within 34-30 at the break after Dosunmu scored all the Illini's points on a 9-2 run.
Illinois hit four 3-pointers in a span of 1:27 early in the second half — including two by Trent Frazier — to take a 42-40 lead. Maryland ran off seven straight points, Illinois countered with six consecutive to regain the lead, then Maryland used a 10-4 run for a 57-52 advantage.
Illinois responded with a 10-2 spurt, capped by Jones' fourth 3 of the game with 4:49 left, and the Illini kept their poise rom there. Feliz made five free throws and Dosunmu had a fast-break layup and hit two other layups to extend the lead to 72-63.
at No. 1 Tennessee 83, West Virginia 66: Lamonte' Turner had 23 points and No. 1 Tennessee held West Virginia scoreless for a 9 1/2-minute stretch Saturday on its way to a victory.
Tennessee (18-1) erased its first double-digit deficit of the season and took command by ending the first half on a 24-2 run and scoring the first four points of the second half. That put the Volunteers on track for their 14th consecutive victory in the school's longest win streak since it opened the 1922-23 season with 14 straight wins.
Tennessee also earned its 20th straight home win, the first time it has accomplished that feat since 1970-72.
at No. 2 Duke 66, Georgia Tech 53: RJ Barrett had 24 points and 11 rebounds, and the Blue Devils pulled away for the win during point guard Tre Jones' return to the lineup.
Zion Williamson added 22 points to help the Blue Devils (17-2, 6-1 Atlantic Coast Conference) win their third straight and 12th in a row in the series with Georgia Tech. Duke finished a season-worst two of 21 from three-point range but hit 52 percent from the field in the second half to win its lowest-scoring game of the year.
Abdoulaye Gueye had 14 points and Michael Devoe added 11 for the Yellow Jackets (11-9, 3-4), who have lost four of six but threw a scare into Duke for most of the day. Georgia Tech led 38-31 when Gueye banked in a jumper with just under 16 minutes remaining.
No. 3 Virginia 82, at Notre Dame 55: De'Andre Hunter scored 19 points to lead five players in double figures as the Cavaliers won easily. Junior guard Kyle Guy, Indiana's 2016 Mr. Basketball at Lawrence Central near Indianapolis, scored 15 points, all in the first half on 6-of-8 shooting. Virginia (18-1, 6-1 Atlantic Coast Conference) earned their second straight victory since a 72-70 loss at Duke on Jan. 19.
John Mooney had his ACC-leading 12th double-double of the season with 15 points and 10 rebounds for struggling Notre Dame (11-9), which dropped its fourth in a row and fell deeper into the ACC cellar at 1-6.
at No. 8 Kentucky 71, No. 9 Kansas 63: PJ Washington scored 14 of his 20 points in the second half, and No. 8 Kentucky beat No. 9 Kansas on Saturday in the SEC-Big 12 Challenge.
Washington also had 13 rebounds, helping the Wildcats to a 49-36 advantage on the glass. Reid Travis had 18 points and 12 boards, and Keldon Johnson also posted a double-double with 15 points and 10 rebounds.
Neither team reached 40 percent shooting, but the Wildcats (16-3) were much better in the second half and held the Jayhawks in check down the stretch of the marquee matchup between college basketball's two winningest programs.
at No. 10 Virginia Tech 78, Syracuse 56: Justin Robinson scored 24 of his career-high 35 points in the first half and No. 10 Virginia Tech beat Syracuse on Saturday night.
Robinson made a career-best seven 3-pointers before halftime when the Hokies (16-3, 5-2 Atlantic Coast Conference) used a 20-5 run to open a 34-16 lead. Robinson had 12 points in the surge as Virginia Tech led by as many as 22 in the half and by 43-24 at the break.
Syracuse made a run to start the second half, scoring the first 11 points to get to 43-35, but the Hokies answered with a 14-1 burst, rebuilding the lead to 57-36. The Orange (14-6, 5-2) never got closer than 15 again. Oshae Brissett scored 16 to lead Syracuse and Frank Howard had 13, while Elijah Hughes, their second-leading scorer at 15.3 points per game, managed just six on 2-for-13 shooting with four turnovers.
No. 12 Marquette 87, at Xavier 82: Markus Howard scored 19 of his 31 points down the stretch to help rally the Eagles to their seventh consecutive win. Joey Hauser added 21 points and Sam Hauser had 20 to help Marquette (18-3, 7-1 Big East) overcome Xavier's best offensive showing of the season.
After the Musketeers (11-10, 3-5) pulled ahead 58-47 with 14 minutes left, Howard hit a pair of baskets that started the comeback. His long 3-pointer put Marquette ahead 79-71 with 1:59 left, and his two free throws with 9.1 seconds left closed it out. Paul Scruggs scored 21 points for Xavier, and Tyrique Jones matched his career high with 21 points and 11 rebounds.
at No. 14 Texas Tech 67, Arkansas 64: Davide Moretti had 21 points, Jarrett Culver scored 12 of his 15 points in the second half, and No. 14 Texas Tech beat Arkansas on Saturday night to stop a three-game slide.
Moretti's two free throws with five seconds left sealed the SEC/Big 12 Challenge game for the Red Raiders (16-4) after their double-digit lead was trimmed to two with a minute left. They didn't make another field goal after Norense Odiase's dunk made it 60-48 with 7:41 left.
Arkansas (11-8) was down 65-62 when it turned it over with eight seconds remaining, leading to Moretti's foul shots. Jalen Harris made a layup for the Razorbacks as time expired.
at No. 22 Mississippi St. 92, No. 16 Auburn 84: Quinndary Weatherspoon scored 27 points, Lamar Peters added 16 points and 10 assists, and No. 22 Mississippi State pulled away to beat No. 16 Auburn on Saturday night.
Auburn and Mississippi State (15-4, 3-3 Southeastern Conference) were locked in a tight game for much of the second half before Mississippi State broke a 70-70 tie with Weatherspoon's 3-pointer and Reggie Perry's dunk in quick succession.
An irate Auburn coach Bruce Pearl then was called for a technical foul after arguing with officials and Weatherspoon hit two free throws to give the Bulldogs a 77-70 lead with 7:13 left.
No. 24 Iowa State 87, at No. 20 Mississippi 73: Talen Horton-Tucker scored 23 points, Lindell Wigginton had 18 and the Cyclones cruised to the win in the SEC/Big 12 Challenge. Iowa State (15-5) put on an offensive show, making 13 straight shots during the second half to turn a tight game into a relatively easy victory. The Cyclones shot 69.1 percent from the field, including nearly 77 percent in the second half.
Ole Miss (14-5) pulled within 43-42 on Terence Davis' tip-in early in the second half but never took the lead. The Rebels didn't shoot very well, connecting on just 36 percent of their shots from the field, but their biggest downfall was a nonexistent defense that provided the Cyclones with ample open shots.
at No. 21 N.C. State 69, Clemson 67: Braxton Beverly made a three-pointer to beat the buzzer, capping the Wolfpack's rally in the final seconds. North Carolina State (16-4, 4-3 Atlantic Coast Conference) trailed by six with 26.5 seconds left, but the Tigers missed four straight free throws to keep the door ajar. After Marcquise Reed missed two free throws with 7.5 seconds left, the Wolfpack strolled right through it.
C.J. Bryce got the rebound and pushed upcourt with no timeouts, then turned back to find Beverly for a three-pointer on what had otherwise been a quiet day for the sophomore. Reed scored 19 points for the Tigers (11-8, 1-5) but missed four straight free throws in the final 15 seconds.
No. 23 Louisville 66, Pittsburgh 51: The shots weren't falling for No. 23 Louisville on Saturday, so the Cardinals needed to make sure the same thing happened to Pittsburgh.
Jordan Nwora scored 17 points to help Louisville rally past Pitt and avenge its only conference loss this season.
The Cardinals (15-5, 6-1 Atlantic Coast Conference) shot just 39 percent, but their strong defense shut down the Panthers (12-8, 2-5) for 6:04 of the second half. Pittsburgh led 41-40 after Trey McGowens' three-point play with 15:37 remaining. Louisville scored just eight points during the Panthers' drought, but it was enough to take the lead for good.
No. 25 LSU 86, at Missouri 80: Skylar Mays scored 11 points of his 24 points in the last three minutes of regulation and No. 25 LSU overcame a 14-point deficit in the final 2:08 to force overtime in a victory over Missouri on Saturday night.
Ja'Vonte Smart made two 3-pointers in overtime and scored 14 points for the Tigers (16-3, 6-0 Southeastern Conference). Naz Reid also had 14 points, and Tremont Waters added 13.
Jordan Geist had 25 points and 11 rebounds for Missouri (10-8, 1-5). Jeremiah Tilmon added 15 points, and Javon Pickett had 13.
SOUTHLAND
MEN
at Pepperdine 84, St. Mary's 77 (OT): Colbey Ross scored 11 of his career-high 29 points in overtime and the Waves (10-11, 3-4 West Coast Conference) defeated the Gaels (13-9, 4-3). Malik Fitts had 27 points and Jordan Ford 17 for St. Mary's.
Loyola Marymount 69, at Santa Clara 61: James Batemon hit four three-pointers and finished with 20 points, freshman Dameane Douglas had his third double-double, and theLions (15-6, 3-4 WCC) rallied from a 14-point deficit.
Grand Canyon 90, at Cal Baptist 73: Carlos Johnson scored 26 points off the bench to lead the Antelopes (13-7, 6-1 Western Athletic Conference) past the Lancers (10-9, 2-4). Mikey Henn and De'jon Davis each scored 15 points for Cal Baptist.
Cal State Fullerton 80, at Cal Poly 63: Khalil Ahmad scored 18 points, Jackson Rowe added 15 with nine rebounds and the Titans (8-12, 4-2 Big West) pulled away from the Mustangs(4-14, 0-5) for their fifth straight victory.
at UC Irvine 82, UC Riverside 64: Senior Elston Jones scored a career-high 14 points on six-for-nine shooting and grabbed seven rebounds to help the Anteaters (17-5, 5-1 Big West) beat the Highlanders (8-14, 2-4).
UC Santa Barbara 82, at Long Beach State 71: Armond Davis had 24 points and 11 rebounds and the Gauchos (15-4, 4-1 Big West) pulled away over the final 10 minutes to beat the 49ers (8-13, 2-3) .
---
Get our high school sports newsletter
Prep Rally is devoted to the SoCal high school sports experience, bringing you scores, stories and a behind-the-scenes look at what makes prep sports so popular.
You may occasionally receive promotional content from the Los Angeles Times.