Alabama coach Nick Saban turns to the media to pick nits in Tide's dominating performances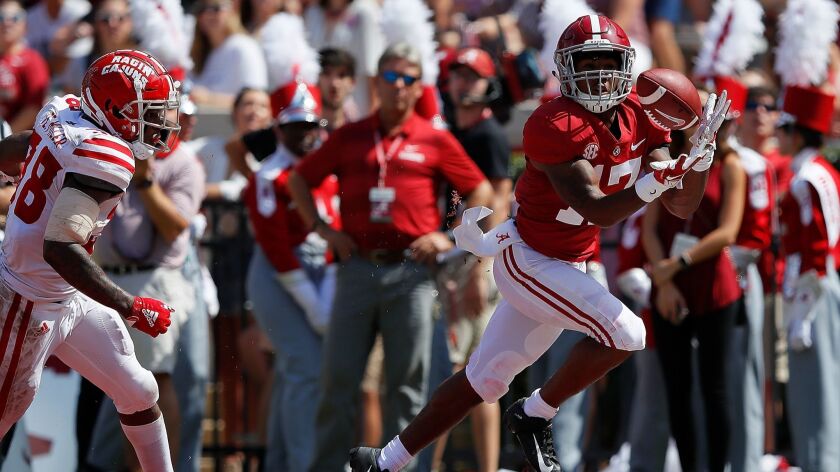 Alabama keeps rewriting the record books – making life hard on its coach.
With a 56-14 victory Saturday over Louisiana-Lafayette, the No. 1 Crimson Tide notched its fifth consecutive game with at least 45 points and 500 yards in total offense. Both are school records.
Nick Saban must be disgusted.
After all, the defending national champions are cruising at such a lofty altitude that the coach invited the media last week to come up with some criticisms of the team. He doesn't want his players falling for "rat poison," the rave reviews that inevitably come with winning.
"I'd appreciate it if you would sort of look at some of the things we didn't do so well and write about that," Saban said in the wake of Alabama's 45-23 win over Texas A&M the week before. "So maybe I can show it to some of the players and say, `Look here, man. Here's something you can do better.'"
Well, there were the two third downs the Tide failed to convert Saturday; they made good on seven of nine. Or maybe they weren't balanced enough, with 340 yards passing, but only 268 rushing. And something legitimate: Joseph Bulovas missed his two field-goal tries – although that doesn't matter much when you kick eight extra points.
Saban found something.
"I was a little disappointed that we didn't play better with the second defense when they were in there for more than a quarter of the game," he said. "We have too many guys on that group that really have to learn how to compete. They have to learn how to prepare and they have to figure out what it takes to play major college football."
And here's another bit of criticism: Stop playing cupcakes. Alabama doesn't face a team that's currently ranked until Nov. 3 when it faces No. 5 Louisiana State.
Never surrender – Jim Harbaugh's team finally dug its way out of a big hole.
No. 14 Michigan scored 20 consecutive points for a 20-17 victory over Northwestern. It was just the sixth time in school history that the Wolverines came back from a deficit of 17 points or more.
According to ESPN, before Saturday, Jim Harbaugh was 0-31 as a college coach when his teams trailed by 17 or more, with three of those losses at Michigan.
Island fever -- Alabama's Tua Tagovailoa and Central Florida's McKenzie Milton are more than quarterbacks in the Heisman Trophy conversation. They're former pee-wee teammates from the Waipio Panthers.
Both rode into the season on quite a wave. In the national championship game against Georgia, Tagovailoa came off the bench in the second half and led the Tide to victory in overtime.
Central Florida, with Milton at quarterback, was the only unbeaten team in the FBS last season.
Tagovailoa was eight for eight Saturday for 128 yards and two touchdowns before his backup got a chance in a 42-point blowout of Louisiana-Lafayette. Milton threw for 329 yards and four touchdowns in a 45-14 rout of Pittsburgh.
Back on that pee-wee team, Tagovailoa was the quarterback and Milton was the running back, a combination akin to Alex Smith handing off to Reggie Bush at Helix High in La Mesa.
Tough crowd -- Sometimes, winning isn't enough.
Three quarterbacks of powerhouse programs have been benched this year, even though they have a combined record of 52-7 as starters.
Clemson senior Kelly Bryant left the team this week and said he plans to transfer after losing his job to freshman Trevor Lawrence. But when Lawrence was knocked out of Saturday's game with a concussion, the No. 3 Tigers had to turn to Chase Brice, who was sixth on the depth chart in January. The 25-point favorites barely hung on to beat Syracuse, 27-23.
Notre Dame was 3-0 with Brandon Wimbush starting, but the Irish scored a relatively modest 24, 24 and 22 points in those games. He was benched in favor of Ian Book last week, who ran for three touchdowns and threw for two more in a 56-27 victory over Wake Forest and then led a 38-17 victory over No. 7 Stanford.
Alabama's Jalen Hurts helped his team to the national championship game, but was replaced at halftime by Tagovailoa, who isn't about to relinquish the reins. Hurts did some mop-up duty Saturday.
The moral for college quarterbacks: Don't just win. Win big.
Benny and the jet – Kentucky running back Benny Snell doesn't just run past defenders, he whistles past them.
That's because Snell wears a mouthguard that features a hole filled with a pinwheel, a miniature jet turbine, that makes a high-pitched whirrr when the wind hits it.
Battle Sports Science makes the mouthguard and says it has the largest breathing hole in the market, and leverages SCUBA breathing innovations. Or maybe it just looks cool.
What a catch – Getting married but don't want to miss the game?
Get married at the game.
In a Texas Tech first, two alumni of the school's Goin' Band had their wedding ceremony at halftime of Saturday's game against West Virginia. The band performed the traditional wedding music as Raider Red, the cartoonish mascot, escorted the bride to midfield, where the couple exchanged vows.
At least two Texas Tech fans in the crowd of 79,409 went home happy after the 42-34 loss.
Slow starter – Oklahoma quarterback Kyler Murray was benched for the first series against Baylor, but he made up for it by throwing for 432 yards and six touchdowns in a 66-33 victory.
According to multiple reports, Murray was briefly benched because he was late to practice this week.
In fairness, Murray does have a lot on his plate. The outfielder was the No. 9 overall pick by the Oakland Athletics in the 2018 Major League draft.
Neat freaks – They cleaned Buffalo's clock, then cleaned its locker room.
The Army Black Knights make a habit of leaving their locker room spotless before leaving a stadium, as was the case after their overtime loss at Oklahoma a week ago. Not a crumpled cup, a shred of tape, or a scuff of dirt.
That was almost certainly the case Saturday after Army clobbered Buffalo, 42-13, handing the Bulls their first loss of the season and putting a clamps on an offense that had averaged 40.2 points in its first four games.
The only blemish left by Army? The stain on Buffalo's record.
Follow Sam Farmer on Twitter @LATimesfarmer
---
Get the latest on L.A.'s teams in the daily Sports Report newsletter.
You may occasionally receive promotional content from the Los Angeles Times.