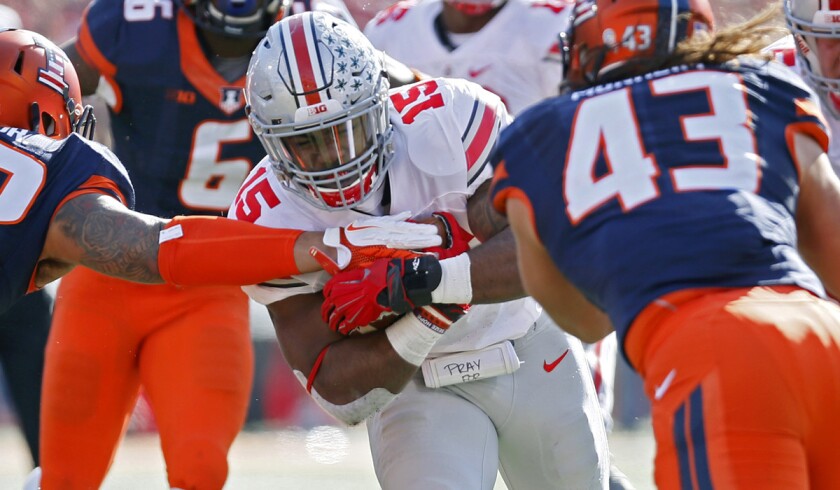 Break out the chips and cold drinks but let Chris Dufresne handle the remote. Each Friday, The Times' national college football writer handicaps what's worth watching, and skipping, on the upcoming menu of games.
SATURDAY MORNING
No. 12 Michigan (8-2) at Penn State (7-3)
9 a.m., Channel 7
Michigan needs to win to stay alive for the Big Ten Conference East title and possibly make next week's showdown against Ohio State even more meaningful. Michigan leads the all-time series 11-7 and owns a 5-4 advantage at Beaver Stadium. Penn State seeks its first undefeated home season since 2008.
No. 17 North Carolina (9-1) at Virginia Tech (5-5)
9 a.m., ESPN
North Carolina has won nine straight after an opening loss to South Carolina and has surged in the College Football Playoff ranking. So why is this not an easy win? Because it's Frank Beamer's last home game as Virginia Tech coach and a victory would make the Hokies bowl eligible for a 23rd consecutive season.
Other morning games:
9 a.m.: Illinois at Minnesota, ESPNews; Florida Atlantic at Florida, SEC Network; Iowa State at Kansas State, Fox Sports 1; Indiana at Maryland, Big Ten Network; Memphis at Temple, ESPNU; Purdue at Iowa, ESPN2; Rutgers at Army, CBS Sports Network; West Virginia at Kansas, FS West. 9:30 a.m.: Georgia Tech at Miami, KDOC. 11:30 a.m.: Harvard at Yale, NBC Sports Network.
AFTERNOON
No. 24 USC (7-3) at No. 23 Oregon (7-3)
12:30 p.m., ESPN
The #Helton2016 campaign continues for USC, which has won four straight for interim Coach Clay Helton. The streak may end in Eugene because the Ducks are finally playing like a top-10 team. The return of quarterback Vernon Adams Jr. from a broken finger has ignited an offense averaging 42 points per game. USC won the last time this game was played in Eugene, in 2011. Oregon has at least one touchdown pass in 78 straight games.
UCLA (7-3) at No. 13 Utah (8-2)
12:30 p.m., Channel 11
This is a pivotal game in untangling the up-for-grabs Pac-12 Conference South. UCLA won the first eight games in the series but has lost three of the last five. Utah won last year's game in Los Angeles as part of its city sweep over UCLA and USC.
No. 9 Michigan State (9-1) at No. 3 Ohio State (10-0)
12:30 p.m., Channel 7
The game of the year (so far) in the Big Ten Conference has huge implications for the East Division and the four-team national playoff. Ohio State has won a nation-leading 23 straight games. Michigan State is looking to avenge last year's loss in East Lansing and hoping quarterback Connor Cook's injured — or is it? — shoulder won't be a factor.
No. 10 Baylor (8-1) at No. 6 Oklahoma State (10-0)
4:30 p.m., Channel 11
Baylor may have blown its playoff chances with last week's loss to Oklahoma, but can now severely weaken Oklahoma State's cause. The game features Big 12 Conference teams with two of the weakest nonconference schedules conceived for programs competing for a national title. Baylor played Southern Methodist, Lamar and Rice; Oklahoma State played Central Michigan, Central Arkansas and Texas San Antonio.
Other afternoon games:
12:30 p.m.: Louisiana Tech at Texas El Paso, FS West; Arizona at Arizona State, FS1; Wake Forest at Clemson, ESPN2; Louisiana State at Mississippi, Channel 2; Northwestern at Wisconsin, BTN; Houston at Connecticut, ESPNU; Buffalo at Akron, CBSSN. 12:45 p.m.: Louisville at Pittsburgh, ESPNews. 1 p.m.: Charleston Southern at Alabama, SEC. 3 p.m.: Washington at Oregon State, Pac-12 Networks (Pac-12). 4 p.m.: Georgia Southern at Georgia, ESPNU; Mississippi State at Arkansas, ESPN; Navy at Tulsa, CBSSN. 4:15 p.m.: Tennessee at Missouri, ESPN2. 4:30 p.m.: Boston College at Notre Dame, NBCSN; Texas A&M at Vanderbilt, SEC.
NIGHT
No. 18 Texas Christian (9-1) at No. 7 Oklahoma (9-1)
5 p.m., Channel 7
Oklahoma is on the rise but has also been lucky to catch opponents in weakened states. The Sooners played Baylor when the Bears didn't have injured starting quarterback Seth Russell, and they catch TCU without its star receiver, Josh Doctson, and with quarterback Trevone Boykin nursing an ankle injury.
California (6-4) at No. 11 Stanford (8-2)
7:30 p.m., ESPN
Stanford has won the "Big Game" three times in a row but this one means the most to fans who attended the 1982 game. The Cardinal lost to Oregon last week by two points and faces Notre Dame next week. The playoff selection committee provided Stanford a sliver of hope by ranking it No. 11 this week, four spots higher than it sits in the Associated Press media and USA Today coaches polls. Coach Sonny Dykes has Cal bowl eligible in his third season, perhaps just in time to bolt Berkeley for a Southern school where folks speak his language.
Other night games:
5 p.m.: Tulane at Southern Methodist, ESPNews. 7:30 p.m.: San Diego State at Nevada Las Vegas, CBSSN. 7:45 p.m.: Colorado at Washington State, ESPN2.
---