Column: Dodgers mystery solved: Charlie Culberson's ball at home with Navy veteran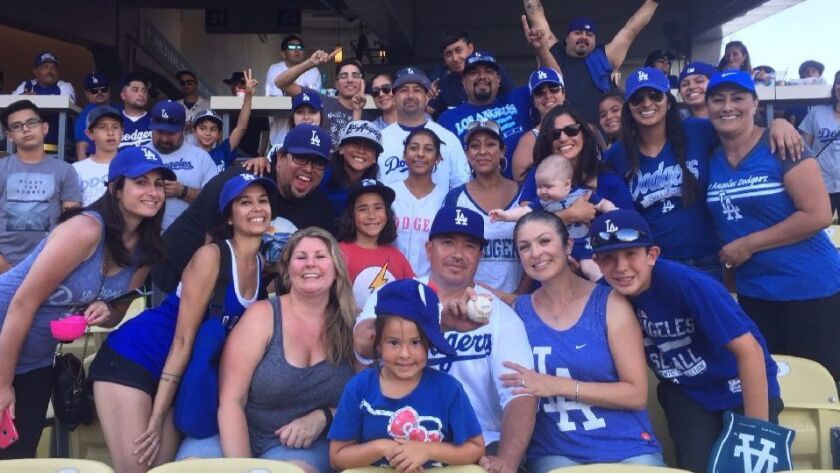 "I was like, 'Man, this ball is coming right at me!' ''
After spending 18 months dodging danger in Iraq and Afghanistan, retired Naval Petty Officer Alan Hampson was finally standing underneath a good kind of trouble.
It was the last Sunday in September at Dodger Stadium, the 10th inning of a game against the Colorado Rockies, and Charlie Culberson just hit one of the most dramatic fly balls in Dodgers history.
"I was tracking it, tracking it, coming close, coming closer, then my wife was ducking and I was jumping.''
It was a walk-off home run that clinched the National League West title for the Dodgers on the same day as Vin Scully's final home game. It was the baseball that represented the perfect prelude to Scully's final farewell, a stirring memento that sent the Dodgers into a wild celebration shortly before Scully broke into a sentimental song.
And Hampson caught it. Well, um, OK, he didn't actually catch it.
"It bounced off my hands and landed two seats over, but those seats were vacant,'' he said. "So I just grabbed it.''
A large group of family and friends sitting around him saw it. A buddy sitting next to him confirmed it. He has photos and ticket stubs to prove it.
He said he promptly informed Dodgers security that he caught it and his group waited nearly an hour after the game for somebody from the club to retrieve it. But in the madness of the clinching and farewell, nobody showed up, and he said guards told him to just keep it.
Four months later he still has it, displayed on a dresser in the bedroom of his Oxnard home, in a home-plate-shaped glass case he bought off Amazon, thus solving one of the Dodgers' off-season mysteries.
As recounted in this column last week, Culberson and the Dodgers wondered what happened to the ball and seem resigned that this priceless artifact would never show up.
Now that it has been found, thanks to an email I received last week from Hampson's wife Sonia, another Dodgers mystery begins.
What does Alan Hampson do with it? What would you do with it?
He probably couldn't sell it because it's not officially authenticated, but he could give it back to Culberson or the Dodgers to share with their fans. Or, he could keep it as a lifelong reminder of a special afternoon he spent with his family shortly after retiring from a 20-year Navy career that included perilous days when he dreamed of moments like this.
It was called the most important home run in Dodgers regular-season history by team historian Mark Langill, so surely the ball means something, but what, and to whom?
"Not many people have the opportunity to have that kind of memento to pass down to their children, having that family heirloom would be significant,'' Hampson said. "But the ball that clinched the division and sent Vin Scully off in the right way, I know that's really important to the Dodgers.''
What should he do? What would you do? Once you know Alan Hampson, you'll realize that answer isn't as easy as it seems.
*****
He grew up in Gardena, his grandfather taught him to love the Dodgers, he adored Fernando Valenzuela and his favorite thing about Dodger Stadium was the view and the peanuts.
The backstory of Hampson, 41, isn't much different from many Dodgers fans, except after graduating from Narbonne High he joined the Navy and brought the Dodgers with him.
From Okinawa, Japan, to Puerto Rico, he would maintain his connection to his Southern California home through his family and his baseball team.
"Even when I was in a combat zone, the Dodgers would always bring me back home,'' he said.
He married Sonia, they had two children, and some of their precious time together was spent at Chavez Ravine, a couple of games a year, sitting in the stands sharing stories and wisdom and those peanuts with Alan Jr., 11, and Sophia, 6.
"Baseball for us is a family thing,'' he said.
It was those moments that he said helped keep him mentally strong while under mortar fire in Iraq and Afghanistan
"In my mind I'd be waiting to take my son to the next Dodger game,'' he said. "I'd be thinking of Dodger Dogs and peanuts. I'd be thinking of sitting with everyone and just being so content.''
In Afghanistan he wore a Dodgers cap. Now that he is retired and working as a mechanic on Naval Base Ventura County, he wears a camouflage Dodgers cap. When he attended this season's final home game on Sept. 25 in a group organized with two fellow coaches from Oxnard junior baseball, he wore a glorious white Dodgers jersey.
"Wearing that white jersey, when that ball came down, he was all over it like a polar bear,'' said his buddy Frank Fernandez, who was sitting two seats over.
Fernandez confirmed that Hampson has the home run ball. So did his other youth league buddy, Adam Calzadillas, who said, "He grabbed it, held it up, everyone saw it, it was really overwhelming.''
The moment was overwhelming for everyone, especially the Dodgers, who acknowledged it was the perfect storm in which to lose the perfect memento.
The Dodgers clubhouse workers usually handle milestone souvenir retrieval, but they were busy in the clubhouse passing out champagne. The Dodgers publicity staff also helps recover pieces from historic moments, but they were busy with the on-field madness and Scully's final goodbyes. After the Kirk Gibson home run ball disappeared forever, one might think that the Dodgers would never lose track of another big hit, but, you know, division-clinching games happen.
"With so much going on, it was crazy, I totally understand why they might not be able to get down there for the ball,'' Hampson said.
"But we waited and waited just in case. Finally, a security guard said they probably didn't want it, and we should just go home and enjoy it."
How important was the ball to Hampson? When he arrived home after the game, he immediately put it a drawer next to his Iraq and Afghanistan campaign medals.
"I know it would be really cool to have that ball signed by Scully and Culberson and sitting in a museum somewhere,'' Hampson said. "But it's a really great memory for a lot of people. Right now, it's my ball, but you never know.''
A Dodgers official said they would be happy to discuss the ball with Hampson, and I'll be giving them his contact information. Stay tuned. Eventually, the most important home run in Dodgers regular-season history will land somewhere.
Get more of Bill Plaschke's work and follow him on Twitter @BillPlaschke
---
Get the latest on L.A.'s teams in the daily Sports Report newsletter.
You may occasionally receive promotional content from the Los Angeles Times.