Dabo Swinney takes heat for calling himself 'Osama bin Dabo' in February interview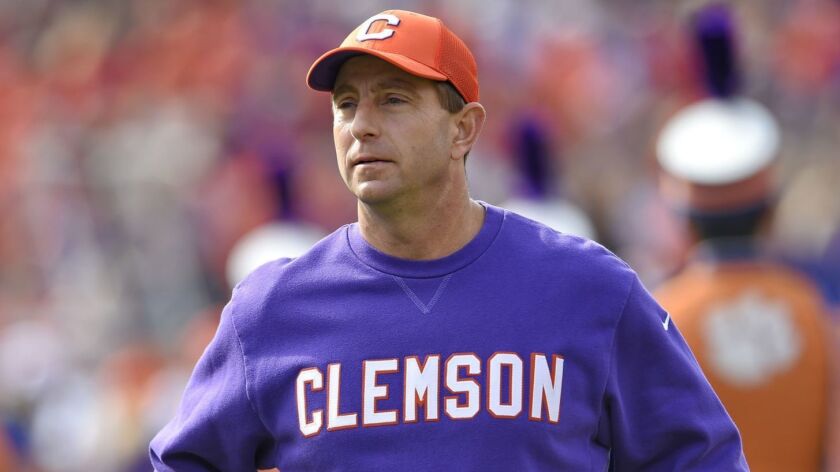 Dabo Swinney may not be the most popular person in his home state of Alabama anymore, but there's no question the Clemson coach is more popular there — or anywhere — than the person he compared himself to in an interview earlier this year.
Swinney, a native of Pelham, Ala., played college football as a receiver at Alabama and later started his coaching career as an assistant with the Crimson Tide. He eventually went to Clemson, where he worked his way up from receivers coach in 2002 to head coach in 2008.
Back in January, Swinney's Tigers beat Alabama in the College Football Playoff championship game for the second second time in three years. The next month, he appeared as a guest on Duke basketball coach Mike Krzyzewski's show on Sirius XM and was asked about how he is received in his home state these days.
According to TigerNet.com's David Hood, who dug up the months-old interview for an article published Monday, Swinney used a rather odd analogy in his response.
"I am kinda like Osama bin Dabo," Swinney said with a laugh. "I have to navigate my way through the caves and back channels to make my way through Alabama these days. They aren't happy to see me."
There's probably a lot of people that folks in Alabama aren't happy to see. But for some reason Swinney decided to compare himself to the leader of Al Qaeda, the terrorist network responsible for the Sept. 11, 2001, attacks.
Swinney's comments flew under the radar when he first made them. But after resurfacing in Hood's article, they are now being blasted by some as being insensitive to those who lost their lives because of Osama bin Laden, who was hunted for years before being killed by U.S. forces in 2011.
Perhaps next time Swinney might want to go with the phrase "persona non grata" and leave it at that.
Sign up for our daily sports newsletter »
Twitter: @chewkiii
---
Get the latest on L.A.'s teams in the daily Sports Report newsletter.
You may occasionally receive promotional content from the Los Angeles Times.