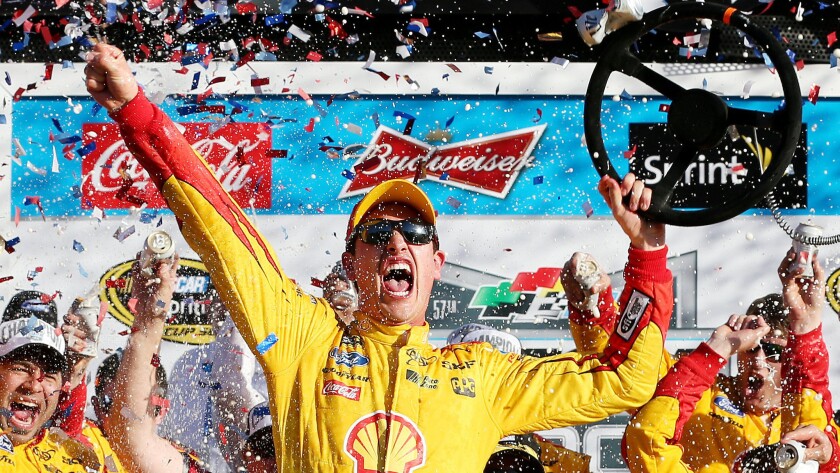 Reporting from Daytona Beach, Fla. —
Even by NASCAR's standards, the closing laps of this year's Daytona 500 featured an astonishing display of high-speed stock car racing.
Eight rows of cars packed three abreast barreled toward the finish like a 200-mph cavalry charge at Daytona International Speedway. Only one second separated the leader from the 26th-place car.
But 24-year-old Joey Logano kept his No. 22 Ford at the front despite the onslaught beside and behind him. And when the race ended with a two-lap overtime finish, Logano had his first Daytona 500 victory, the Sprint Cup Series' crown-jewel event.
"What an amazing moment," Logano said in Victory Lane. "It feels just like the way you dream it."
Logano became the second-youngest winner in the 57-year history of the Daytona 500 behind Trevor Bayne, who won at age 20 in 2011.
The victory also likely gives Logano a berth in NASCAR's 10-race Chase for the Cup title playoff for the third consecutive year.
Logano was leading with only three laps left in the race's 200 scheduled laps when a crash involving Justin Allgaier and Ty Dillon caused the race to be stopped until the track could be cleaned.
That set up the overtime finish. On the restart, Logano jumped in front and was still leading on the second and final lap when the race ended under the caution flag because of a multi-car crash behind the leaders.
Those involved in that wreck included Jeff Gordon, who started on the pole in hopes of winning his fourth Daytona 500 in his final try. The four-time Cup champion has said this will be his last season.
Gordon's No. 24 Chevrolet was strong early and he led a race-high 87 laps, but the late crash left him with a 33rd-place finish.
Kevin Harvick finished second, defending Daytona 500 winner Dale Earnhardt Jr. was third and Denny Hamlin finished fourth.
Logano acknowledged being disheartened when his lead vanished with three laps left in regulation.
"Once you get over the fact that you're about to throw up, you can figure out how to win the race," he said.
But timely pushes from Clint Bowyer helped keep Logano in front on the restart, Logano said. Bowyer finished seventh.
The victory amplified the rebound in Logano's career since joining the Roger Penske team in 2013.
When he joined the Cup series full time in 2009 with Joe Gibbs Racing, Logano was so highly touted that he was nicknamed "Sliced Bread," as in the best thing since. That year he became the youngest Cup winner at age 19 with a victory in New Hampshire.
But he won only once more over the next three years and, after Gibbs hired former champion Matt Kenseth, Logano moved to Team Penske. Logano has won seven times since then, including five victories last year.
"It's paid off in spades for us," Penske, who also won the Daytona 500 with Ryan Newman in 2008, said of Logano. "He's going to be a guy at the top for a long time."
Logano said "it's no secret that I probably got thrown into the series too young. The switch over to Team Penske was the best move of my career. It was an opportunity for me to regroup."
But even Logano said he was uncertain how Sunday's race would play out at the finish with so many cars so close together at the high-banked, 2.5-mile speedway, a sentiment echoed by others.
"It's intense, especially in the middle," Hamlin said. Without the late wreck that stopped the event, he added, "there was a good chance we could have ended the race three by three, eight rows deep."
---