Column: A father-son lunch at Dodger Stadium is filled with hope and dreams of a World Series win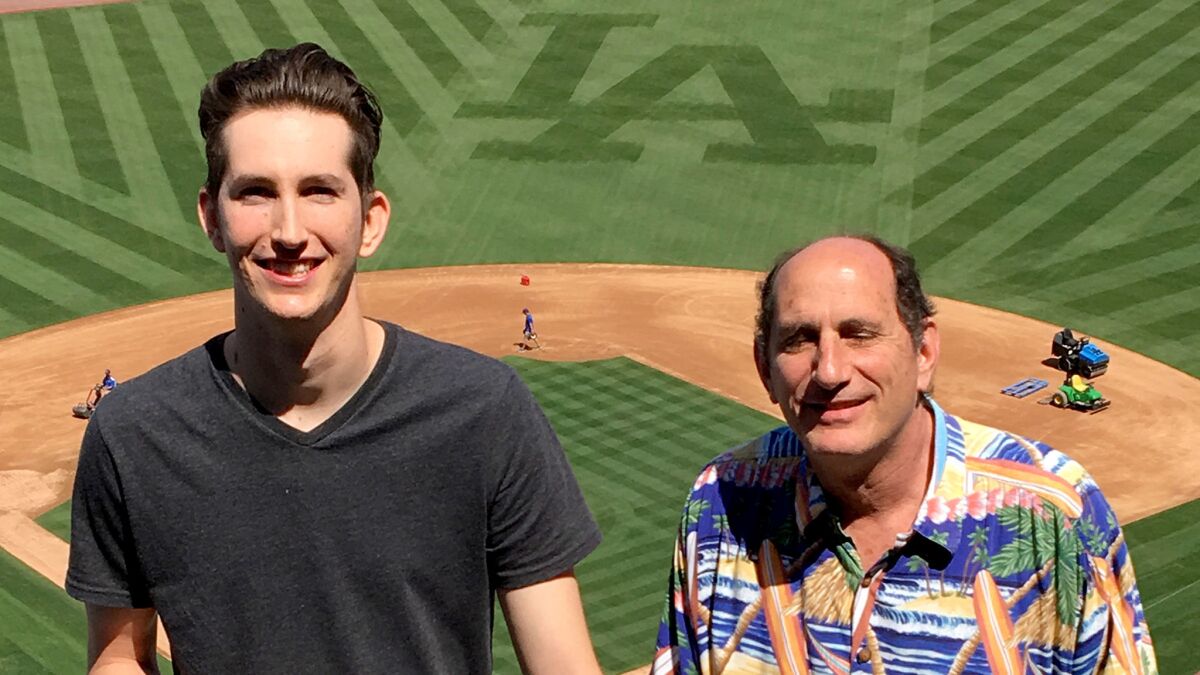 Four days before the Dodgers begin their 2017 season, at noon on a cloudless blue Thursday in an empty Dodger Stadium, a father and son show up early to dream.
Bill and Michael Zalin pull up to the guard shack at the Elysian Park entrance.
"Going to the souvenir stand,'' they tell the guard.
They drive to the top of the parking lot, walk into the team store, then walk out the open back door and into the actual stadium and a top deck overlooking a stunning vista of deep greens and snowy peaks.
The wide concourse contains a passing tour group and scurrying schoolchildren, but, quickly, the Zalins have the place mostly to themselves.
They pick out two blue seats in the shade, Section 2, Row 0, Seats 17 and 18.
They pull out two giant sandwiches from Subway, two bottles of water, and stare down at a groundskeeper carefully mowing a giant "LA'' into a lush center field.
"Ah, our guys will be back here soon,'' says Bill, 64, a Glendale home appraiser.
"And this year is going to be different,'' says Michael, 23, a college student.
This is the Zalins' annual ritual, free to all, available to anyone, utilized by only a very few. Every year for the last six years, they prepare for the regular season by meeting for a brown-bag lunch at an empty Dodger Stadium because, well, they can.
On days when there isn't a home game, the Dodgers allow fans to freely drive up to the team store during business hours of 10 a.m. to 5 p.m. Although they don't specifically encourage it, the Dodgers won't stop those fans who want to walk out the store's back door into the stadium and check out the most iconic sports landscape in Los Angeles.
If it's lunchtime and those fans decide to bring a sandwich and experience this city's most scenic dining experience that doesn't involve a roaring surf, well, the Dodgers also don't seem to mind, maybe because Dodgers employees are often doing the same thing.
"The fact someone can just show up here and eat lunch, it shows the great connection between the Dodgers and their fans,'' says Bill Zalin. "We really feel welcome here. We really feel like it's our stadium.''
The secret lunch spot was detailed in this space six years ago. The Zalins read the column, didn't believe it was possible, realized it was, and have been showing up here every late spring. They figure if they were going to share their annual visions of the Dodgers' first World Series appearance since 1988, this was the place to do it.
"Looking out on this empty field, it's a good place to imagine,'' says Michael.
On this day, their imaginations run as wild as that giant vacuum roaring from the left-field loge seats, as rich as those piles of dirt being spread in squiggly patterns along the baselines.
Bill is a former season-ticket holder, his son grew up with televised Dodgers games as their living room soundtrack, and together they have laughed and cried and ultimately mourned seasons that strengthened their bond while breaking their hearts.
But this summer, as a gorgeous empty Chavez Ravine is their witness, the father and son say it will be different.
"They've been so close, but this is the year they finally put it together,'' says Bill.
"A different culture this year, a World Series year,'' says Michael.
They point down to a dirt area between second and third base currently occupied by a bulky piece of machinery.
"That's where Corey Seager is going to do amazing things this year, he's going to be the MVP,'' says Michael.
They point to a pitching mound covered with a tarp and a couple of blue hoses.
"Clayton Kershaw goes 24-5 and wins another Cy Young,'' says Bill. "Then he shines in the postseason and all is forgiven.''
A groundskeeper is raking the area around second base. Michael points to him and shouts out a name that could involve a different kind of raking.
"Logan Forsythe is going to be the difference, that trade put us over the top,'' he says.
Of course, they worry. Between messy bites of the dripping subs, they worry about the back end of the rotation, they worry about health, then look at the peacefully empty right field and roll their eyes at its potential turmoil.
"I would have traded Yasiel Puig back when you could have gotten the most out of him,'' says Bill.
"He's got so much talent and he's just treading water,'' says Michael.
Together, they sigh, finish their sandwiches and settle back in their seats for one last long look at the shiny seats framed by the shadowed mountains when they are struck by an even more stirring sight.
Far below, stepping out of the empty dugout and onto the empty field, is Clayton Kershaw.
"Wait, is that him?'' says Bill.
"You're kidding me,'' says Michael.
That's him. There's no team here, no fans here, no game here, yet out of nowhere appears the best pitcher on the planet, wearing a colorful shirt and baggy shorts and headband, stretching and throwing while nobody is watching.
He plays serious catch with a team employee in shallow left field for about 20 minutes. He throws so hard you can hear the "thwap'' of the glove even from the top of the stadium. He throws from far beyond 60 feet six inches, groundskeepers not even looking up, just Kersh working like Kersh always works.
"This is perfect,'' says the father, staring.
"This is why we're winning it,'' says the son, nodding.
Kershaw finishes and disappears back into the dugout tunnel. The Zalins wrap up their trash and head back outside to the car, smiling and beaming from here to October, their hoagie lunch ending just as their feast of hope begins.
Get more of Bill Plaschke's work and follow him on Twitter @BillPlaschke
---
Get our high school sports newsletter
Prep Rally is devoted to the SoCal high school sports experience, bringing you scores, stories and a behind-the-scenes look at what makes prep sports so popular.
You may occasionally receive promotional content from the Los Angeles Times.