The soundtrack to his departure was the celebratory screams and applause of an audience that waited for this night as long as he did. Julio Urias humbly bowed his head as he scaled down the steps toward the Dodgers bench.
Urias was back and he was spectacular.
Nearly 24 months removed from his last major league start, the left-hander pitched five scoreless innings Monday night in the Dodgers' 4-2 defeat to the San Francisco Giants at Dodger Stadium.
With his fastball clocked as high as 97 mph, Urias threw as hard as he did before the operation he underwent to repair the anterior capsule in his left shoulder. He pitched with greater precision.
He gave up only three hits. He didn't walk a batter. He struck out seven.
The performance kept him in line to pitch in Colorado over the weekend, after which he will make his next start in … hold on, what?
September?
The team's plan calls for the 22-year-old Urias to move to the bullpen soon, perhaps as early as next week if Clayton Kershaw is ready to be activated from the injured list.
The move is designed to preserve Urias' arm so the Dodgers can "unleash" the Mexican prospect in the final month or two of the season, possibly as a starting pitcher, according to manager Dave Roberts.
As if inexperienced pitchers don't ever encounter problems with late-season changes in roles.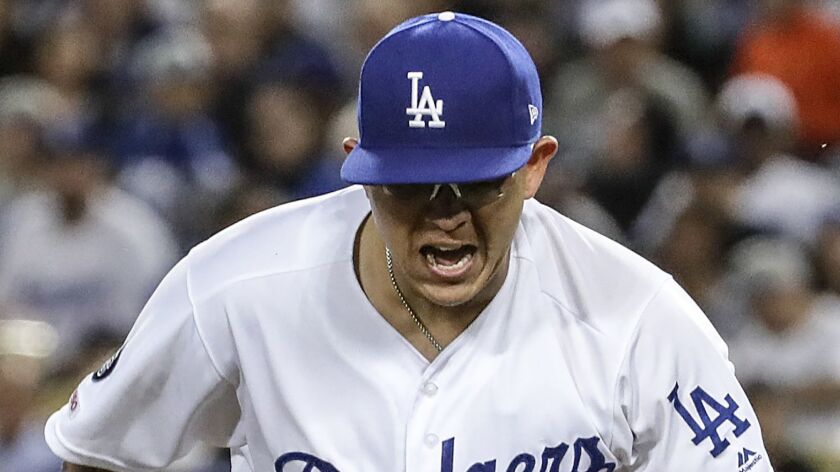 Sounds unorthodox. Sounds risky.
As it did last time. Or the time before that.
Urias' precocity has long presented problems for the Dodgers, who have been forced to balance the left-hander's future with the organization's short-term ambitions. Rather than prioritize one or the other, they have tried to both manage his workload and keep him available for most the important parts of the season.
When Urias was in the minor leagues in 2015, they attempted a bizarre midseason shutdown, thinking the break could permit him to pitch in the major leagues in September.
One problem: The then-teenage Urias lost his rhythm and never regained it.
The organization had similar thoughts in 2017. The Dodgers wanted to avoid drastically increasing his workload and required Urias to skip the start, middle or end of the season. But the Dodgers also wanted to keep open their options, so they refused to commit to him starting his preparations later than the team's other pitchers.
What ensued was confusion, some shuttling back and forth from the minor leagues, and, ultimately, a shoulder operation that sidelined Urias for more than a year.
Urias returned last year to pitch three games as a reliever in September. He also pitched in the National League Championship Series and World Series.
The Dodgers encounter a similar dilemma this season. They know they must limit Urias' innings, but don't want to lock in when or how. Rather than plan a more conventional season for their prized arm that was salvaged by the miracle of science, they've doubled down on unconventionality.
The Dodgers considered pushing back the start of Urias' season, which would have allowed the left-hander to go through a throwing program closer to a typical starter's. But Roberts explained that if they delayed the start of his season, Urias could have been forced to start in the minor leagues. The Dodgers prefer he spend the entire season in the majors, where not only can he gain valuable experience but also make an occasional spot start, as he did Monday night because of the absences of Kershaw and Rich Hill.
"I expect him to be up here with us and once he does go to the reliever role, it's to take down two, three innings and still stay built up and have a routine versus a complete shutdown," Roberts said.
"But injuries, what we've seen with all pitchers, whether you have a routine or you don't, certainty, uncertainty, things are going to happen that are out of everyone's control."
Urias isn't complaining. After being sidelined as much time as he did, he's content with simply being in the major leagues, whatever the role.
"My job was to do the best I could in spring training to get an opportunity," Urias said in Spanish.
"They gave it to me and I'm happy with that."
The Dodgers better know what they're doing.
How the baseball exploded out of his hand Monday was confirmation of the pitcher he can be. How the crowd reacted to him was evidence of how much he could mean to this city.
More than a handful of starts in September and October are at stake.
Sign up for our daily sports newsletter »
Follow Dylan Hernandez on Twitter @dylanohernandez
---