15 Images
Frank Robinson, Hall of Famer and first African American big-league manager, dies at 83
Baltimore Orioles' Frank Robinson watches the flight of his ball during a game at Memorial Stadium in Baltimore, Maryland.
(Focus On Sport / Getty Images)
Baltimore Orioles' Frank Robinson at bat, May 19, 1966. Hall of Famer Frank Robinson, the first black manager in Major League Baseball and the only player to win the MVP award in both leagues, has died at age 83. Robinson had been in hospice care at his home in Bel Air. (Associated Press file photo)
(Associated Press)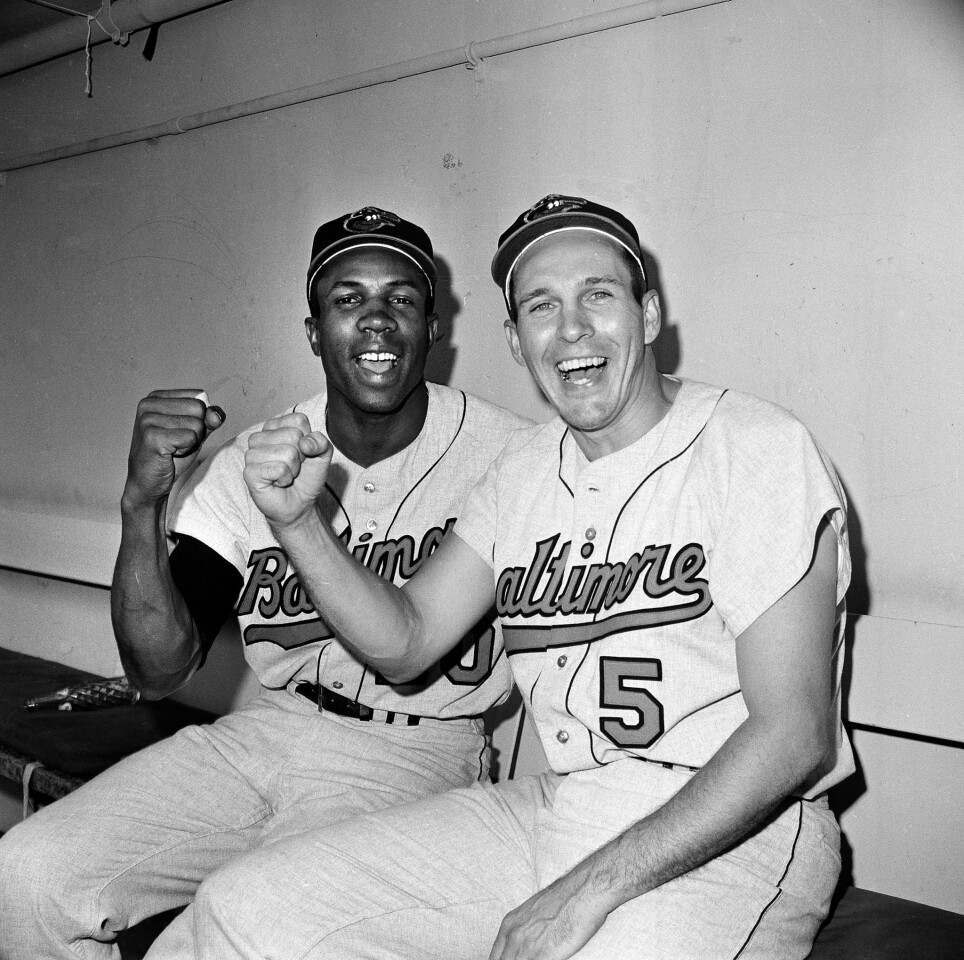 Baltimore Orioles teammates Frank Robinson, left, and Brooks Robinson pose after leading the Baltimore Orioles to a 5–2 win in the opening game against the Los Angeles Dodgers in the World Series in Los Angeles, Calif., Oct. 5, 1966.
(Associated Press)
Cincinnati Reds' Frank Robinson is called out at the plate by umpire Shag Crawford, left, during a baseball game in this Aug. 21, 1959 in Cincinnati, Ohio.
(Associated Press)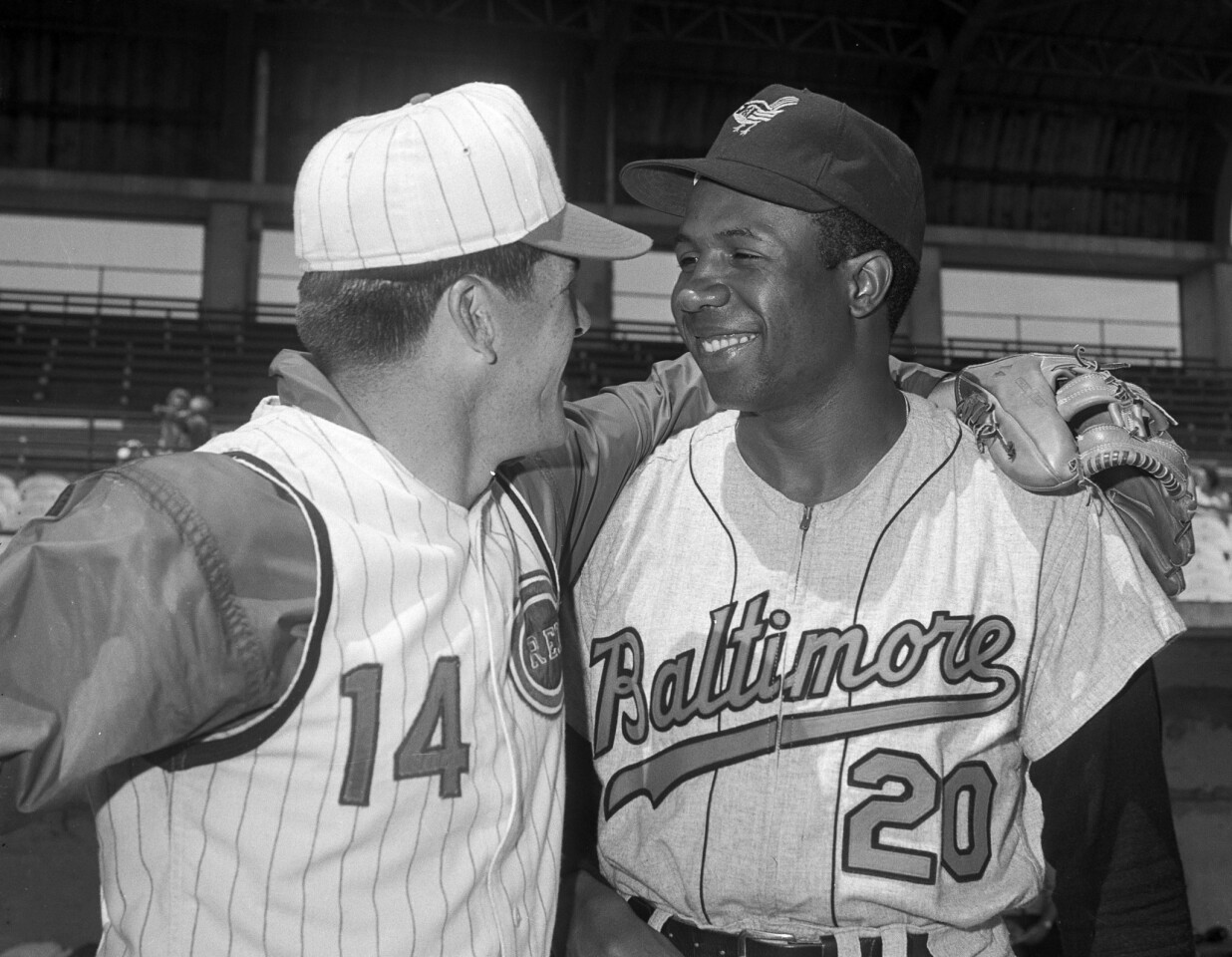 The Cincinnati Reds' Pete Rose, left, greets Frank Robinson of the Orioles before a spring training game, in Tampa, Fla., on April 1, 1966.
(Paul Shane / Associated Press)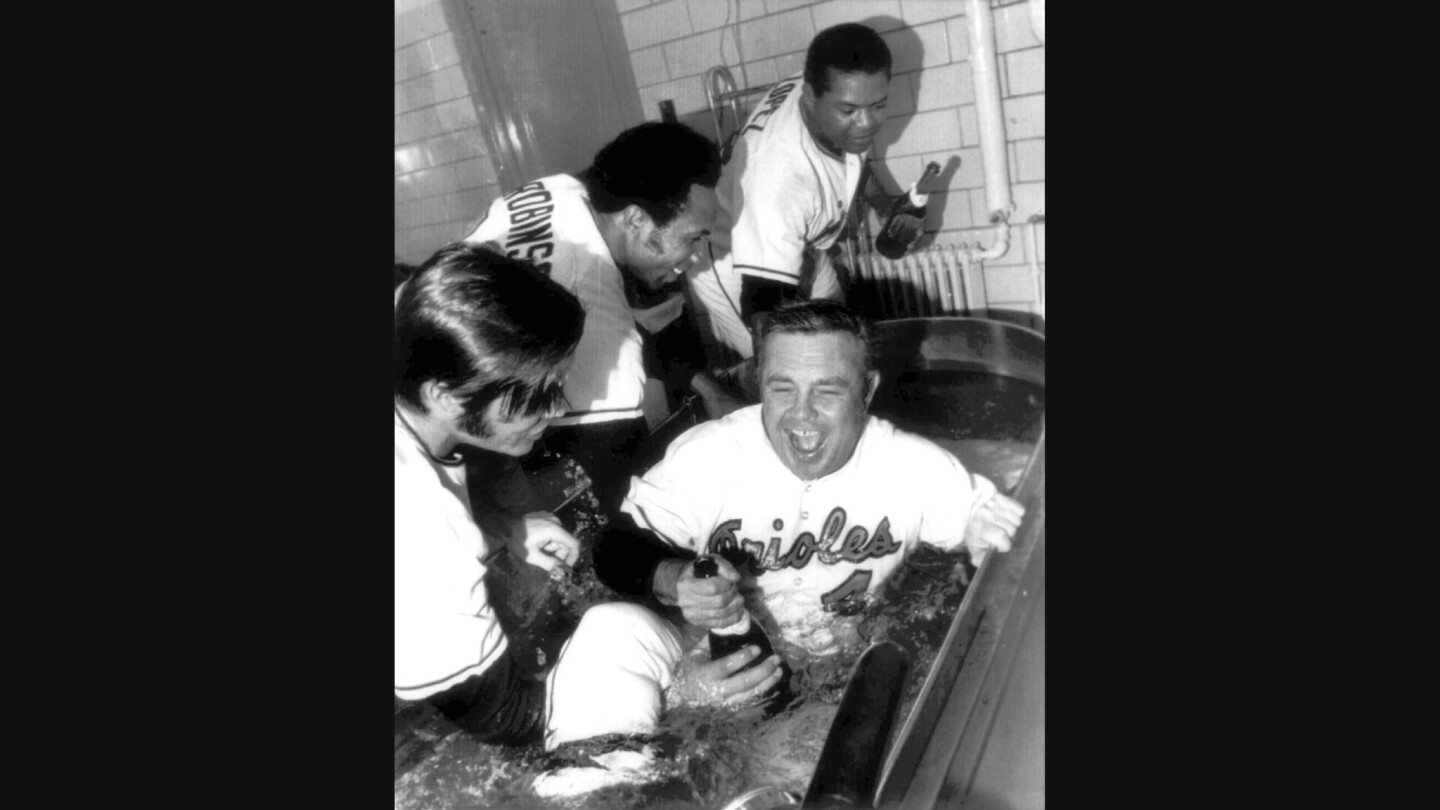 Baltimore manager Earl Weaver gets dunked in the whirlpool bath in the Orioles' dressing room after sweeping the American League Championship Series by beating Minnesota, 6-1 in 1970. Orioles are, from left, Pete Richert, Frank Robinson and Marcelino Lopez.
(AP)
Frank Robinson displays trophies he received for being the Most Valuable Player in both the American and National Leagues at his home in Los Angeles in 1971.
(Harold Filan / Associated Press)
Frank Robinson at a news conference in Cleveland after being named Major League Baseball's first black manager, with the Cleveland Indians, on June 19, 1996. In the background is Baseball Commissioner Bowie Kuhn.
(Associated Press)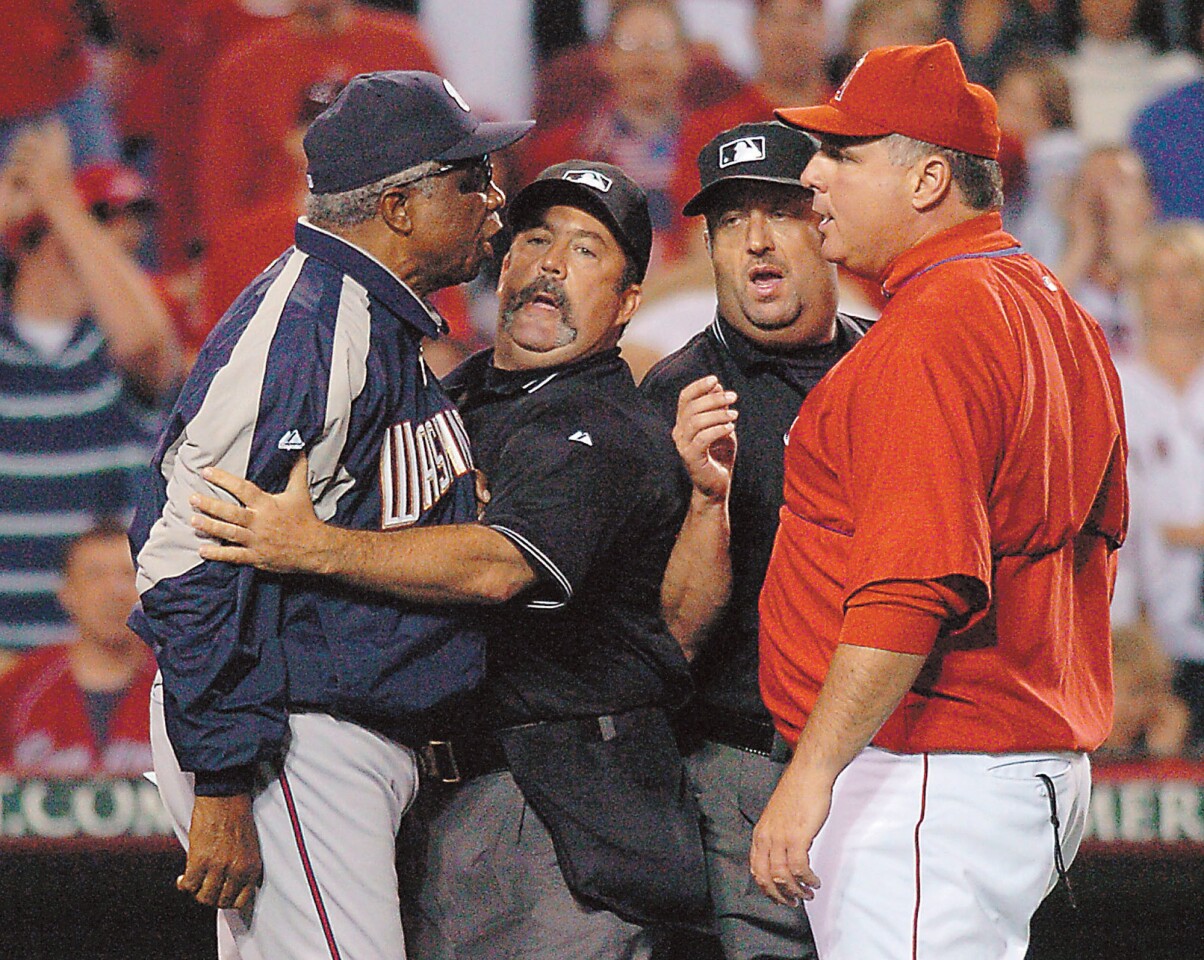 Washington Nationals' Frank Robinson, left, is held back by umpire Tim Tschida as umpire Dale Scott holds back Los Angeles Angels coach Mike Scioscia after Angels pitcher Brendan Donnelly was ejected in the seventh inning for having a foreign substance in his glove Tuesday, June 14, 2005, in Anaheim.
(Matt Brown / Associated Press)
President George W. Bush awards baseball legend Frank Robinson the Presidential Medal of Freedom in the East Room of the White House in Washington on Nov. 9, 2005.
(LAWRENCE JACKSON / AP)
Baltimore Oriole Hall of Famers, from left, Cal Ripken Jr., Eddie Murray, Earl Weaver, Brooks Robinson, Frank Robinson and Jim Palmer pose for a photo as the Orioles unveiled the Brooks Robinson statue at Camden Yards in Baltimore on Sept. 29, 2012.
(Lloyd Fox / Baltimore Sun)
Frank Robinson, left, Cincinnati Reds manager Dusty Baker and Joe Morgan talk during batting practice before the start of Game 3 of the NLDS against the Philadelphia Phillies at Great American Ball Park on Oct. 10, 2010, in Cincinnati.
(Andy Lyons / Getty Images)
President George W. Bush shares a laugh with Nationals manager Frank Robinson before throwing out the first pitch at the Washington Nationals' home opener against the Arizona Diamondbacks at RFK Stadium on April 14, 2005, in Washington.
(Win McNamee / Getty Images)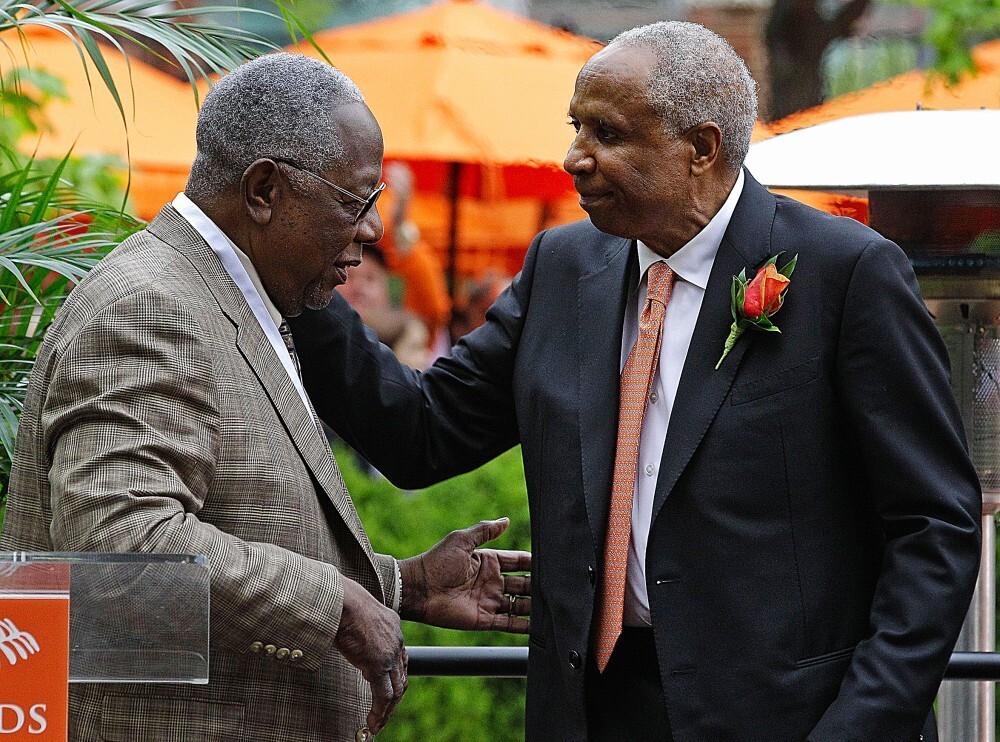 The Atlanta Braves' Hank Aaron, left, speaks with former Baltimore Orioles outfielder and Hall of Famer Frank Robinson during a ceremony to unveil a statue of Robinson before a game between the Orioles and Oakland Athletics in Baltimore.
(Associated Press)
Sandy Koufax, left, a Hall of Fame Dodgers pitcher, talks with fellow Hall of Famer Frank Robinson after they took the stage before induction ceremonies in Cooperstown, N.Y., July 26, 1998.
(HENNY RAY ABRAMS / AFP)