Column: Today's activist-athletes have an emotional core: Trayvon Martin
Before Colin Kaepernick took a knee; before the Golden State Warriors told the White House "nah, I'm good"; before the phrase "Black Lives Matter" crowbarred its way into the nation's consciousness, there was Trayvon Martin.
His death in February 2012 not only denoted a change in the way President Barack Obama governed, but it was also the impetus for his creation of My Brother's Keeper, an organization that promotes mentoring as well as provides funding for organizations that work to help underprivileged minorities. MBK recently celebrated its fifth year with a symposium in Oakland at which President Obama was joined on stage by Warriors guard Stephen Curry for a town hall. It was a fascinating exchange between the two icons and one that reminded me of a seismic shift that occurred in the sports sector.
Fair or not, Michael Jordan was long considered the architect of the apolitical black athlete — the more marketable the athlete, the less likely he or she would be to wade into controversial waters, regardless of the cause in need of a life preserver. That approach continued long after Jordan's final game, and although athletes such as LeBron James and Serena Williams didn't totally avoid social issues before Trayvon, they weren't exactly Muhammad Ali 2.0 either. They and others like them were willing to answer questions about black Americana but not very proactive in asking questions and, more importantly, using their platform to demand answers.
But much in the same way the shocking murder of Emmett Till was the catalyst for the Montgomery bus boycott and the Civil Rights Act of 1957, Trayvon's death sparked an undeniable change.
Starting with LeBron and the Miami Heat taking a team photo wearing hoodies — the item of clothing Trayvon was wearing that helped make him a suspect in the eyes of George Zimmerman, who fatally shot him — to "I Can't Breathe" T-shirts and recently with Kaepernick's knee, the leverage black athletes have long held is now being utilized in ways beyond refurbishing basketball courts and selling shoes.
According to the Obama Foundation, as recently as 2013, "only 14 percent of black boys and 18 percent of Hispanic boys scored proficient or above on the 4th grade reading component of the National Assessment of Educational Progress compared to 42 percent of white boys and 21 percent of black and Hispanic girls. Youth who cannot read 'proficiently' by third grade are four times less likely to graduate high school by 19."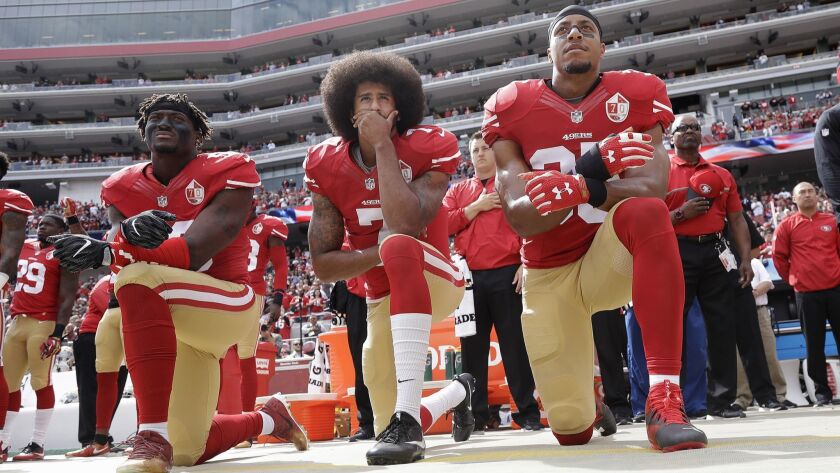 I was in the East Wing that afternoon in 2014 when President Obama announced the creation of MBK and said philanthropies and corporate leaders had pledged to invest at least $200 million over the next five years — on top of the $150 million they already had invested — to fund programs geared toward helping young men of color. A who's who of influential leaders, including Magic Johnson, was present. President Obama's connection to the sports community was well-established before, but after Trayvon, Obama's love of sports and his lifelong commitment to social justice came together as he established MBK and enlisted athletes in promoting the organization.
Five years after that news conference, and two years removed from office, the former president was on stage with Curry continuing the work.
"We have been very intentional not just to bring in pretty faces; we are bringing folks that live this work," said Broderick Johnson, chairman of the MBK board of directors. "People like Steph that are writing checks, that are spending time in their personal life mentoring."
In his hourlong exchange with President Obama, Curry talked about the importance of using his platform to support young men of color, particularly those who weren't as fortunate as he was to have a father present in his life. He also spoke about how his Warrior teammates also used their platform to give back in the Oakland area where they worked but also in the communities they're from. Again, black athletes giving back is not unusual. It's the manner in which so many have decided to take on the fight for equality — straight on — that marks a significant departure from the brand-first consciousness that used to define them.
I'm sure Trayvon's family would much rather have their son. But it's hard to deny that the cries following his tragic death woke a once-sleeping giant.
---
Get the latest on L.A.'s teams in the daily Sports Report newsletter.
You may occasionally receive promotional content from the Los Angeles Times.