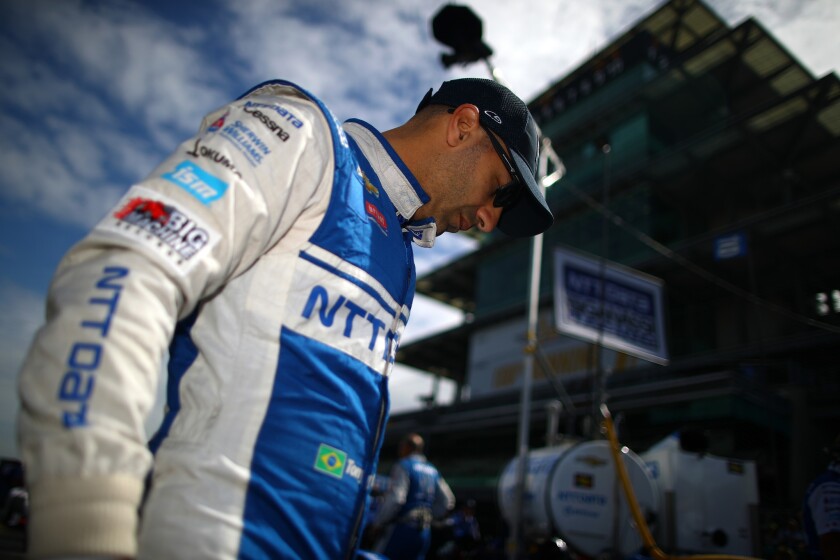 Reporting from Indianapolis —
Tony Kanaan, the veteran Brazilian seeking his second Indianapolis 500 victory, topped the speed chart Friday in final practice for the 100th running of the legendary race.
Kanaan, who reached 226.280 mph during his fastest lap, is a 41-year-old fan favorite who finally won the Indy 500 in 2013 after 11 failed attempts.
"I'm very happy with my race car," Kanaan said. "We can do this. We're ready to go."
------------ FOR THE RECORD: Indianapolis 500: In the May 28 Sports section, a photo that accompanied an article about driver Tony Kanaan and the Indianapolis 500 misidentified driver Scott Dixon as Kanaan. The two race for the same team. ------------
See more of our top stories on Facebook >>
Carlos Munoz of Colombia was second-fastest with a speed of 224.772 mph at Indianapolis Motor Speedway. He was followed by Scott Dixon, a three-time Verizon IndyCar Series champion who won the Indy 500 in 2008.
The racing at Indianapolis has been extremely close in recent years, and Friday's session indicated that would continue in Sunday's race.
Several times there were six to eight cars nose to tail as they moved around the 2.5-mile, rectangular speedway, with cars taking turns passing for position.
"There was a race out there today, that's for sure," said Kanaan, who drives for Chip Ganassi Racing.
Kanaan qualified 18th in the 33-car field for the Indy 500. "Obviously I have to pass 17 people to get really happy with my car," he said. "I can't wait until Sunday."
This year's centennial Indy 500 is sold out, with more than 300,000 spectators expected to fill the speedway's 250,000 grandstand seats and infield area.
The final practice is dubbed "Carb Day," a throwback to the days when mechanics made final tweaks to the cars' carburetors, and Friday's crowd was the largest in years.
"I've never seen the place like this for Carb Day," Kanaan said.
Rahal confident
After posting the 14th-fastest speed in practice, Graham Rahal proclaimed that "this is the best race car I have ever had going into the Indy 500."
Even though he starts 26th on Sunday, Rahal said his team "has a pretty good chance of winning this thing."
His father and team co-owner is Bobby Rahal, who won the Indy 500 in 1986.
Hildebrand returns
J.R. Hildebrand is remembered for one of the most dramatic moments in Indy 500 history – much to Hildebrand's chagrin.
The Sausalito native was one corner away from winning the race in 2011 as a rookie when he crashed into the Turn 4 wall, allowing the late Dan Wheldon to take the checkered flag.
But the 28-year-old Hildebrand, who turned down an offer to attend the Massachussetts Institute of Technology to pursue racing, keeps trying for redemption.
Hildebrand was seventh-fastest in final practice and starts 15th on Sunday in a car prepared by Ed Carpenter Racing.
Having been so close to winning before "gives me a lot of drive and motivation to put myself back in that position," said Hildebrand, who finished eighth in last year's race.
Indy Lights race
Dean Stoneman nipped Ed Jones in a photo finish to win the Freedom 100, a race at Indianapolis in IndyCar's second-tier Indy Lights Series.
"It's a great one to remember," said Stoneman, 25, a series rookie who drives for the Andretti Autosport team.
MORE AUTOSPORTS
James Hinchcliffe wins Indy 500 pole a year after near-fatal crash
IndyCar driver Carlos Munoz is injured when his car crashes into wall
Hinchcliffe passes Newgarden on final run for Indy 500 pole
Twitter: @PeltzLATimes
---