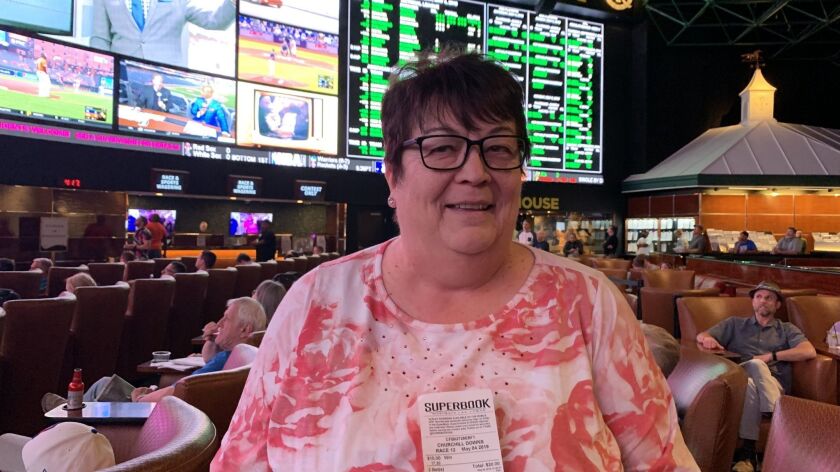 Elizabeth Gallagher isn't much of a gambler. In fact, she isn't much of a sports fan. But the 72-year-old retiree from Scottsdale, Ariz., found herself inside the Westgate Las Vegas SuperBook for the Kentucky Derby and decided she would place a wager like everyone else.
Her daughter placed a $10 bet on Maximum Security. She placed a $10 bet on 65-1 longshot Country House.
Why?
"I liked the name," Gallagher said. "And the odds."
When Maximum Security crossed first, Gallagher congratulated her daughter. Moments later when Maximum Security was disqualified for interference and Country House was declared the winner, she was the one who was being congratulated by many people in the sportsbook.
"I didn't think they would change it," Gallagher said. "I don't really win. My daughter usually wins so I couldn't believe when they changed the result."
Gallagher, who drove to Las Vegas for the weekend and is returning home Monday, turned a $10 bet into a $650 win after the result was changed. Her bet was one of many reasons why Las Vegas sportsbooks had a profit turn into a loss after the Kentucky Derby result was changed.
"It's not good," said Jay Kornegay, the vice president of race and sports operations at the Westgate Las Vegas SuperBook. "We were going to be a pretty decent winner on our future board and now we're going to be a significant five-figure loser. When you have odds like that it doesn't take a lot to create a lot of liability and create a big swing. We were in a good position with Maximum Security. We were going to see a good five-figure win and now it flip-flops to a big five-figure loss. That's unfortunate for us."
---