Column: From bad actor to role model. Metta's exit leaves Lakers fans with goosebumps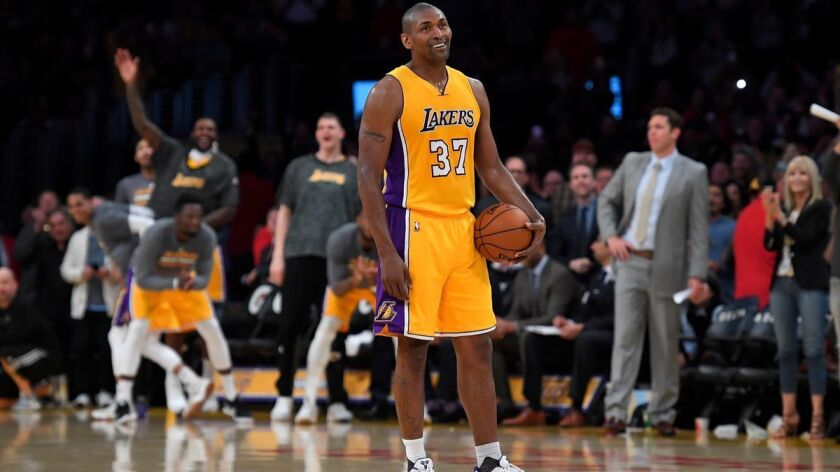 He joined the Lakers in the summer of 2009 as a troublemaker, a pariah, a plague.
Ron Artest was signed, Trevor Ariza walked, and an NBA championship locker room was suddenly in peril.
"What are they thinking? What are they doing?" I wrote in this newspaper. "They send the kid packing for an aging nut whose greatest hits have occurred on the head of fans."
Eight years later, a lot more has changed than just the name.
On Tuesday night at Staples Center, Metta World Peace played probably his last home game as a Laker, and the roar was eternal.
He leaves here not as a bad actor, but as a role model. He didn't infect the Lakers' locker room, he enriched it. The biggest hit of his career didn't come in the stands, but from behind the three-point line, a shot that won a championship.
"Metta's story is incredible," said Lakers coach Luke Walton.
World Peace, now 37, has barely played this season, his main role being a valued mentor to the Lakers' younger players. But in honor of that incredible story, Walton started him in the final home game of the season against the New Orleans Pelicans.
The cheers were huge. Every time he touched the ball, the noise grew. He was scoreless in the first half but then, as if on cue, he filled it up in the home stretch, making seven shots in the second half, including a trio of three pointers in the fourth quarter en route to a season-high 18 points as the crowd stood and gestured and screamed with glee.
"Met-ta, Met-ta, Met-ta," they chanted.
"Metta World Peeeeeace!" intoned public address announcer Lawrence Tanter with delight.
It wasn't Kobe Bryant going for 60 points in last season's finale, but it was a blast, and in a perfect ending, the guy who was once reviled for dishonoring the game of basketball showed it the utmost respect.
Holding the ball in the final seconds with the Lakers leading by a dozen and seemingly every fan and teammate cheering for him to take one last shot, World Peace shook his head and stood still until the shot clock expired. He was clearly, classily unwilling to show up the Pelicans in a 108-96 Lakers victory.
"Kobe got Dom Perignon, I got water, I loved it"
— Metta World Peace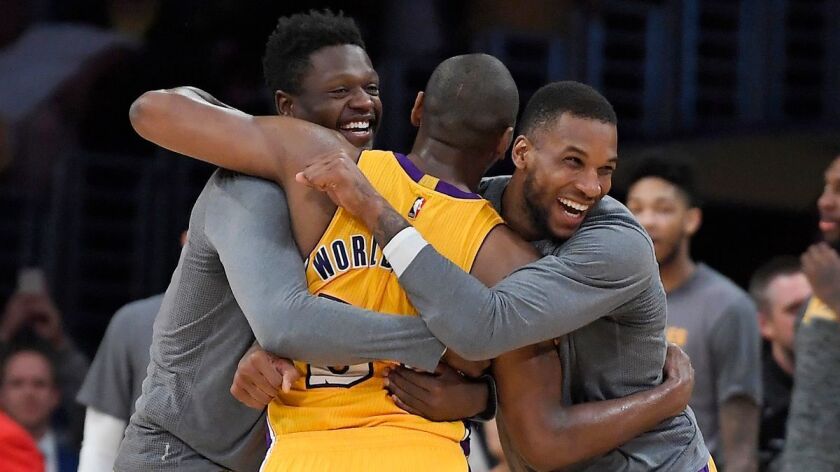 "I got goose bumps, it was awesome," said Walton. "Metta is a perfect example of how you can be a professional in this league."
Has any Laker ever forged this kind of image rehabilitation while remaining on the team? Has any journey ever started in such turmoil and ended in such redemption?
After the game, teammates showered him with ice water, which he called perfect.
"Kobe got Dom Perignon, I got water, I loved it," he said.
It was a truly a compelling night filled with love for a player who arrived here doused in doubt.
"What's cool about life is, I don't care what people think about me, but it was cool to see the stories and how it changed," World Peace said before the game. "You grow and you mold ... the key is trying to just figure out who you are, and be who you are ... that's what I am today."
World Peace has been with the Lakers for six of the eight years since he signed here. Everyone, including him, was surprised he stuck around for more than about six minutes.
"I know when I first got here, I thought I'd be retired by 33 or 34," he said. "In mid-career I partied a lot. I drank a lot of alcohol, had a lot of aches, no way I'm going to last."
When he arrived shortly after the Lakers had won the 2009 championship, he indeed set a Lakers record for baggage.
In 2004, while with the Indiana Pacers, he was in the middle of one of the most celebrated brawls in NBA history, known as "The Malice at the Palace," a fight with the Detroit Pistons that actually involved Word Peace slugging a fan. He was suspended for virtually the entire season for that fracas, and then, in 2007, he was suspended again by the Sacramento Kings and the NBA after being arrested on suspicion of domestic violence.
Those were just the off-court incidents. He was also thrown out of several games, including during the playoffs, for flagrant fouls involving crazy elbows.
My welcoming column in which I ripped the Lakers for acquiring him while allowing valuable young Ariza to go to the Houston Rockets was an easy, easy write.
"A funky guy in a flashy haircut beckoned, and the Lakers bit, trading heart for Hollywood, quiet strength for false bravado, a rock for a hard place," I wrote.
This was just one sliver of the criticism the Lakers received, but when asked about my column eight years later, World Peace said Tuesday he remembered the words.
"I was like, 'You know what, things are going to change, I know what kind of person I am, I know the good things that I do,'" he said. "I decided that [first] season to change my habits, and every year I got better and better."
With perhaps the exception of that 2012 elbow to James Harden's head that led to his suspension for some playoff games, World Peace indeed slowly and powerfully changed his image.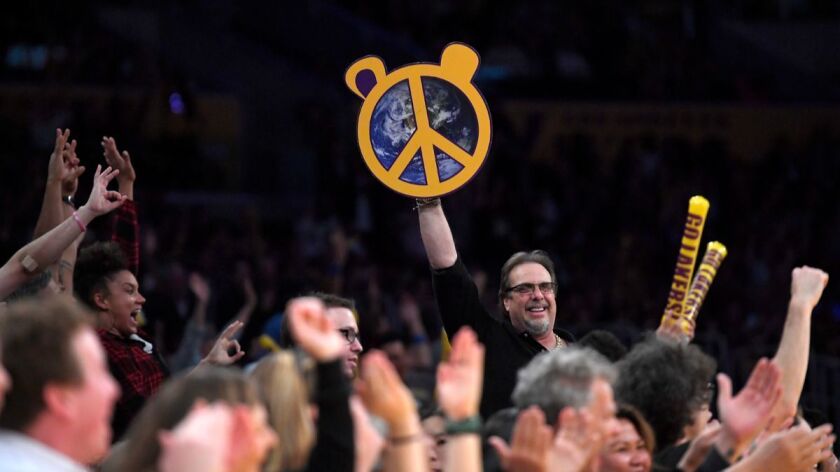 He was the Lakers' most valuable player during their Game 7 Finals victory over the Boston Celtics in 2010, showing cool when many of his teammates were struggling under the pressure, hitting a late three-pointer to clinch it. What made it even cooler was afterward, he openly thanked his psychologist who had flown in from Houston to counsel him.
He further endeared himself to fans by auctioning off his championship ring for various mental health charities. The next season, his community work led to him winning the league's J. Walter Kennedy Citizenship Award. Soon thereafter, he changed his name and, while he admitted Tuesday it was initially a lark, the moniker stuck.
The guy known for fighting became renowned for forging locker room peace, dispensing his calming wisdom these last two seasons with all these young Lakers.
The Lakers would probably retain World Peace as a coach, but he said he would like to play two more years to give him 20 professional seasons, so the odds of him returning here are slim. "If you push me to the limit, I'll show you want I can really do," he said. "That's why I was here, and I feel like I accomplished that, I feel like I helped some people with that winning attitude."
He arrived here having been pushed to that limit. Over the next eight years we saw what he really could do.
We are standing and cheering still.
Get more of Bill Plaschke's work and follow him on Twitter @BillPlaschke
MORE FROM PLASCHKE
Lakers can win by losing, so that's what they should do
Clippers take their foot off the gas ahead of what could be their last playoff ride together
The Lakers are officially Jeanie Buss' team, so what will she do?
---
Get our high school sports newsletter
Prep Rally is devoted to the SoCal high school sports experience, bringing you scores, stories and a behind-the-scenes look at what makes prep sports so popular.
You may occasionally receive promotional content from the Los Angeles Times.